Getting paid to watch videos online. Can you believe this is even possible? This isn't your guide to secretly watching YouTube at your office job – it's even better than that.
There are several reputable websites out there that will reward you with credits for watching videos and these credits can then be exchanged for rewards such as a cash payment or gift card. This easy task requires little effort, can provide passive income and is a great way to monetize your spare time.
This guide lists the best websites for this activity and offers a range of tips to help you maximize your earnings.
How to watch videos online
The process is extremely simple; simply sign up for a rewards website (such as the ones listed below) and navigate to the Videos section of your account. Click on the videos that interest you most, watch them on your computer or phone, and earn points. It's truly as simple as that! The points you earn will be credited to your account and you can then exchange them for cash payments or a gift card. Although you won't earn a ton of money, you can earn cash passively and ultimately get paid to watch TV.
What are the best websites to get paid to watch videos online?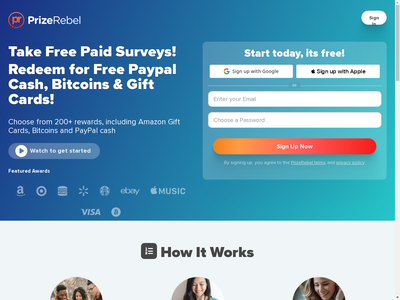 PrizeRebel is open to users worldwide and one of its biggest advantages is its low cashout threshold. You can exchange your points for a $2 Amazon gift card or get a PayPal payment instead. Its platform for watching videos is seamless to use as it allows you to sort videos by payout amount, length, popularity, etc.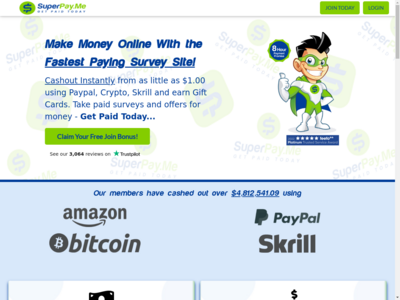 SuperPay.Me is a site where you can get paid to watch videos, along with tons of other ways to earn (such as surveys, offer walls, referrals, etc.). Receive a $0.20 joining bonus and cash out your earnings with as little as $1.00 in your account! Get paid by PayPal, Skrill or Bitcoin.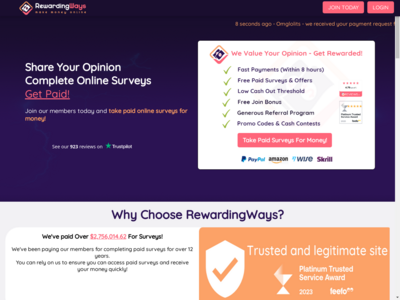 Rewarding Ways is another site where you can watch Engage Videos in exchange for cash. Sort these videos by length, reward offered, and more. Like SuperPayMe, it offers an ultra low $1.00 minimum cashout, multiple ways of earning, and is open internationally.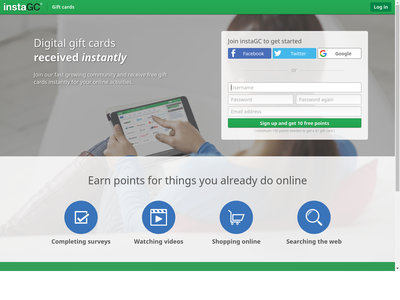 instaGC is one of the most varied GPT websites out there and it's also one of the oldest, having launched in 2011. The credits you earn for watching videos can be exchanged for cash or gift cards, which are delivered instantly after requesting them (hence their name)!

Earnably focuses primarily on paid surveys, however they now offer videos through both Hideout.tv and VideoFox. Most of the videos you can get paid to watch are advertisements for products. Once ready, cash in your points for a PayPal payment or a gift card.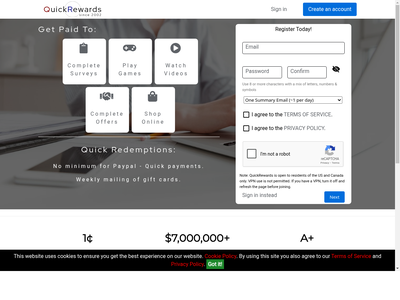 QuickRewards Network is another hugely varied GPT website that pays you for watching videos online. The credits earned for doing so can be exchanged for easy money deposited straight to your PayPal account. You can even cash out your earnings with as little as $0.01 in your account!
You will notice that most of the videos listed on the GPT websites above are offered by Hideout.tv. This website is dedicated to paying its members to watch videos. You can earn points by watching videos or uploading your own. Hideout.tv makes a concerted effort to encourage talented video creators onto its website. It's growing all the time – and even recently took over previously-popular video website Smores.tv.

Tips for making the most of paid video websites
You won't get paid as well for your time watching an online video as you would for completing other activities on GPT websites such as taking a paid survey, downloading an app, or completing an offer. Nevertheless, for such a passive and potentially enjoyable task, it's difficult to complain about the pay rate.
The tips below will help you make the most of your time getting paid to watch online videos.
1. Watch videos when you're low on mental energy
If you have plenty of mental energy, you may want to use your mental strength toward time-effective and more lucrative activities such as answering surveys for money.
However, if you're low on focus and brainpower, watching videos on these websites is a good low-effort way to top up your credits. Especially if you only need a handful of points to be eligible for a cash out, watching online videos is probably the easiest way to earn them.
2. Don't skip videos
Some websites allow you to skip videos, although you'll typically only be paid for the videos you watch in full. This includes any pre-roll advertisements that may appear. So before being overly tempted to jump ahead, ensure you get credit for the viewing time you've already put in!
3. Use Google Chrome
Google Chrome has HTML-5 support and is reliably fast when it comes to loading videos. It also supports the most popular video players. By using it, you'll potentially reduce the amount of time you waste waiting for a video to buffer. Many of the websites listed above specifically recommend that you use Google Chrome to watch their videos, as it is provides a smoother experience.
4. Ensure your Flash player is up to date
If a video doesn't load, it could be because your Flash player is outdated. Ensure you update it by visiting the official Adobe Flash website and downloading the latest version.
Important Note: Adobe Flash was discontinued by Adobe on December 31, 2020. Please completely remove Flash from your computer.
5. Don't use a Proxy/VPN
The video creators on these platforms usually only want their content to be seen by consumers in specific countries. That's why the websites hosting these videos request that you don't change your web browsing location using a Proxy or VPN. Using one of these can prevent videos from playing, or worse, can get you banned.
Extra tip: if you're watching videos using your office computer, beware! Many employers automatically install VPN's on company machines, so be cautious and check.
6. Turn off ad-blockers
If you have ad-blockers activated on your computer, you may not be able to view specific videos. Ensure that you've temporarily disabled them when watching videos or when you're about to watch ads, as keeping them activated may prevent you from getting properly credited, or they may prevent videos from playing all together.
7. Sort videos based on your requirements


Sites like PrizeRebel allow you to sort videos by criteria such as Easiest, Payout: High to Low, Trending, and more. If you're looking for a few quick points, sort by Easiest. If you're looking for videos that are interesting and provide fair credits, sort by Trending. And if you're looking to earn as much as possible, sort the videos by Payout: High to Low.
8. Refer your friends
Refer as many friends as possible to also get paid to watch online videos through your friends. This is arguably the most time-effective strategy for making the most money from these websites. Most websites will reward you for referring friends, provided they use your unique referral link or code. In some cases, you'll be gifted a set percentage of your friends' earnings for life.
In conclusion
Using the tips and reward websites listed above, you'll be well on your way to achieving your goal to get paid to watch videos. Forget wasting time watching Youtube videos for free – turn your passive hobby into an active way to earn extra money and rewards.