OfferNation is a well-established get-paid to website, which has been around for the best part of a decade. Users looking to earn a bit of extra cash taking surveys, watching videos and completing other small tasks can do so using their website.
The company that runs Offernation (99 Ventures Ltd) is based in the UK, although membership is available to anyone in the world who is 18+. 99 Ventures Ltd also operates the websites SuperPay.me and Rewarding Ways.
Here, we will do a complete 2023 Offernation review, including walking through how Offernation works, the rewards it offers and whether or not it's worth joining.
Note: Some of the below are affiliate links which helps cover our costs and keeps SurveyPolice free. Full affiliate disclosure here.
How Offer Nation Works
Sign up in minutes and earn a $0.25 welcome bonus


OfferNation may ask for more details during the sign-up process than most other Get-Paid-To sites, but you should still be able to set up an account quickly (they advertise a 60 second signup). You'll be asked for your full name, address, email address, plus a choice of username and password.
You will also be asked for your PayPal, Skrill and Bitcoin ID's so you can be paid by these methods. However, you can choose to add this information to your account at a later time if you prefer, especially if you're unsure of what redemption option you'll be using.
Look for money-making opportunities in your dashboard
Once you complete your registration, you'll be redirected to the main dashboard, which displays all the information about how much money you've earned so far. You'll see your $0.25 welcome bonus has already been paid. To add to that, simply click the 'Surveys' or 'Offer Walls' tabs in the main navigation. When you do, you'll be presented with a list of OfferNation's survey partners, and a few other money-making opportunities.
» Visit the Offernation website
Take surveys and make money


Although some of these surveys presented will take you to third-party websites, you'll always be paid into your Offernation wallet. The amount of money available for completing a survey will be shown next to the link to get started. As well, the number of the times the same survey can be taken will also be listed.
Tip! Use the Sort function and sort by Descending > Cash in order to list the highest paid surveys at the top of the list.
Earn money with offers
Some of the opportunities in the 'Offer Walls' tab will reward you for engaging with OfferNation's affiliate retailers. Sometimes you'll be paid for playing games, watching videos, or downloading and testing an app. On other occasions, you can earn cashback by buying a product at your favorite online store.
Refer your friends


The OfferNation referral program is one of the most generous of all the GPT websites. For every member that joins using your unique referral link, you'll be paid 25% of their earnings for life. You can find your unique referral link by clicking 'Home' then 'Referrals'. Find the complete details of your referral earnings on that page too.
Convert your earnings into rewards
The great news is you only need to make $1 to be eligible to cash out to your PayPal account. Other rewards have higher thresholds though.
Rewards & Payments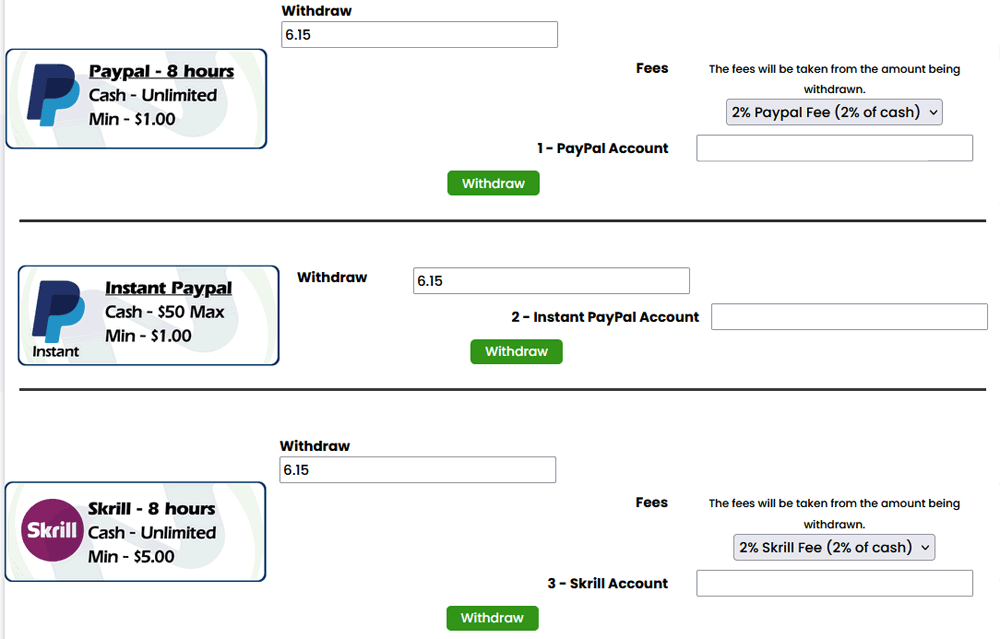 The credits you earn will show in US dollars. These can be cashed out via PayPal once you earn as little as $1. There are no limits on the number of withdrawals you can make per day. Cash out your earnings to your Skrill account with just $5 in earnings.
You can also choose an Instant PayPal payment if you're withdrawing less than $50 from your account. This can be done once per day, and your cash really will be sent to your PayPal account as soon as you click the button (you can also find other instant paying survey sites on our blog).
If you're a fan of crypto, convert your earnings into Bitcoin. The minimum earnings threshold for this is $200. Update for 2022: this has been lowered to just $30.
You can also choose to convert your credits into Amazon or Tango gift cards. The minimum earnings threshold for this is also $5. Find these options under Rewards > Redeem Points. Note that you must complete a cash withdrawal before requesting a payment via gift card.
Community Features
Cash for the highest quarterly earners


OfferNation pays out cash rewards to the 20 highest earners for every quarter. The top earner wins $350, and there's $1,000 of cash prizes given away every month. By clicking the 'Contests' tab in the main navigation, you can see if you're listed in the top 20 list and you can see how much the users in that list have earned.
There are few reward sites that are so generous with their highest earning participants. This is definitely an attractive feature of the site.
'Member Chat' Box
Offernation has a 'Shoutbox' located in the sidebar of the website, although this appears to serve mostly as a ticker for when other members cash out their earnings and which offers and surveys they have completed. It can be comforting for new members to see some sort of evidence that this website does pay out.
Earnings Totals
On the homepage of the website, you'll see a running total of how much Offernation has paid out to their members (currently well over $1.6 million dollars).
» Visit the Offernation website
Plenty of good Offernation reviews on social media
Offernation has attracted a few hundred reviews on Reviews.io and at the time of writing, the average rating from users is 4.80 out of 5 stars – an excellent score.
Check your email for special bonuses
Every few weeks Offernation offers its members the opportunity to earn bonuses on surveys and offers through certain providers. For example, a 25% bonus for every survey taken via Peanut Labs may be offered for one week.
Check your email for these special bonus earnings, or if you've unsubscribed from Offernation emails, simply log in to your account dashboard to view these notices located under Offernation News.
Offernation payment proof


If you're still skeptical about whether Offer Nation has actually paid out over $1.5 million to their members, visit the 'Paid List' link on the site, located at the top of the screen. There, you can see a live list of members who have cashed out their earnings.
Tip! To test this yourself, cash out your earnings and refresh the page – you'll then see your own cash out listed there!
Offernation pros and cons
Pros
$0.25 joining bonus.
Pays in cash, bitcoin and gift cards.
Very low $1.00 minimum cash out.
Instant PayPal payments available.
Opportunities to win in the $1000 quarterly cash draw.
Cons
Some tasks offer very low reward payouts.
If you don't like taking surveys, you may find that the earnings opportunities are limited.
If you're already a member of SuperPayme or Rewarding Ways, you may find this site too similar.
Alternatives to Offernation
If you're looking for some alternatives to Offernation, there might be some options that you find more suitable.
» Or, get a comprehensive list of gpt sites, ranked by user reviews.
Offernation review verdict:
Overall, OfferNation is a GPT website worth using if you have the spare time to earn some extra cash. The amount of money you make per survey isn't especially high, and some users complain about being disqualified half-way through surveys too often. Also, there isn't a mobile app, so the website can be difficult to navigate on smartphones.
However, there are plenty of opportunities to take surveys and make money, the cash out threshold is tiny at $1, and you can potentially make a decent sum through referrals at 25% of their lifetime earnings. The $0.25 joining bonus isn't high, but with the low $1 cashout, you can take a couple of short surveys and test out the site with very little commitment. The instant PayPal payment option makes this site especially attractive.
Eligibility: OfferNation is available to users worldwide.
» Visit the Offernation website
---
Related Posts: