Superpay.me Reviews and Features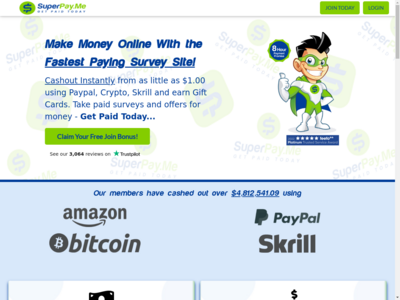 Superpay.me
99 Ventures Ltd
43 Berkeley Square, London
United Kingdom
Contact: [email protected]
Superpay.me is a free GPT website, which mostly focuses on paying its 1,000,000+ members to answer surveys. However, there are a few other online activities you can do to earn money too. These include watching videos and referring other people to start using the platform.
Anyone worldwide can join SuperPayme to start earning rewards.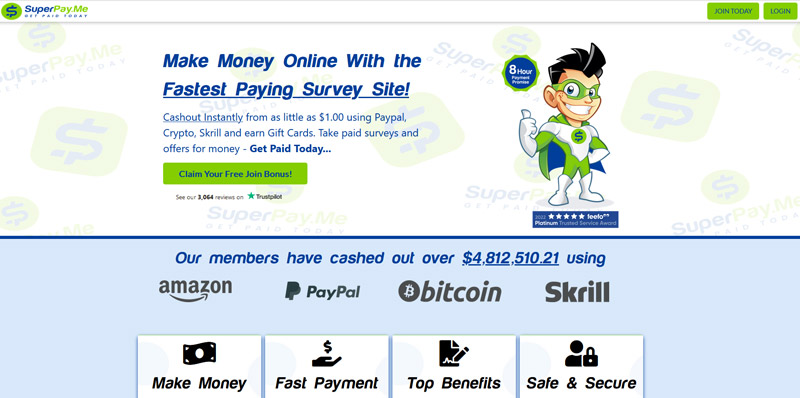 Paid Surveys
Superpay.me has a HUGE range of paid surveys available for you to take. If you click the 'Paid Surveys' at the top navigation menu, you will be presented with a wealth of options. Click 'Daily Paid Surveys' and you'll typically have dozens of surveys ready for you to fill in. Each survey will show you how much money you'll be paid for completing it. You'll also see a list of third-party providers, which will also have a list of surveys ready for you to fill out.
Offer Walls

It is possible to earn money by engaging with Superpay.me's partners. In some cases, you can earn money for taking free trials with specific products, playing online games, reviewing products and more. Some partners will pay you for purchasing their products via Superpay.me's links.
Watch Videos

Also on the 'Offer Walls' section, you will see some options for watching videos for money. Again, you'll be able to see how much money you'll earn per video. These videos are mostly adverts for products, but at least you'll be able to choose the category of the video.
Contests

The top 20 highest-earning Superpay.me users every quarter will be rewarded with a cash bonus. The highest earner will get $350. The second-highest earner will be sent $200 and the third-highest earner will win $100. There is $1,000 in cash prizes delivered in total every quarter. You can see a league table of the top 20 earners, as well as your own position compared to them.
Referrals

You'll be given a unique referral link to share with family, friends or social media followers. As a thank you, you'll earn a bonus equating to 25% of your referral's earnings for life.
Mobile Usage

There is no dedicated mobile app to download for Smartpay.me, but it works perfectly well on smartphone or tablet. As long as you have a working mobile web connection, this means you'll be able to fill out surveys on-the-go.
Promo Codes

Periodically, Superpay.me will post promo codes on their social media pages, including Facebook, Instagram, Twitter and Pinterest. These promo codes will credit your account with free points you can then redeem for rewards.
Visit Superpay.me's Website

›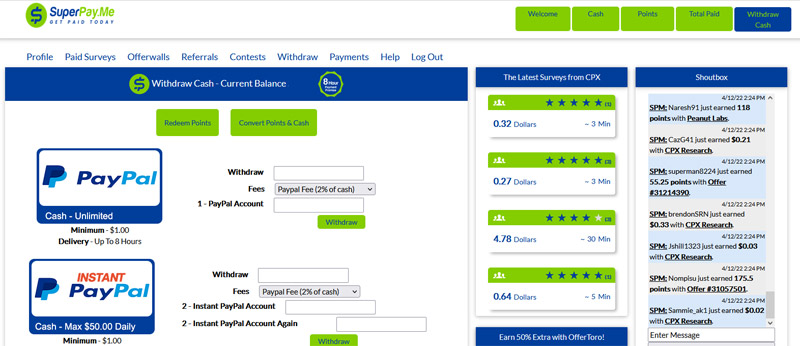 You can convert your points into PayPal payments and the withdrawal threshold is just $1. You can make unlimited withdrawals. You can choose to make an instant PayPal withdrawal once per day.
You can also withdraw to Skrill or Wise, although the withdrawal thresholds are $5 and $20 respectively. Bitcoin withdrawals are available with $30 in your account.
Superpay.me also has a live feed of payments made to members. To date, they have awarded over $5,000,000 in payments to their members.
Is SuperPayme Legit or a Scam?
SuperPayme is a legitimate get-paid-to site and is not a scam. Although users of the website may have different experiences, they have successfully issued millions of dollars in rewards to their members, confirming that SuperPayme is legit and hundreds of thousands of users have been paid.
Eligibility: Open to residents worldwide.
Joining Bonus! Superpay.me is currently offering a $0.20 sign up bonus to new members.
» Click here to claim your bonus!
July 14, 2020 by lee from United Kingdom
I have been a member of superpayme for a few years and they always pay on time they have a low cash out threshold and add new surveys daily they also still offer PayPal payments only thing I don't like is its limited how much you can earn per day and you can't earn much on Saturday and Sunday's.
They want a photocopy of your Drivers License
July 14, 2020 by David from United States
Good while it lasted. Then they wanted photocopy of my Drivers License. No thank you. I have been a victim of identity theft in the past, and I am taking measures to never have that happen again. Cashout is anything above $1.00, so if you do choose to chance it with this company, it's best to cash out early and often so that you don't have money stranded when they freeze your account.
June 25, 2020 by Donna from Canada
This was the worst site of any/all the sites I am with. As soon as you need Help (not even) you are being called a "cheater" by whoever runs the support. So wrong to do to people. Accuse people of cheating before they investigate anything of course they were wrong. I had 3 friends join, they were all treated the same. We all lost our balances in our accounts. Stay as far away from this site as you can you will work, taking your time(they are all time consuming) giving them "Your" hard work, and they take the pay.....STAY-AWAY

Superpay.me responded to this review on June 29, 2020
Hi,
If your account was flagged by our security system for cheating then a serous breach of our terms and rules has been detected.
Any breach of our rules would result in the correct decision to flag your account for cheating as we would endeavour to protect our members and advertisers from the potential consequences of anyone attempting to breach the security measures taken by our site.
You would have had the opportunity to raise a support ticket for more details on exactly what you did that resulted in your account being correctly banned. At that point, depending on the severity of your breach, you would have been presented with an opportunity to provide an explanation of your actions. Typically we would always give members a second chance in order to correct their mistake, unless it was a very serious breach, such as committing fraud for example.
If the same happened to your three friends, then again, they have committed a clear breach of our terms and again would have been correctly banned as a result.
We would recommend in the first instance that you contact us via a support ticket (all support tickets receive a reply within 24 hours, but more typically 8 hours) for more details. If your offense was fixable, then you would have been provided the opportunity to fix it. If your offense was more serious, then obviously that ban would be permanent, which under the circumstances would be the correct course of action in order to protect our other members.
May 31, 2020 by Linda from United States
So happy i found this site 4 years ago!!!
Easy fun surveys to complete and earn extra income. Have earned over $12,000 over the past 4 years. Highly recommend
May 30, 2020 by Taylor from United States
I have been a member for 2 and a half years, made nearly 16 grand, it's easy and simple once you get the hang of it, the only thing that irritates me is that i got shadow banned from the shoutbox for no reason so I am unable to interact with folks, but oh well, the earnings are good, and there are plenty of opportunities for almost everyone, if most people would just simply try.
» Return to: TOP RATED GPT SITES
---
Popular Topics
Top Survey Sites of 2023
---
Best Rated Survey Sites
---
Ultimate Guide to GPT Sites
---
Taking Surveys for Gift Cards
---
The Best International GPT Sites
---
14 Ways to Get Free Amazon Gift Cards
---
Find Swag Codes to Make Extra Money
---
GPT Sites That Pay Instantly
---
Guide to Legitimate Paid Surveys
---
Survey Sites That Pay Instantly
---
25+ Easy Ways to Make Money Fast
---

Featured Advertisers: