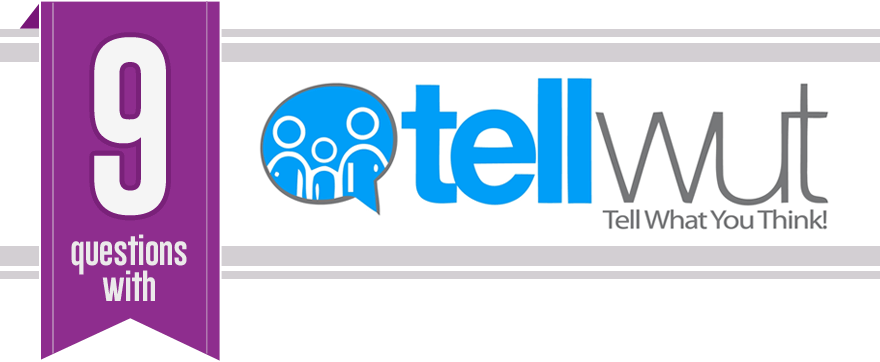 1. Can you provide a background on the Tellwut survey panel?
Established in 2010, Tellwut is an online survey community and paid survey site which is free to join and where members can earn rewards towards an array of gift cards in as little as 2 to 3 weeks for simply sharing their opinions.
2. What makes Tellwut unique?
Tellwut is unique in that members can earn rewards by taking site posted surveys without being disqualified. These surveys are created for the community by fellow Tellwut Members dubbed "Tellwutters". At the end of every survey, members can converse in friendly debate. Learn what people are thinking and tell wut you think on anything from a personal situation to current events and trending topics in real time. It your topic is sensitive in nature, you can create your question/poll anonymously. You can also take online market research (external) surveys and rack up points more quickly.
3. What types of surveys and research opportunities do you have available for members of your panel?
We have a wide range of survey topics from people to places to things to love and relationships to politics and more. These surveys are created by Tellwut staffers and Tellwutters who come from all different walks of life. In addition, we have over 20 additional survey opportunities for members per day from a wide range of market research companies.
4. What kinds of organizations hire you to conduct market research?
We have a large number of businesses and organizations that hire Tellwut for the market research ranging from small businesses and entrepreneurs to large companies. Members always have a wide variety of surveys to answer.
5. What types of incentives can members of Tellwut receive in exchange for their participation?
Get paid for surveys via Tellwut's gift card based reward system which offers a wide range of choices. You can be practical and choose a grocery, pharmaceutical or gas gift card or you can treat yourself to some fun choices such as Sephora and Game Stop. If you want the best of both worlds, why not choose an Amazon gift card or a prepaid Visa card which can be used on a wide variety of products and services. Please check our rewards section for more options as we have over 25 retailers to choose from!
6. How are panel members notified to take part in studies?
Panel members have the option of receiving e-mail notifications regarding surveys or they can log onto www.tellwut.com and access their survey portal page under the 'available surveys' tab. Featured studies can be found in the promotions box on member login.
7. How is the privacy of your members protected?
Our Tellwut members have the ability to create pseudonyms or usernames to communicate with each other. They have the ability to share as little or as much about themselves as they want to with their fellow community members via their personal settings.
Panel members are also able to create anonymous surveys if they desire to inquire about sensitive topic matters.
Tellwut will not trade or sell personal information to businesses and we are dedicated to protecting the identities of our community members, if they so choose.
8. What are some of the top five reasons to join Tellwut?
The gift cards and prizes!
Share opinions, it's like you're in the debate club!
Make friends, be a part of the community!
The thrill of winning Tellwut's monthly contests and weekly social media contests!
Learn things; be up to date with the news in a fun way. Have topics to talk about at dinner parties!
9. What industry memberships and business standard practices do you currently uphold?
Tellwut is highly rated on both Google reviews and the BBB (Better Business Bureau). We are also the only Canadian online survey company that is ranked in the top 5 in both Canada and the US on Survey Police.