Epoll Surveys General Information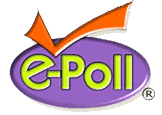 Survey Types
Online surveys that correspond to entertainment-related marketing research, such as surveys about TV watching habits. Geared towards younger individuals. As a member of Epoll you may be asked to watch new TV commercials or in some cases even watch and review DVDs that are sent directly to your home!
Points for Surveys
E-Poll awards points for taking surveys, which can vary between 100-1000+ points, depending on the length and complexity of the survey.
Reward Options Available
With a minimum of 2750 points in your account, you can redeem your points for a reward. Note that points increase in value as they are accumulated.
Redeem the appropriate number of points for a $5 (3750 points), $10, $15, $20, $25, $30 PayPal payment
Choose from a wide variety of gift cards to retailers including Amazon, Best Buy, Walmart, Starbucks, iTunes, Sears, Gamestop and more. Prizes usually take 6-8 weeks to be processed.
2750 points = $5 charitable donation to American Red Cross, National Wildlife Federation, Make-a-Wish Foundation, Humane Society, or St. Jude Children's Hospital.
Watch out for monthly sweepstakes of $250 that can be won!
Eligibility: USA residents 13+