MySoapBox Reviews and Features

PAYMENTS OFFERED

Amazon gift cards

Apple gift cards

Walmart gift cards

Target gift cards

Starbucks gift cards

Google Play credits

Home Depot gift cards

Reward Link

Movie vouchers

Retail e-vouchers

Restaurant gift cards

Donations to charity

HOW TO PARTICIPATE

Online surveys

Product testing

Daily surveys

Refer-a-friend program

Teen surveys

REDEEMING REWARDS
Once you have accumulated 25,000 points (worth $25), you can redeem your points for a gift card. After redeeming your first $25 gift card, there is no minimum points balance required to redeem so long as you have enough points for an item in the rewards catalog.
MySoapBox, part of MySoapBox Sample, is a member of the Interview Service of America (ISA) and is an online surveys community offering people a forum to voice their opinions through market research studies and activities.
By joining MySoapBox you can earn rewards by sharing your thoughts and helping brands improve their products, services, and experiences.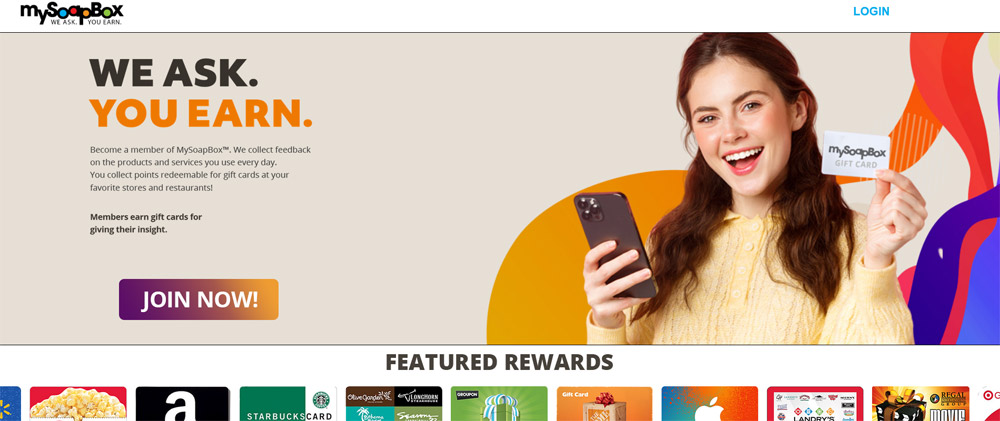 Earn Points for Various Activities
After signing up with MySoapBox, you can participate in online surveys and other types of market research to earn points. The number of points you will earn depends on the type of activity you participate in. You will always be notified as to how many points the activity is worth before you begin. 1,000 points = $1 and you can expect to earn an average of between 750-1500 points ($0.75-$1.50) per activity.
Getting Notified of New Surveys
You will be e-mailed online surveys (or texted them if you prefer) as they become available, but you may also log into your account and see available assignments. Once you have accumulated 25,000 points (this drops to 5,000 points after your first redemption), you can cash your points in for various prizes. Note that MySoapBox does not offer an app.
Different Types of Studies
Participate in different types of studies with MySoapBox. The more types of studies you agree to be part of (surveys, product tests), the more you will get invited to. This will help increase your points balance, helping you reach your first cash out sooner.
Visit MySoapBox's website

›

Exchange Points for Rewards
MySoapBox offers a variety of instant electronic vouchers (e-vouchers, or online gift cards) in exchange for participating in surveys. Although 25,000 points (worth $25) is required to redeem rewards, once you obtain this balance and redeem your fist reward, you can then redeem future gift vouchers in denominations as low as $5 (5,000 points).
Rewards Offered
MySoapBox rewards consist of a wide variety of prizes comprising two main reward types:
Online gift cards - Choose from a selection of over 100 e-gift card options. Retailers include: Amazon, Bed and Body Works, Burger King, Kohl's, iHop, Google Play, Walmart, Xbox, and dozens of others.
Donations to charity - Donate your points to charity the same way you would redeem them for an online gift card. Charities include: American Cancer Society, Clean Water Fund, Habitat for Humanity, National Park Foundation, and more.
Denominations for rewards vary per reward, but range from as low as $5.00 to as high as $50.00. Redemptions for electronic gift cards will be processed on average within 2-3 weeks of submission and you will receive your gift code via e-mail.
Points Value: 25,000 MySoapbox points = $25.00. Therefore, 10 points = $0.01.

Referral Program
Members of the MySoapbox survey panel can refer their friends and family living in other households in exchange for 1000 points. Simply log in to your account and click the 'Refer-a-Friend' button for your special referral code, which you can then post on social media and share with your friends. Referrals must reside in the US and be age 18+ in order to receive the 1000 point credit.
Survey Roulette
The MySoapBox Survey Roulette program is essentially a survey router which will match you to survey opportunities across various survey providers. For every survey completed through Survey Roulette, you will earn 1,000 points (the equivalent of $1).
As a MySoapBox member, you will receive periodic emails with subject lines such as, 'Participate in Survey Roulette 2.0 and increase your point balance', which will link to these special surveys. Alternatively, you can access these paid surveys through your account. You can keep completing surveys through the Roulette feature until you run out of studies available to complete.
Visit MySoapBox's website

›
Is MySoapBox Legit or Scam?

Is MySoapBox Legit?
There's no reason to think that the site is anything but legitimate. MySoapBox is not a scam and has awarded hundreds of thousands of gift cards to their members. They are managed by a professional market research company and the panel has been online for years. Although people may have different experiences being a member of their website, MySoapBox is perfectly legitimate and is safe to use.
Eligibility: Worldwide, 13+ (16+ if a resident of an EU country).
Joining Bonus! MySoapBox is currently offering a $2 sign up bonus to new members.
» Click here to claim your bonus!
Note: MySoapBox acquired the ClickIQ e/visor Panel.
---
Don't Waste Your Time With SOAPBOX
May 13, 2023 by Michael from United States
I signed up with MySoapBox approximately 8 weeks ago. As a matter of fact not only did I sign up with them I also joined Survey Junkie, Ipsos and Life Points. I started doing a ton of surveys for all of them as I have a ton of time on my hands and could use the extra scratch for food. I first got enough points to cash in with Survey Junkie and had to wait 2 weeks before I received my 1st rewards and got them exactly when they told me I would receive them. After the 1st time I have cashed 5 more times and have received my rewards without hesitation. I cashed out with Life Points also. Now with MySoapBox you have to get 16,000 points in order to cash in. I made it to that level in no time but when I went to cash out I sent them an email and asked where my rewards were. They told me I would get my rewards on 2 separate dates, Feb 28th & March 2nd. That was 3.5 weeks ago. Today is February 28th and have received nothing. I sent them a message and they answered with some canned response and I went off on them. Why is it that I was able to cash out 4x with Survey Junkie with no problems but yet have to wait weeks. Are their rewards golden or something? I read some of the reviews here and as I figured they have a reputation of not paying. I'm not done with people. I'm going to dog them all over the internet and wherever I can until I get what I earned. There's a good old saying "Good News Travels Fast" Bad News Travels Faster"!! I have alot of free time on my hands. I'm pretty good at this. They will need there own SoapBox to wash away all the dirt I leave all over the internet about them.
Everyday that goes by that I don't get my rewards will only get worse for them!!
January 5, 2023 by Regina from United States
After I verified my email I was given a serious of questions to qualify for a survey. I was on this survey for about 30 mins. Got to the end "almost finished" then they proceed to ask basic questions age, income, education. Screen changes and states "SORRY YOU DON'T QUALIFY"!!!!! WAIT WHAT BUT I FINISHED. This was my very first survey and most likely my last. I've done surveys for years from other sites and this has NEVER happened. Not 30 mins worth of my time, and finished to be told this.
March 29, 2022 by Cristy from United States
I earned well over the amount of points necessary to redeem for a reward but, not only have I still NEVER received the reward, but I also have NEVER gotten so much as a reply from anyone at customer support, who I have contacted repeatedly, for well over 4 months!! However, I still manage to receive numerous daily email's from them, notifying me of more survey's that are available for me to take. I am way BEYOND frustrated; I worked hard to earn all of those points, I kept up my end of the bargain by truthfully answering each and every survey and I feel like I have been completely taken advantage of because MySoapBox has certainly NOT keep up their end of the bargain.
March 12, 2022 by Thomas from United States
Beware of this site! They deduct your points without an explanation! Took 2000 points from me in the last week. I am in the process of cashing out and quitting this site. Do not need this aggravation for the pittance that I am getting!
December 19, 2021 by Jim from United States
I contacted MySoapBox about their new policy of shutting you out with "Rate Limit Exceeded". I received an answer quoting a California law requiring them to have this policy to protect accounts. You are shut out after 2 failed attempts. Now here is the warning for everyone so you do not assume the website has a typo as I did---when Soap Box says a survey is ZERO points, they mean it! I thought for sure it was a misprint and took a survey and I got ZERO. So they are "honest" in that they say you will get ZERO so beware when they say ZERO they mean ZERO!!!
» Return to: TOP RATED SURVEY SITES
---
Popular Topics
Top Survey Sites of 2023
---
Highest User Rated Survey Sites
---
Survey Sites That Pay Instantly
---
Get $100 Free PayPal Payments
---
9 Product Testing Job Websites
---
12 Online Surveys That Pay Cash
---
How to Earn Free Uber Gift Cards
---
14 Ways to Get Free Amazon Gift Cards
---
Best Paid Focus Groups
---
How to Get a Free Visa Gift Card
---
Ways to Get Free Xbox Gift Cards
---
Featured Advertisers: