9 Questions with QuickThoughts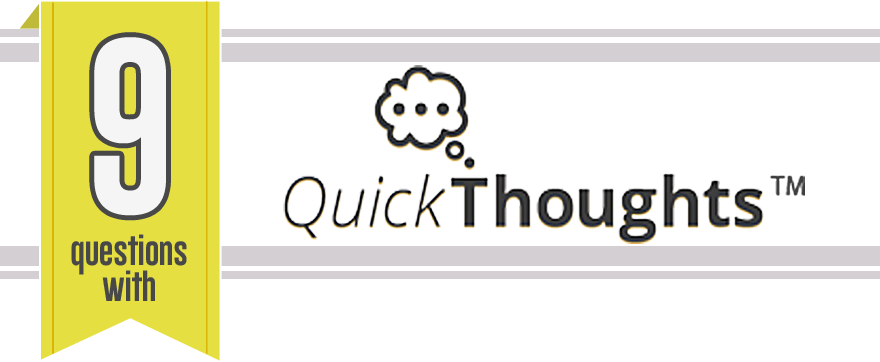 1. Can you provide a background on QuickThoughts?
QuickThoughts is SSI's mobile-first rewards community. It is available to all Android or iOS users on their phones or tablets via their app store.
QuickThoughts was created to optimize the survey experience for people that are primarily on their mobile devices as opposed to desktop computers. What's more convenient than taking surveys right from your phone?
2. What makes QuickThoughts unique?
QuickThoughts is unique because it's bringing the survey experience to mobile. Users can earn rewards while taking surveys at the grocery store, the local mall, or anywhere else because they are all housed in the QuickThoughts app, as opposed to a browser.
QuickThoughts even has the ability to send users on "missions" based upon their location, if enabled, in order to earn rewards. Just follow the mission instructions and you'll be on your way to earning rewards.
3. What types of surveys and research opportunities do you have available for members of your panel?
The survey opportunities are unlimited. They can range from surveys about consumer packaged goods to political surveys about the upcoming election. QuickThoughts will notify users when there are surveys available that fit their demographics and profile information.
4. What kinds of organizations hire you to conduct market research?
A variety of consumer packaged goods and political organizations hire us because they want to know what our QuickThoughts panelists think, feel and believe. The great thing is, they'll pay you for it!
5. What types of incentives can members of QuickThoughts receive in exchange for their participation?
Android users will receive Amazon gift cards. iOS users will receive iTunes Store gift cards. Rewards can be cashed out in increments of $10.
6. How are panel members notified to take part in studies?
Users can be sent push notifications within the app to receive new survey opportunities.
7. How is the privacy of your members protected?
SSI protects the privacy of all of its panelists and does not share data with any additional sources. Furthermore, QuickThoughts has several real-time systems and processes in place to help prevent fraud or any attempt that would jeopardize a user's account or info.
8. What are some of the top five reasons to join QuickThoughts?
QuickThoughts sends you surveys on your mobile phone, which you're already on.
You earn Amazon and iTunes gift cards which are easily redeemable.
Users can cash out as soon as their account hits $10.
QuickThoughts "missions" allow users to earn money by taking pictures and accomplishing other tasks while on their phones.
As a member of QuickThoughts, you'll be part of the largest mobile survey panel.
9. What industry memberships and business standard practices do you currently uphold?
We're proud that our parent company currently has an A+ rating from the BBB (Better Business Bureau). Also, we're members of many industry organizations including The Marketing Research Association, The Council of American Survey Research Organizations and more.