QuickThoughts Reviews and Features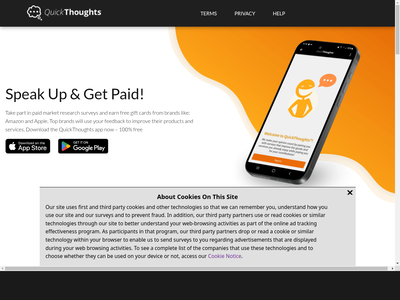 QuickThoughts
6 Research Drive, Shelton, Connecticut 06484 US
Tel: 877-254-1234 Contact: [email protected]
Operated by: Dynata
Quick Overview:
Rewards Offered: Amazon gift cards iTunes gift cards
Member Opportunities: Mobile app Mystery shopping Diary surveys
Redeeming Rewards: Request an Amazon gift code or an iTunes gift code once your account reaches $10 (or £10 in the UK).
Similar Panels: Opinion Outpost, OpinionWorld

First launched in 2013, QuickThoughts is an app that gives you rewards for your opinion. QuickThoughts is owned by Dynata.
Get the App!
The QuickThoughts app is available on both Android and iOS. It is available for use on both mobile phones and tablet devices such as iPads. The app has been downloaded more than 1,000,000 times on Google Play, and has paid out millions of dollars to its members.
Rewards Offered
Earn Amazon gift codes and iTunes gift codes in exchange for completing surveys. Once your account reaches $10 (£10 in the UK), you may request a code. Reward redemptions are instant; after you request your Amazon e-voucher, you will receive it immediately.
Rewards
The app offers rewards of gift cards from Amazon or iTunes. Note that if you are on an iOS device, you will only have the option of redeeming your rewards via iTunes.
Types of Assignments
Although QuickThoughts primarily offers mobile surveys, sometimes other opportunities are offered, such as shopping assignments where you could be asked to take pictures of products on store shelves. Other shopping assignments such as taking in-store polls near you, or providing feedback on your shopping experience at a local store, are also available.
High Survey Availability
QuickThoughts is unique in that it connects you with 1000's of online survey sources, making a constant number of surveys available to take.
Survey Lengths and Compensation
Mobile survey lengths vary, but typically take anywhere from 5 to 30 minutes. Surveys award between $0.50 - $3 each. You will even receive $0.10 if you are screened out!
Participate in Sweepstakes
Occasionally, some surveys may offer sweepstakes entries in lieu of points. You will be alerted to this before you begin your survey.
Donate to Charity!
If you elect to donate your points or dollars to one of the charities approved by Dynata, Dynata will donate said points or dollars to the selected charity. The donation is not made by or on behalf of Dynata and Dynata does not and will not match any donation.
Eligibility: Users worldwide can download the app.
SurveyPolice Exclusive: 9 Question Q & A with QuickThoughts
---
Alternatives to QuickThoughts
Survey takers who have joined QuickThoughts are also interested in these survey programs:
November 23, 2019 by Tatiana from United States
It was very good app until I tried to log in from another country where I had vacation. They blocked my account just because of it. I am very disappointed. I did not have another account, answered truthfully, I did not know that I can not login from another country.
November 15, 2019 by Andrei from Canada
Hi,

I used this palform on IPhone and several times received itunes gift cards .
But when I wanted to use this platform on android, my account has been temporarily suspended..

Technical support instead, in order to help solve the problem, decided to block permanent my account.

P.S. If you read my review, then it is better to consider other platforms, otherwise you will most likely have the same fate.
November 15, 2019 by Unigka from United States
I became a member of Quickthoughts in January 2019. Everything was great.
Plenty of $2, sometimes $3 and even a $10 survey offers. I was in heaven for nearly eleven until yesterday, 11-13-2019. I could not log in. First the message said that I had no internet connection, which was not true. My internet was fine until I went to the Quickthoughts app.
I tried to log in again, then another message says: There is an issue with your account, contact customer service. I decided go to Google Reviews. A swarm of people were getting the exact same messages as I did.
They were making lots of money ( Amazon GC) with them. I cashed out $10 every few days. I'm sure that I made over $200 in Amazon GC while being a member.

It seems like Quickthoughts dumps members when they start making too much money. The great reviews are from members who have just joined or haven't been a member that long.
I thought it was cruel that Quickthoughts start licking people out of their accounts when it's close to the holidays. A lot were using their Amazon GC to get Christmas gifts.

Also, their customer service is not good. They either take forever to respond, or don't respond at all . I didn't even bother contacting them this time. I uninstalled. I don't like how Quickthoughts treats their members.
So if you're a new member, enjoy it while it lasts.
November 8, 2019 by Michele from United States
I guess all good things come to an end?! I've been locked out! And now coming here and seeing reviews, it's an ongoing issue. I'm glad I cashed out every 10 because I've read some reviews that people lost 90+ dollars in this app. I have absolutely no clue what I did. I did take as many surveys I possibly could but it states THERE ARE NO LIMITS ON SURVEYS, SO TAKE AS MANY AS YOU LIKE. So I did.. I took every survey seriously because hey they did payout good and I definitely didn't want to risk being banned. I answered everything honestly and was as accurate as I could be. I've been emailing them for 2 days and no reply as of yet. I really thought I was just having app issues. But reading everyones reviews... Im sure I know what happened.
Surveys are based on OUR INDIVIDUAL THOUGHTS AND OPINIONS, so how do u get banned for doing something "wrong?" I'd understand if there was a cash out max per day or a limit on surveys, and I would have gone over, but there's not. I seriously cashed out 30.00 the day I started getting the "error" bs. They want you to be honest but they don't give u honesty in return. I'd rather them give me a real straight forward answer why I'm locked out then to have me questioning what I did.
Maybe helpful hints?
IF you download it, have fun and enjoy it while u can. Cash out every 10. Maybe don't do so many in one day and only cash out once a day. I honestly LOVED this app! I made 180 in 3 weeks.

Sincerely,
I want my app unlocked :.(
October 8, 2019 by Andrea from United States
I just downloaded the app 2 weeks ago and so far I've already made $30 in Amazon gift cards. The surveys pay $1 and I just got a $4 survey that didn't take me long at all to complete. I plan on using it for Christmas money so I'm happy so far.