AttaPoll is a mobile app, available across the world on iOS and Android, which allows you to earn money by answering surveys. There is no desktop website, nor any methods of making money other than answering surveys and referring your friends to the app.
This simple surveys app focuses on a few things, but does it do them well?
In this review, you'll discover how AttaPoll works, how much cash you can expect to earn using it and how it compares to similar smartphone apps.
Note: Some of the below are affiliate links which helps cover our costs and keeps SurveyPolice free. Full affiliate disclosure here.
How AttaPoll works


The sign-up process is as easy as it gets. Simply visit Google Play or the Apple Store to download the Attapoll app, agree to the terms and conditions, confirm your email address, and you're done.
From there, you'll see a list of surveys that you're eligible to answer. On each survey, you'll see the reward on offer in U.S dollars, plus the estimated amount of time to take the survey. Your first surveys will take less than one minute, and will relate to your demographic information. You can complete as many or as few surveys as you wish.
There is also a new star rating for each survey. Surveys with more stars are more likely to result in successful completion, surveys with fewer stars have a higher chance of disqualification because the survey is looking for a very specific respondent. It's best to attempt the surveys with most stars first!
There's a 'Check Balance' button at the bottom of the home dashboard, which will take you to a page showing how much money is in your account. This page also allows you to cash out your earnings, once you've reached the necessary withdrawal threshold.
That's all you need to know about the Attapoll surveys app. The simplicity of it is a real selling point.
AttaPoll surveys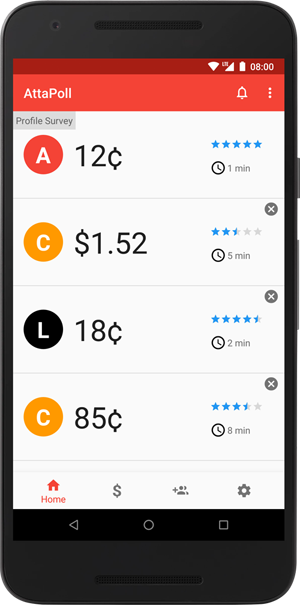 The survey questions are set by clients of Attapoll looking for market research around their niche. As such, the surveys are based on a broad range of topics.
You can filter your page so that only surveys of a certain length appear. This is a relatively unique feature and could help if you're pressed for time.
At the start of the survey, you'll be asked some qualifying questions to ensure you're the type of person that the client wants answers from. If you're not, you'll be disqualified from the survey without being given the chance to finish it. No money will be earned in this case.
In the reviews of this app on the iOS and Google Play store, several users complained that they were disqualified a long way into the survey. Unfortunately, when this happens, it's one of the most frustrating aspects of paid survey websites. No-one likes having their time wasted. If you hate being disqualified from surveys, check out sites that will pay you for disqualifications.
Referring your friends to AttaPoll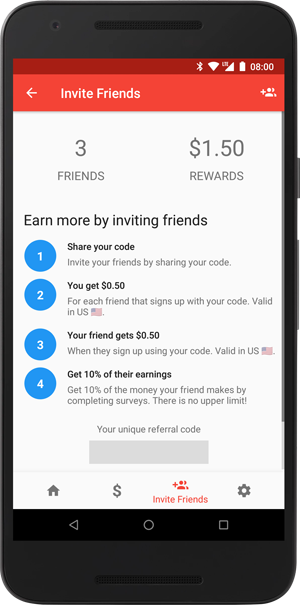 To refer your friends to AttaPoll, click the menu button in the top-left of the screen and navigate to 'Invite Friends'.
Here, you'll find a unique referral link.
For every person who joins the app using your link, you'll get $0.50 as soon as your friend verifies their account. In addition, you'll also earn 10% of each survey they complete!
This rewards pales in comparison to the survey referral programs offered by other paid survey websites (where sites like PaidviewPoint pay up to $25 per referral). With pay this low, it likely isn't worth the hassle of persuading even your best friend to join the app, unless you know for sure they're looking to make some extra money using their smartphone, or you yourself have fallen in love with Attapoll.
What rewards are available with AttaPoll?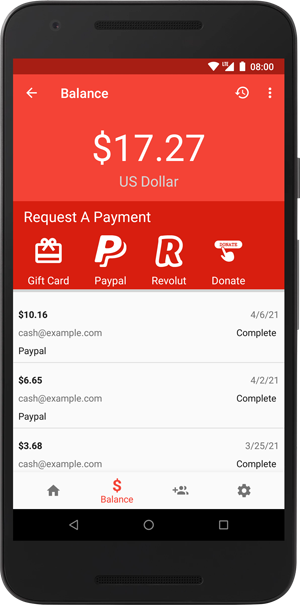 Once you've earned at least $3, you can request a cash payment to your PayPal account.
You can also cash out using gift cards. In the US, at the time of writing the following gift cards are available:
Amazon.com ($2.50 account minimum required)
Home Depot ($5 account minimum required)
Fanatics ($5 account minimum required)
Domino's ($5 account minimum required)
ASOS ($5 account minimum required)
If you have a Revolut account, you can also cash out straight to your account when you reach $2.50.
Alternatively, if you're feeling generous, you can also choose to donate your earnings to charity once you've earned at least $2.50 USD.
How quickly can you earn rewards with AttaPoll?
AttaPoll has a low withdrawal limit compared to other paid survey websites. However, the amount you earn for the time spent filling out surveys is nothing to write home about, even compared to other run-of-the-mill paid survey websites.
You'll need to be patient with AttaPoll in order to earn significant rewards, though users with backgrounds or occupations that are in demand may experience a higher level of success with the pap. With this in mind, you may want to consider the speed you can earn money with other paid survey websites and look to other options.
What are the alternatives to Attapoll?
These are more suitable options other than Attapoll if you're looking to quickly earn money answering surveys on your smartphone. Check out these:
Swagbucks. Swagbucks offers its users a huge range of paid surveys, plus a handful of other online activities for earning money. Its smartphone app works incredibly well and new users get a $5.00 account credit, just for joining Swagbucks.
PrizeRebel. Another huge get-paid-to website with tons of paid surveys on offer, and a good range of other ways to make money too. There's no dedicated app, but it works perfectly well on mobile.
Toluna Influencers. This app focuses primarily on paid surveys, but there's an impressive stream of new surveys being generated all the time.
Pros and cons of Attapoll
Pros
This app is simple to use.
It's available in 44 different countries.
You can withdraw your earnings as PayPal payments, Revolut, gift cards or donate to charity.
There is a low withdrawal threshold.
You can filter what length of surveys are offered to you.
Cons
The app doesn't pay particularly well for time spent on surveys.
There aren't a ton of surveys available outside of big markets such as the USA.
Many users complain of being disqualified after spending long periods of time on a survey (though this is being mitigated through their new star rating system).
The bottom line
AttaPoll is a simple mobile app, which is easy to use, functions well and has a low withdrawal threshold. Sadly however, it doesn't pay anywhere near as well as similar paid survey websites available on mobile. If you're looking for a new surveys app, or want to shake up your survey taking with something a little bit different, you might consider giving Attapoll a try.
Eligibility: Smartphone users worldwide.
Note: AttaPoll used to support cryptocurrencies such as Ethereum, but this is no longer offered. If you're interested in general about earning cryptocurrency taking surveys, check out more information here on taking surveys for bitcoin.