One of the perks of being a member of SurveyPolice (besides being able to post on the forum, the ability to review panels, the Survey Tracker, etc.), is that you have your very own Survey Panel Finder in your account!
The Panel Finder tool is an easy way to see which online survey panels you're a member of, which panels you've reviewed, and is handy in finding new panels to join.
This powerful tool is a must-use for any serious survey taker.
Accessing the Panel Finder
First, you must sign up as a member of SurveyPolice. Don't worry if you don't currently have an account – it's free, and only takes a minute to set up.
Once you've logged into your account, click the blue "Dashboard" button in the top right-hand corner. 

This will bring you to your user account dashboard.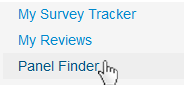 Next, click the "Panel Finder" link on the left hand side. This will open the Panel Finder tool.
How it Works
When you first open the Panel Finder, you will be presented with a list of online survey panels that you are eligible to join, based on your country of residence. All of the survey panels listed are also part of the main SurveyPolice directory.
Select Your Membership Status
If you're already a member of some online survey panels, some of the names on the list will no doubt be familiar. Under the "Are you a Member?" column, click "Yes" for the panels you're a member of, and then the "save" button that appears on the right.

Note, it's VERY IMPORTANT for you to click "save". Failing to do so will result in any changes or entries you have made, being lost.
Clicking "Yes", (then save), will turn the row green, selecting "No" will turn it yellow, and selecting "Not Interested" will turn it gray. If you accidentally make a mistake, simply click the "edit" link that appears next to the status.

Once you have made some entries here, you will be able to sort the "Are a you Member" column by status (Yes, No, Not Interested). This will make it super handy for you to see with whom you have membership.
If you're new to online survey taking and are not yet a member of any survey panels, it's easiest to leave this column alone, until you actually join a few panels. There's no sense in selecting "No" for every single panel, unless of course, that's your thing. 🙂

If you'd like to find out more about a panel, or are ready to join, simply click the green "Join Now" button. Doing so will open a new tab in your browser, which will keep your Survey Finder open and ready to go.
Making Quick Notes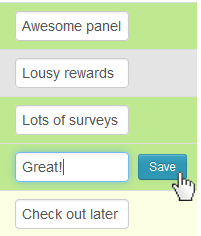 Whether or not you're a member of a panel, you might have something to say about it. Maybe you have a favorite panel, or maybe you have one that you joined in the past, but disliked. The Quick Notes column is the place to enter in your comments. Things like, "My #1!", "Don't like the rewards", "Made $400 from them last year", are all helpful little tidbits of information that will help you keep track of your history with different panels.
My Rating
If you've left a review for a survey panel, you'll see the star rating for it appear on the row of the panel's name. This is neat because you can see on the same screen how your ratings compare to what the rest of the SurveyPolice community thinks about a panel.

If you have yet to leave a review for a panel, and have indicated that you are a member of it, you will see a "leave a review" link under the "My Rating" column.
Simply click this to be brought to a simple page where you can leave a quick review.
*** We strongly recommend that if you've joined a survey panel (i.e. have selected "Yes" under "Are you a Member?", you leave a review for the panel. The rankings on SurveyPolice rely heavily on user feedback, so your reviews are always welcome. ***
Note: Leaving a review for a panel will not automatically change the membership status column to "Yes". We did this intentionally to account for possibilities such as previously having membership with a panel, but not any longer.
Making Changes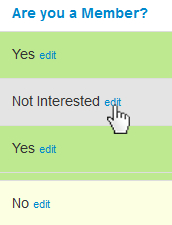 If you ever need to edit your member status on the Finder, simply click the "edit" link next to the status you've previously selected. Doing so will re-display the original selections available. Simply click your new selection, and hit the blue "save" button on the right.
If you'd like to make changes to your Quick Notes, simply click in the box where your notes are written, and as soon as you start typing, or deleting what you've previously entered, you will see the blue Save button appear on the right. Again, click this to ensure that whatever you've entered is properly saved.
Tips and Tricks
Each column on the Panel Finder is sortable. Simply click on a column header, and the rows will sort alphabetically, by score, by number of reviews, etc.
Click on the name of a survey panel, and you will be brought to their listing on SurveyPolice. This is especially great for when you'd like to learn more about a particular panel's rewards, or if you'd like to read their reviews.
If a newly added survey panel is available in your country, it will automatically be added to your Panel Finder.