Loop Surveys has been busy over the past few months making significant changes to their survey platform. These new updates make survey taking easier and smoother than ever before.
If you're already familiar with Loop Surveys, you know that this survey panel is available to residents of the USA and Canada, awards cash values for surveys and sends frequent invitations to complete studies.
New design interface
Loop Survey's new design interface has made the website easier to navigate and find new surveys, view your account information, your earnings, and more.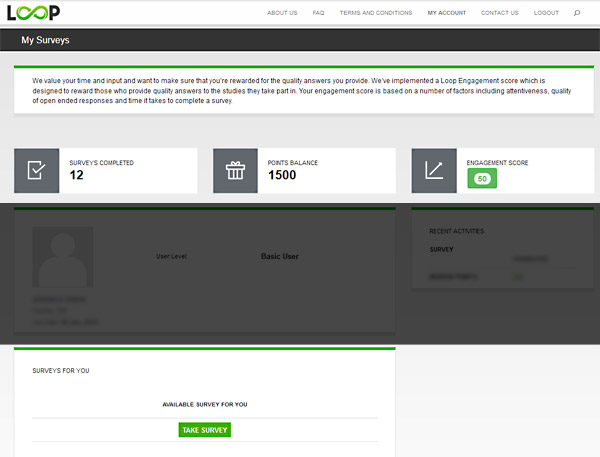 Surveys galore!
The revamped survey inventory now includes more surveys than ever, including daily survey opportunities. You'll also see higher paying surveys and should find it easier to qualify for surveys.
Engagement score
The Loop Engagement Score rewards members who provide quality answers in the studies they take part in. The score is based on a number of factors including attentiveness, quality of open ended responses and how your survey completion times compare to those of other users.
Improvements for Canadians
If you're Canadian, you'll be pleased to see more survey opportunities available in your account. If you prefer taking surveys in French, you can also choose to take surveys in your native language.
Log in to see for yourself
If you're already a member of Loop Surveys, log in to your account to take a look at these new changes.

If you're new to Loop, receive a 200 point bonus (worth $2.00) added to your account, immediately after registering. Receive email notifications when new surveys are added, and complete them for cash which you can redeem in the form of pre-paid Visa cards (which can be used almost anywhere).
Get Your $2.00 Bonus from Loop Surveys