This February, the MySurvey and GlobalTestMarket online survey panels became LifePoints. This transition has been in the works for a long time, but finally became a reality in many countries this month.
LifePoints (and MySurvey and GlobalTestMarket for that matter) are still operated by the same company – Lightspeed Research Limited, so there is no change in ownership.
Your account details should remain the same
You should be able to use your GlobalTestMarket or MySurvey credentials to log in to your LifePoints account. As well, because both panels changed their points systems to 'LifePoints' a while back, your balance in your new LifePoints panel account should be the same as your previous accounts.
If this isn't the case, be sure to contact LifePoints. Some users have reported missing points, or have had problems logging into their new LifePoints accounts. Especially with regards to missing points, it seems that customer service has been active in rectifying these issues and have issued credits.
LifePoints App discontinued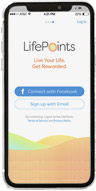 The LifePoints App launched mid-2017 and has been removed from the Apple Store and Google Play. According to the LifePoints App website, "Our app has been discontinued as we have launched the new LifePoints website."
New: Earn points for survey disqualifications
If you were disqualified from taking surveys with MySurvey or GTM, you earned a sweepstakes entry. These sweepstakes have been discontinued and have been replaced with point credits.
Now when you get disqualified from taking a survey, you will earn 1 to 3 points, up to a maximum of 10 points per day. Although small, these extra points may help you reach your reward goals sooner.
Much of the same
The LifePoints panel isn't hugely different from the old MySurvey or GlobalTestMarket panels outside of a more modern website design, which is a huge improvement from the old sites. The rewards themselves have remained unchanged, and the survey taking process is the same.
Transition still in the works
The transition over to LifePoints seems to have occurred first in Canada, then the UK, and most recently, in the USA. Although parts of the MySurvey and GlobalTestMarket websites still appear operational in some countries, random links are starting to point to the LifePoints website, including in actual surveys themselves.
We believe that LifePoints will completely replace GlobalTestMarket and MySurvey in all countries over the next few weeks.
Not yet a member of LifePoints? Join and get 10 free points.
Join LifePointsLearn more about LifePoints
Sources:
http://lifepointsapp.com/home