You may have recently received a letter or an email suggesting that you participate in a special survey for Opinion Outpost and that you will receive a reward of hundreds of dollars in return for your participation.
If you are an actual member of Opinion Outpost, it's likely that you will discard these messages, as you will quickly realize that Opinion Outpost will never contact you by mail and any emails you may have received look nothing like what the real Opinion Outpost would send: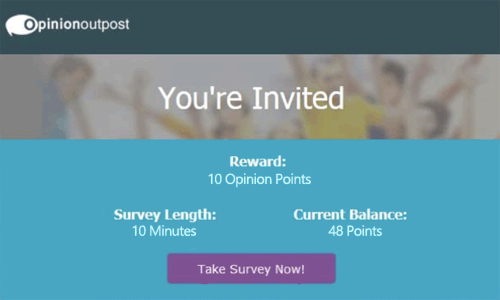 Opinion Outpost mail scam
It's very easy for scammers to fake their identity and pose as a legitimate organization by stealing their logo and suggesting that they are contacting you from the actual organization's company headquarters.
Letterhead that displays an actual company's logo, and address information for a real office of the company may all be included in order to suggest that the communication you're receiving is credible and from the company itself.
You may have recently received such a letter suggesting that you participate in a mystery shopping or survey assignment where your participation will be handsomely rewarded. The letter may include an actual check and you will be instructed to deposit the check, complete a survey, and keep most of the check's proceeds, while you then use Western Union or MoneyGram to send over a portion of the check's balance in order to verify your identity, as a processing fee for your participation in the study, etc.
The only problem? The letter did not originate from Opinion Outpost, the check is fake, and it will bounce. Meanwhile, you will be left holding the bag, as any money you wire will be lost forever.
Opinion Outpost email scam
Similarly, there is also an email scam that is using Opinion Outpost's name. The scam consists of the scammers emailing random email addresses, letting them know they've been selected for a survey. If you engage with the scammers, they may email you back, asking you to provide your physical address so that they can issue you a check.
The scammers may very well send you a check by USPS if you provide your address to them, and will continue to email you, asking you to complete a survey in exchange for the payment you received. Note that although the check may look real, it WILL BOUNCE!
If you choose to deposit the check, it will bounce, and you will get an NSF fee on your bank account (typically around $20). Meanwhile, the scammers will hound you aggressively to complete the survey and transfer the "remaining balance" to their bank account via wire payment. Under no circumstances should you do this. Doing so will mean you will never see your money again.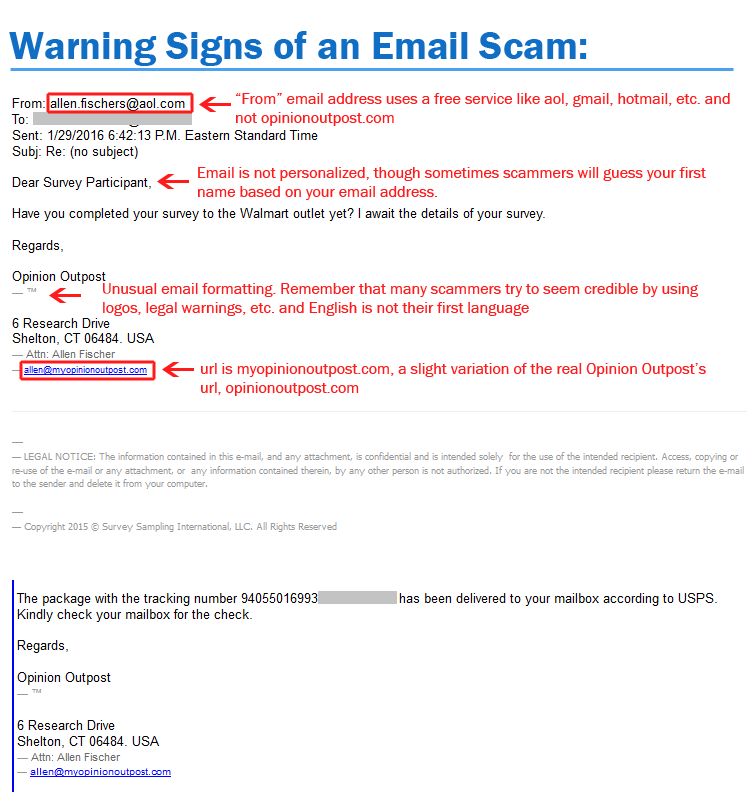 You might also have received an email that looks something like this:
---
Date: Thu, 18 Aug 2016 22:32:36 +0100
From: Opinion Outpost [[email protected]] To: [Removed for privacy] Subject: Evaluation Survey!
We currently have a customer evaluation assignment available in your area and we would like you to participate.
Get Paid $200.00 for every Assignment Completed. Click Here to read more and Sign Up if interested.
Thank you for participating.
Opinion Outpost
6 Research Drive
Shelton, CT 06484. U.S.A
Attn: Robert Walsh
---
This scam is very similar to the Pinecone Research Scam that was very active in 2014 and 2015.
The real Opinion Outpost (which is run by SSI) is aware of the problem and has posted a warning on their website: https://www.opinionoutpost.com/policies/caution-announcement
What to do if you've been contacted
1. First off, contact [email protected] or [email protected] to help with their own investigation into this scam. The more information you can provide, the better.
2. DO NOT deposit the check, and stop engaging with the scammers. Do not provide scammers with your physical address, as this could be used to steal your identity.
3. Report the suspicious emails to the FBI's Internet Crime Complaint Center: http://www.ic3.gov/default.aspx
Who is the real Opinion Outpost?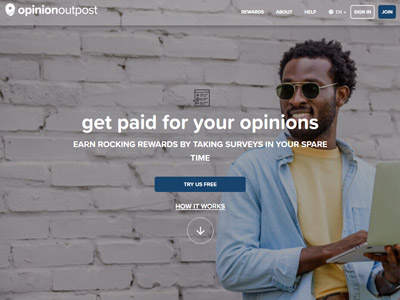 Despite being targeted in scams, Opinion Outpost is actually a genuine survey site that has over 1,400 user reviews on SurveyPolice.
By participating in their online surveys, you can earn cash payments made to your PayPal account, or choose to receive Amazon e-gift cards.
Check out the real Opinion Outpost
Have your own experiences with this scam? Please comment on this article to help prevent others from falling victim to this scam.