As a ubiquitous global brand, Walmart has been a frequent target by scammers. Recently, consumers have been receiving solicitations by e-mail and letter mail that claim to offer surveys for $100+ gift cards, for mystery shopping assignments at various Walmart locations, and fake check scams.
Walmart Gift Card Survey Scams
One day out of the blue, you may receive an e-mail purportedly from Walmart offering you the chance to take a survey in exchange for a $100 or even a $1000 gift card. The link to the survey in the e-mail will point to a page asking you for your personal information, leading then to a lengthy survey, which will finally conclude with offers to sign up for services such as antivirus software. Seems sketchy? You bet it is.
This is a Walmart gift cards scam. Do not fill out these surveys. Not only are they not administered by Walmart, but they will mine your personal information, which will then be sold, exposing you to relentless amounts of spam.
Walmart itself does conduct in-store satisfaction surveys that presents shoppers with the chance to win gift cards, but these are strictly offered at: survey.walmart.com. This same url will also be listed on the bottom of your Walmart receipt.
If you're looking for a legitimate way to earn Walmart gift cards, you can do so by taking surveys through legitimate online survey providers, but you must specifically request to receive a Walmart card. Legitimate survey sites won't typically promise a Walmart card for completion of a particular survey; rather, once you complete a few surveys, you will be prompted to select a method to redeem your rewards, and there, you may opt to receive a Walmart gift card.
» Take Surveys for Actual Walmart Gift Cards
Walmart Mystery Shopping Scams
Instead of receiving an email, you may receive a letter purportedly from Walmart which will include a cashier's check for a hefty sum. The check will be accompanied by a letter which will advise you that you have been selected for a mystery shopping assignment.
To participate in the mystery shop, you will be asked to deposit the check, cash it after a business day or two (to supposedly verify its authenticity), and then go to Walmart to buy an item of your choice (and sometimes write a report about it), and then wire approximately 80% of the value of the check back to the company purportedly administering the mystery shop.
Alternatively, you may be asked to deposit the check, and visit a Walmart to buy Green Dot (MoneyPak) cards, Vanilla pre-paid Mastercards, or other pre-paid cards that can essentially be used like cash. You will then be instructed to scratch the cards and send the PINs to an e-mail address provided in the letter. Again, the supposed benefit to you is that you are to keep the difference between the check amount and the value of the prepaid cards.
The typical amount that victims of this scam lose, ranges between $1000 and $2000. In the case of prepaid cards, you may be asked to purchase 3 cards valued at $500 each, while the supposed check you receive has a value of around $1800, resulting in a profit of $300. Unfortunately, however, should you choose to participate, you will never recover the $1500 worth of pre-paid PINs you will supply to the scammers.
Although sometimes highly convincing, such solicitations do not originate from Walmart. In fact, Walmart's corporate website lists all of the various scams in which their company has been targeted. Their website includes more information about the mystery shopping scams, and gift card survey scams discussed here.
As a side note, in February of 2015, Green Dot officially announced that they will discontinue the sale of their MoneyPak cards, in part, due to the relentless targeting by scammers.
No Buts About it – the Check will Bounce
The harsh reality is that no matter how convincing these checks look (they may even be a proper check, just not associated with an actual bank account), they will eventually bounce. Checks take days and sometimes even weeks to fully clear by your bank, so even if the funds seem available in your account, they are not.
If you go ahead and deposit the check, your bank will charge you an NSF (insufficient funds fee) when the check bounces, which can cost you upwards of $20.00. So no matter how tempting it may seem, do not deposit an unexpected check you receive in the mail.
To clarify, this scam operates by the scammers sending a check for say, $1000, to a victim. The victim will then be asked to keep around $200 for their participation in a mystery shop, while being instructed to return $800 to the company supposedly administering the assignment (the scammers). The people behind this attempt to seem honest by issuing a very large check while supposedly entrusting their victim to send back a portion of the value of the check.
FakeChecks.org is a website created by the NCL, America's oldest non-profit consumer organization, and contains detailed information regarding some of the most popular fake checks scams.
» We have also written more about this on SurveyPolice. Find out more about fake check scams.
Money Orders Won't Clear Either
By nature, it would appear that cashing a money order should work. After all, a money order is like cash in that the buyer had to exchange cash to purchase the money order itself.
The money orders you receive as part of these scams however, are not real money orders. They may look authentic, but they are usually created from a template and security features such as watermarks may be missing. If does look real, you can always validate the authenticity of the money order by checking the issuer's website, or by giving them a call.
Click here to validate a USPS money order.
If the money order came from Western Union, you can call Western Union's Customer Service Center (ask for the fraud department) at 1-800-634-1311, to find out more.
By taking this extra step and doing your due diligence, you will no doubt be disappointed to discover that the money order that you received is fake. Again, receiving cash in the mail unexpectedly, should always raise a red flag.
Sneaky, Audacious, Aggressive Scammers
As outrageous as it sounds, some people have actually received fake assignments via couriers like FedEx or UPS! It seems then that even after courier fees, this scam is profitable enough for scammers to target consumers using very aggressive and expensive tactics. This goes to show how profitable this scam truly is, if using couriers is actually a viable method for targeting victims.
Even if there is a phone number listed in an e-mail or on a letter, and you end up talking to someone on the phone who assures you this is not a scam and does not initially for anything in return, rest assured, this is a still a scam, and you will eventually be asked to send money.
Again, these criminals realize that they must appear convincing in order for consumers to engage with them. So whether it's sending checks with holograms on them, paying to have checks delivered by courier, and even staffing a small call center where you can talk to an actual human being (who will flat out lie to you), this scam is very profitable, so scammers go to great lengths to recruit new victims.
How to Recognize a Mystery Shopping Scam
Sometimes it's very plain to recognize a scam; poor grammar, broken English, poor letterhead which display multiple unrelated company logos – these are all obvious red flags that most of us can pick out.
Perhaps the biggest red flag however, is being asked to "return" a portion of whatever payment you've received, back to the company. If you see this, run! Remember, there is never a legitimate reason for you to send someone money to someone who has supposedly given you some.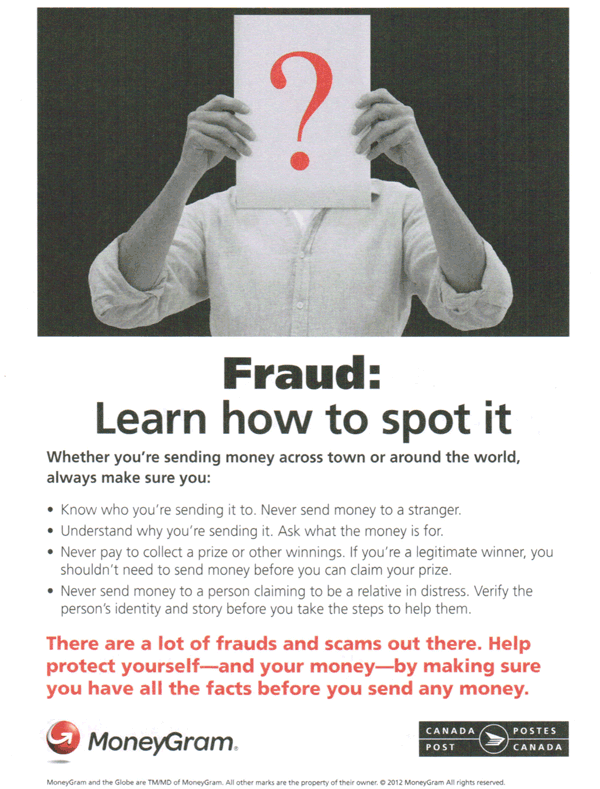 This problem is huge, and organizations such as Canada Post have issued their own warnings about such scams.
Remember, if you ever receive an unexpected solicitation for a mystery shopping job, please realize that there is no job, and you are simply being targeted by fraudsters. Companies like Walmart DO NOT randomly issue massive checks with the hope that recipients will partake in mystery shops, or other assignments. If you receive a solicitation by mail or e-mail that you did not initiate, you are dealing with scammers. Do not engage them.
As well, never pay for information pertaining to mystery shopping. Although not a scam in itself per se, there is no need for you to pay for a listing of legitimate mystery shopping companies. Indeed, there are plenty of legitimate mystery shopping companies out there, but they will never ask you for money to become a participant in their program, nor to find out more about it.
WalMart isn't the only Target
Starbucks, Home Depot, McDonald's, the list goes on and on. No matter which apparent large corporation the mystery shop is coming from, rest assured, the solicitation is fake. If these companies wish to conduct a mystery shop, they will do so through a professional market research company, who will contact their database of mystery shoppers; as a random consumer, if you are not registered with one of these companies, you will not be directly contacted to participate.
Similar to the Walmart scam, similar scams where genuine market research companies have been targeted include the Pinecone Research scam and Darwin's Data scam.
Why you?
Most people will be targeted by these scams at one point or another. For most people, it will be via e-mail. Who hasn't received a request to help out a Nigerian prince?
Receiving a letter in the mail however, hits a little closer to home. Scammers are aware of this, which is why receiving a personalized letter is an effective tactic employed by these criminals.
Where did they get your information? It's likely that at some point you signed up for something (perhaps for a contest, or something similar) where your information was sold. Names and physical addresses of people are literally bought and sold on the internet. These lists are very easy to obtain, so although it may seem that a scammer knows something about you, it's more likely that your name is simply on a list that they purchased.
What you can do
If you receive a fake check, are solicited via text message, receive phone calls, etc., you can file a complaint.
For US residents: File a complaint with the Federal Trade Commission
For Canadians: File a complaint with the Canadian Anti-Fraud Centre
How to Become a Real Mystery Shopper
There are many legitimate mystery shopping organizations that are essentially types of market research firms. It is possible to take on assignments where you will be asked to visit businesses to gather information about it while posing as an ordinary consumer.
MSPA (Mystery Shopping Providers Association) has a job board where you can view available assignments across North America.
Again, never pay for information on how to become a mystery shopper. True mystery shopping firms will never ask you for any money. Period.
Sources:
http://www.consumer.ftc.gov/articles/0053-mystery-shopper-scams
http://www.consumer.ftc.gov/blog/mystery-shopper-scam-strikes-again