No doubt you've come across a fake online survey site. One that tempts you with claims of making huge sums of money in a short period of time, signup bonuses of $10 or more, and images of happy users who have apparently experienced what the site has to offer. Sometimes these websites are easy to spot, but not always. Find out how to recognize these sites and what to do if you spot one.
Definition: Pseudo Online Survey Website
A website that has the appearance of an online survey company website, but in fact is not. Marketing companies or online lead generation companies typically run these "pseudo" websites.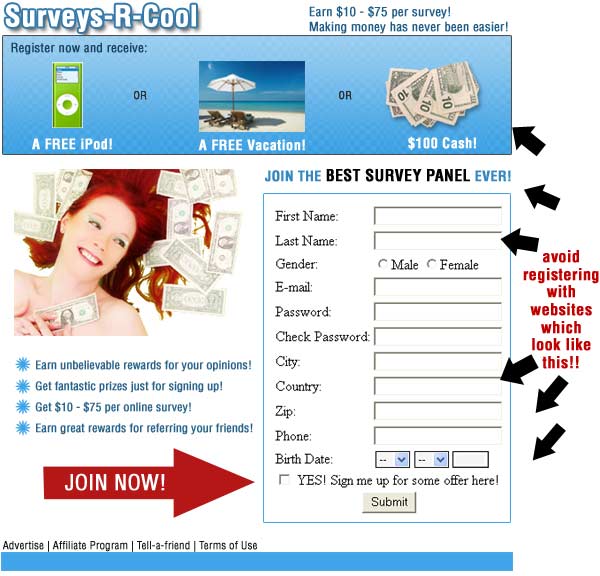 The internet can be a tricky place – sometimes telling the difference between what a genuine online survey survey website looks like, and a pseudo, or fake, survey site is difficult.
The Difference:
Genuine Online Survey Website

Pseudo Online Survey Website

run by an actual marketing research company
user registration information is not sold to third parties
data provided by panelist is used for market research purposes
research company is easily contacted
rarely is panelist asked to sign up with additional online survey companies, or other offers
credit card information is not required
rewards regarding survey compensation are believable and fair
company background information is usually listed on website
client lists, information from previous online studies, etc. is listed on corporate website
privacy policies, usage terms, BBB approval, market research association seals, etc. are common

typically run by marketing or online lead generation companies
user information is often sold to third parties
user is prompted to register for multiple offers/online survey companies
user is sometimes asked for credit card information
user is rewarded for registering for multiple offers
user is often sent SPAM as a result of registering for offers
company is not always easily contacted
company's website makes unbelievable claims regarding rewards. ex. free vacations, products, huge sums of cash
website lists very limited information
difficult to know who is actually running the site
website typically lists only a privacy policy
Characteristics of a pseudo-online survey website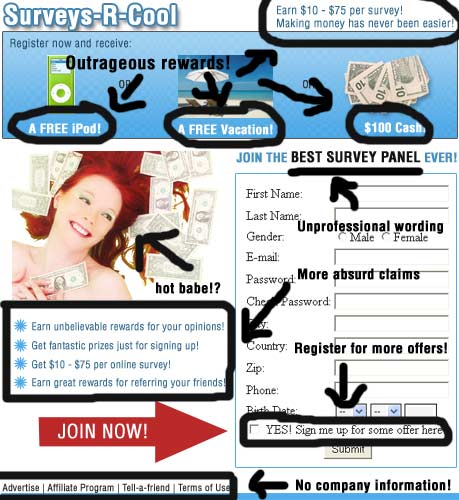 Earning potentials listed. Typically, $75 or $50 per online survey completion is listed as being realistic
Outrageous incentives for either registering immediately or taking surveys. ex. Free vacations, expensive products, large sums of cash
Scantily clad women on website. Genuine online survey companies would not want images like this on their website
User is asked to register for multiple offers during initial registration – legit research companies do not typically want to share panelist information
Claims that are "too-good-to-be-true" are listed on site
Company background information is missing on website
Website promises big rewards for referring others
Poor grammar, spelling, or unprofessional wording. Real market research companies use proofreaders!
How do pseudo-online survey websites make money?
Typically these companies make their money in two ways:

When a user initially provides their information (usually on the homepage), often times the website sells this information to data collection firms, who then in turn sells the information to companies looking to contact people to promote their products or services. Sometimes this information is actually sold to legitimate market research companies.

Once a user completes their registration, they are prompted to sign up with online survey companies, or for other offers. When the user does this, the website is paid a flat rate for every user which takes a certain action. For example, if 10 online survey companies are listed on one of these websites, and the user registers for all 10, the website may make (for example) $2.00 for each registration. So, if there are 10 offers listed on the site, and the site gets $2.00 for every registration per offer, 10 x $2.00 = $20.00. This is mainly how these websites make money, which is through an online lead generation business model.
How to register for REAL online surveys
First, avoid providing your information to the type of websites we described above. This should limit the amount of SPAM your e-mail inbox receives.
Second, SurveyPolice.com exists to counter the misleading websites talked about in this article. We list hundreds of legitimate online survey panels that are ranked by user feedback, so you know ahead of time that a survey panel is trustworthy or not.
» Find Real Paid Surveys on SurveyPolice