Ultimate Guide to GPT Sites — Part 3: Referral Levels and Account Levels
Referral programs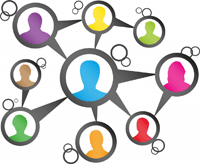 All the GPT sites we've ever come across have a referral program, or refer-a-friend program available to their members. At its core, this involves receiving compensation for recommending a GPT site on your blog, social media accounts, via email, etc. using a unique link which will track every member who signs up under you. This can be a great way to jump start your earnings and can help you climb the ranks of user levels so that you're able to receive your rewards faster, and sometimes, even at a discount.
Many referral programs are percentage based, which can be extra lucrative if your referrals are active participants in the program. Rather than getting a one-time payment, you could potentially earn endless amounts of money from your referrals for life, provided they continue to be an active member and the site itself remains in business.
Referring friends can not only boost your earnings, but is sometimes required to reach the highest account levels (if a GPT site offers membership account tiers).