9 Questions with Opinion Outpost
Originally Published: July, 2014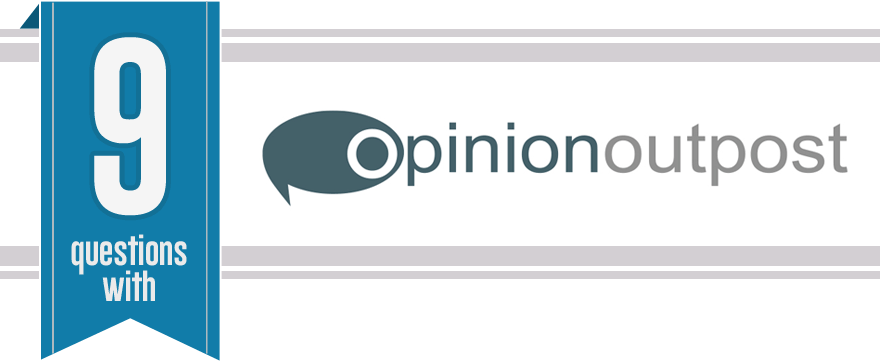 1. Can you provide a background on the Opinion Outpost survey panel?
Opinion Outpost is an online community where members can earn cash and rewards for sharing their opinions in all kinds of surveys and product tests. It is an interactive home to users who wish to earn some extra cash in a forward thinking and fun way.
2. What makes Opinion Outpost unique?
What makes Opinion Outpost unique is also what makes it so popular; offering the best rewards. Members who complete surveys can earn prizes like Amazon.com Gift Cards* or Cash via PayPal. Other members choose vouchers from leading digital song, movie, and game providers.
Opinion Outpost is proud of its charitable reward option in which members can choose to donate money to the American Red Cross in lieu of claiming one of the rewards mentioned above.
One thing you won't find elsewhere in other survey communities is a quarterly $10,000 prize draw. Each time a member takes a survey they are entered to win.
3. What types of surveys and research opportunities do you have available for members of your panel?
The surveys available to our members range in topic. Most surveys will ask about current or future products and ideas. Some surveys will even allow users to try a new product and give their feedback. Without this type of feedback, consumer demand can't be met. Our users play a vital role in the market!
4. What kinds of organizations hire you to conduct market research?
We find most of the surveys our members take come from decision makers who are looking to improve, create, or test a product or idea. These can be big name brands you see every day or small businesses who really need the answers our members provide in order to grow successfully.
5. What types of incentives can members of Opinion Outpost receive in exchange for their participation?
When you complete a survey at Opinion Outpost you earn points. These points are based on the length and complexity of the survey. When our members are ready to claim a prize, they can redeem the points they earn for which ever reward option they like. Using a point structure gives users the freedom of choosing whichever reward they want each time they redeem.
Don't forget our members also receive an entry into our $10,000 quarterly prize draw each time they participate in a survey.
6. How are panel members notified to take part in studies?
Our members receive invites directly to an email address they choose or can log into their account at OpinionOutpost.com to take a survey.
7. How is the privacy of your members protected?
Opinion Outpost has several real-time systems and processes in place to help prevent fraud or any attempt that would jeopardize a user's account or info.
8. Do you have any expectations for members of Opinion Outpost?
Like any proud survey panel, we want our members to take advantage of all Opinion Outpost has to offer. This means responsibly taking surveys and earning rewards and prize draw entries in the process.
We also love hearing from our members on Facebook (www.facebook.com/OpinionOutpost) as well as in our mini-polls which they can vote in on their account page.
9. What industry memberships and business standard practices do you currently uphold?
We're not one to brag, but since you asked, our parent company currently has an A+ rating from the BBB (Better Business Bureau). Also, we recently received one of the industry's highly regarded rewards for our work within the market research space.
*Amazon.com is not a sponsor of this program. For complete gift card terms and conditions, see
www.amazon.com/gc-legal. All Amazon ®, ™ & © are IP of Amazon.com, Inc. or its affiliates. No expiration date or service fees.
*The American Red Cross name, Emblems and copyrighted materials are used with its permission, which in no way constitutes an endorsement, express or implied, of any product, service, company, opinion or political position. The American Red Cross logo is a registered trademark owned by the American Red Cross. For more information about the American Red Cross, please visit redcross.org.