CreationsRewards Reviews and Features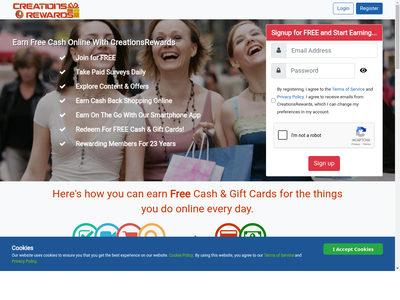 CreationsRewards is a GPT (get-paid-to) website where you can earn cash for completing offers, doing tasks, and participating in online surveys.
How CreationsRewards Works
After joining Creations Rewards and logging into your account, you will be presented with a variety of ways to start earning points:
Daily surveys - visit the surveys section for new survey opportunities. Some surveys are even available to take on a daily basis.
Daily videos - watch daily videos to receive compensation for viewing.
OfferWalls - sign up for special offers and deals for the fastest way to earn points.
Shopping - similar to cashback, shop at your favorite online stores listed on CreationsRewards and get rewarded for your purchases.
Visit websites - browse particular websites and complete short tasks such as small interactions with website features to earn points.
Sweepstakes and contests - visit the "win" and "promo" sections of CreationsRewards to play trivia games for bonus points. Visit their Facebook and Twitter accounts for additional special codes for more points.
Referring friends – refer your friends and extended family and earn 10% of the points they earn for the life of their account.
With 5,000 points in your account (worth $5), you can start redeeming your points for rewards. Choose from a selection of gift cards (from Amazon, Walmart, etc.), or choose to receive a prepaid debit card. You can also opt to receive cash PayPal payments.
CreationsRewards is over a decade old!
CreationsRewards was founded in 2000.
Eligibility: Anyone 18 years of age or older located in Australia, Canada, UK, or USA is welcome to join CreationsRewards
» Earn a $5 signup bonus, by earning at least 5,000 points within the first 60 days of becoming a new member.
CreationsRewards Reviews (20)
February 14, 2020 by Darrel from United States
You can earn as much or as little as you want on this website, they also have plenty of ways to earn, and payout is quick and easy to redeem, very trustworthy website, surveys they send are fun to complete if you qualify.
September 14, 2019 by Tammi from United States
It's time for someone to put this site out of its/our misery. I placed a shopping order and my reward should have qualified me to not be a dormant account. It didn't credit for some reason, and their support people said too bad, your account is dormant, and they took away all of my points it had taken years to accumulate! I am reading online that they aren't paying people. This site used to be okay and now it is just sad. Pull the plug,
August 29, 2019 by Kim from United States
Never received several gift cards. I would ask for payment, have to wait for months, still no answer when I would send messages. Never again.
January 8, 2019 by FRANCISCO from United States
these people say that will pay you in 8 to 12 weeks , this when all the surveys they provide come from companies that pay within 10 days max, like global test market and others
3 Payouts Requested over 1 Year; ZERO payments received.
January 25, 2018 by Randolph from United States
The system is designed to confuse, obfuscate and ultimately NEVER pay out members. After joining, I accumulated $50 dollars of points and requested a paypal payout. Six months after request, the earnings history indicated that a payout was pending. Three months later, the earnings history indicated that a payment was made. Payment was NEVER received and there is no followup on customer service requests. As all payment history disappears after six months on site, the site simply buries missed payments and stalls until such time as they disappear, and then any chance of recourse is lost. I also requested two payouts in the form of Amazon gift cards. Again, they were never received.

CreationsRewards looks like a very legitimate site at face value. There are a lot of survey opportunities posted and points can pile up. Sadly, the problem is that they don't pay any of that money out to members; certainly I never received a dime of compensation. I have tried, repeatedly, to notify customer service and have never received any reply, other than a computer generated notification that my query was received.

I have come to believe that the system deliberately uses a series of stall tactics, designed to wear members down until they give up. STAY AWAY from this site at all costs.
» Return to: TOP RATED GPT SITES
---
Popular Topics
Top Survey Sites of 2023
---
Best Rated Survey Sites
---
Ultimate Guide to GPT Sites
---
Taking Surveys for Gift Cards
---
The Best International GPT Sites
---
14 Ways to Get Free Amazon Gift Cards
---
Find Swag Codes to Make Extra Money
---
GPT Sites That Pay Instantly
---
Guide to Legitimate Paid Surveys
---
Survey Sites That Pay Instantly
---
25+ Easy Ways to Make Money Fast
---

Featured Advertisers: