CreationsRewards Reviews and Features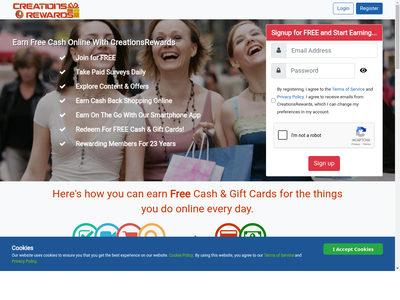 CreationsRewards is a GPT (get-paid-to) website where you can earn cash for completing offers, doing tasks, and participating in online surveys.
How CreationsRewards Works
After joining Creations Rewards and logging into your account, you will be presented with a variety of ways to start earning points:
Daily surveys - visit the surveys section for new survey opportunities. Some surveys are even available to take on a daily basis.
Daily videos - watch daily videos to receive compensation for viewing.
OfferWalls - sign up for special offers and deals for the fastest way to earn points.
Shopping - similar to cashback, shop at your favorite online stores listed on CreationsRewards and get rewarded for your purchases.
Visit websites - browse particular websites and complete short tasks such as small interactions with website features to earn points.
Sweepstakes and contests - visit the "win" and "promo" sections of CreationsRewards to play trivia games for bonus points. Visit their Facebook and Twitter accounts for additional special codes for more points.
Referring friends – refer your friends and extended family and earn 10% of the points they earn for the life of their account.
With 5,000 points in your account (worth $5), you can start redeeming your points for rewards. Choose from a selection of gift cards (from Amazon, Walmart, etc.), or choose to receive a prepaid debit card. You can also opt to receive cash PayPal payments.
CreationsRewards is over a decade old!
CreationsRewards was founded in 2000.
Eligibility: Anyone 18 years of age or older located in Australia, Canada, UK, or USA is welcome to join CreationsRewards
» Earn a $5 signup bonus, by earning at least 5,000 points within the first 60 days of becoming a new member.
CreationsRewards Reviews (20)
August 29, 2016 by Doug from United States
After years I finally dropped out after last payout. All payout took 4-6 months, didn't matter if it was a gift card or PayPal, it took way too long to get paid.
August 19, 2016 by kevin from United States
Creations Rewards can actually be a fun sight with plenty to do. Problem is, if you are looking for your pay out anytime soon, forget it. The past 2 times I cashed out, I waited well over 6 months to be paid, and had to keep sending e-mail after e-mail with a generic response that they were behind in processing. I finally gave up and closed the account.
My Expectations Was High For This Company
April 29, 2016 by Estella from United States
When I first joined this survey company a while back,they were real good,then they just changed. I was getting my gift cards without any problems,but when I cashed out the last time,I never received it. I kept writing to the company with no answer. That gift card was $25.00 that I should have received for doing activities on their website. I tried for several moths but nothing. This was three years ago,so I just left them alone. I am now doing surveys from companies that I know will pay. If you us up your time doing their surveys,they should pay.
I had higher expectations for this panel.
April 10, 2016 by Rachel from United States
At first it seemed like a good plan. It seemed like there were many ways to earn points but over the course of 3 days I found that a lot of those point earning opportunities work a bit misleading. If you don't qualify for a survey you get no points at all. I did not qualify for almost every survey. It was a lot wasted. Listening to the radio to earn points didn't really work either. The plug-in crashed right before I was scheduled to reach the 10-minute mark which is supposed to give you points. Despite Googling the answer to the trivia question and clicking the one selected the answers came up wrong. Earning points is very slow and I suppose if you have the time then this is for you but for me I'm used to working with panels and surveys where you receive a lot point in the payouts can be reached really fast. If you do manage to reach 1000 points then the payout is great $10 from PayPal or Amazon or whatever but it will take a while and as a result it's not for me.
» Return to: TOP RATED GPT SITES
---
Popular Topics
Top Survey Sites of 2023
---
Best Rated Survey Sites
---
Ultimate Guide to GPT Sites
---
Taking Surveys for Gift Cards
---
The Best International GPT Sites
---
14 Ways to Get Free Amazon Gift Cards
---
Find Swag Codes to Make Extra Money
---
GPT Sites That Pay Instantly
---
Guide to Legitimate Paid Surveys
---
Survey Sites That Pay Instantly
---
25+ Easy Ways to Make Money Fast
---

Featured Advertisers: