Qmee Reviews and Features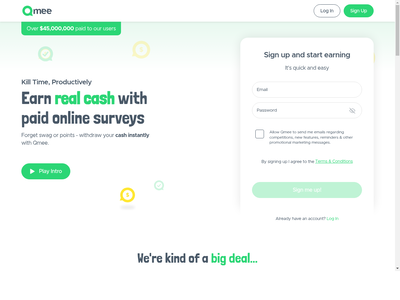 Qmee
Operated by Qmee Ltd
8th Floor South, Reading Bridge House, George Street, Reading, RG1 8LS, England
Contact: [email protected]

Qmee is an app and browser extension which allows you to earn cash by shopping, completing offers, taking surveys, and referring friends.
It offers a no minimum cash out for its users and utilizes deep machine learning to facilitate a better user experience. The registration process is free and fast.

Qmee App
The Qmee app is a free app available on both iPhone and Android. You can download it and automatically access your Qmee account, straight from your phone. Find deals with the automatic price comparison tool when shopping online, get notified of new surveys and request payments, directly from the app.
The Qmee browser extension is similar to the Qmee app in that you can see your cash rewards balance directly from the extension, and it includes an automatic price comparison tool which will compare price savings of different products, so that you don't have to. The tool can help save you money with coupons and deals, all without having to go to different sites to compare.
Complete Surveys

Complete the initial sign up survey to then be matched with a variety of paid survey opportunities. Each survey assignment will display the estimated time completed to finish the survey, the reward offered, as well as the topic of the survey. Some surveys have different statuses. These include:

Hot Surveys - these are picked by Qmee and are considered the 'hottest surveys'. They tend to disappear quickly, so if you're interested in completed surveys for Qmee, ensure to complete these when you see them.

Recontact Surveys - these are follow-up surveys to surveys that you have already previously completed.

Webcam Surveys - these are surveys that request use of your webcam. Like all surveys listed on Qmee, they are optional to complete.
Offers

Offers are Qmee are more similar to shopping cashback. Essentially, you can earn cash rewards for signing up for new products and services. You can use the offers search tool to look for your favorite brands, to see if they have any special deals available. You can also get money saving coupons and deals on the items you're shopping for to help you save.
Conduct Qmee Searches

Use the Qmee to conduct internet searches for cash rewards. Essentially, when you're conducting a regular online search using Google, Bing, etc. Qmee will suggest search results you may wish to explore. Clicking these results will result in a credit to your cash balance.
Explore Qmee and download the app

›

With Qmee, you'll accumulate a cash balance as you participate in tasks, take surveys, refer friends, etc. Once you have a balance in your account, you can request a reward. Choose between a PayPal payment, a gift card, or make a donation to charity.
Get PayPal Cash
PayPal cash payments are typically issued almost instantly after your request. Delays are uncommon, and the money should appear within a few minutes of request. There is no 'minimum' to cash out; as long as you have a positive cash balance, you can request a payment.
Choose a Gift Card
Gift cards are issued almost instantly, as they are in e-gift card format. Bear in mind that you'll first need to verify your identity by first making a PayPal payment. This payment can be low - even a few cents will do. The point is to verify that you are indeed the owner of your account so that a gift card can be properly awarded to you. Gift card denominations start at $5 and include major retailers such as Amazon, Starbucks, Whole Foods, etc.
If you're feeling generous, consider donating part of your earnings to charity. Qmee works with a variety of different charities who you can choose to make a donation to.
Explore the Qmee website

›
Referral Program
Qmee offers a referral program where you can earn up to $1 for every successful referral you make who reaches their first PayPal cashout. Referral links are available in your Qmee account under 'Referrals', but this link might not show up right away, as new accounts can't refer friends immediately after joining.
Eligibility: Open to residents of Australia, Canada, UK, USA.
Appalling lack of customer service
August 31, 2022 by Dawn from United States
I did a survey through their app. I've always gone slowly through surveys and given honest answers. There was a survey that got declined after the panel said I successfully completed it. So I emailed Qmee. This is the response I got:
Mark (Qmee)
Oct 25, 2020, 20:29 GMT

Hi there,

Thanks for getting in touch.

I've had a look at your account and at the survey you've mentioned (ID 209582xxx, Market topics. $0.57) and I can see that this survey was declined by the survey provider. It looks as though it may have been declined either due to the quality of the answers you gave or the speed in which you completed the survey.

Please remember to take your time when answering surveys and answer all of the questions to the best of your ability. Make sure you don't speed through surveys, give dishonest or inconsistent answers.

If you answer more carefully and honestly in the future, the survey providers are less likely to decline your surveys.

Please don't hesitate to get back in touch if you have any further queries.
Thanks
Mark

Customer Support Agent
Qmee Ltd

Absolutely appalling and disgusting reply! Very insulting. I believe this was a canned response by a 'bot. I replied back that no, I did not rush through the survey, and as always, I was completely honest. I demanded they escalate this to a supervisor and give me credit for my survey. I stated if I do not receive a response, I will file a complaint with the BBB and my state attorney general's office. I will not allow survey companies to treat me disrespectfully.

Most of their surveys are by Peanut Labs. It is difficult to impossible to complete a survey through them, and there are very many end of survey disquals. Avoid this panel.
August 25, 2022 by carol from United States
I have been with them for almost a year now and I qualify for at least 1 to 3 surveys a day and I like it that when you cash out either PayPal or a gift card you get it instantly.
August 12, 2022 by Frances from United States
I love this website. They also have an app available. The minimum cash out is $3.00. PAYPAL. You can literally cash out every day and probably multiple times a day. They usually list the higher paying/better chance to qualify surveys at the top and they decrease as they go down. I don't qualify for probably half of them but it's not that big of a deal because of the low cash out amount. There is no point system. They will tell you how much each survey pays. And the best part? When you cash out, it will be in your PayPal account before you can get there to check. It's immediate! Gotta love that. I'll be sticking with Qmee.
After teething troubles, best of the best.
August 8, 2022 by DAVID from United States
Once the teething problems were sorted out - mysterious payment failures and so forth - this has turned out to be the best survey site I have ever seen. Paid Viewpoint has the advantage in never frustrating you ... PV always pay out SOMETHING. But aside from that, Qmee seems to be the best at everything else.

I get thrown out of a lot of surveys and there are plenty of faulty ones, but that's common to most sites that take surveys from other concerns. What's different with Qmee is you can cash out any amount at any time, register more than one paypal account, and when you cash out YOU GET PAID IMMEDIATELY. This, and a very good amount of higher paying surveys that are not unduly long, gives it the best combination of features I have seen.

Qmee is making sites like Branded Surveys look like crap. For a similar level of survey fails, Qmee has better payouts and more of them. Qmee won't make you rich, and the weekends kinda suck, as is often the case with survey sites. But if you're bored, you can make $10 a day on weekdays without gluing yourself to their site.
BEST SURVEY PANEL OUT THERE
March 9, 2022 by Hannah from United Kingdom
They are the best survey panel pay you out straight away with no problems.
» Return to: TOP RATED GPT SITES
---
Popular Topics
Top Survey Sites of 2022
---
Best Rated Survey Sites
---
Ultimate Guide to GPT Sites
---
Taking Surveys for Gift Cards
---
The Best International GPT Sites
---
14 Ways to Get Free Amazon Gift Cards
---
Find Swag Codes to Make Extra Money
---
GPT Sites That Pay Instantly
---
Guide to Legitimate Paid Surveys
---
Survey Sites That Pay Instantly
---
25+ Easy Ways to Make Money Fast
---

Featured Advertisers: