Rewardia Reviews and Features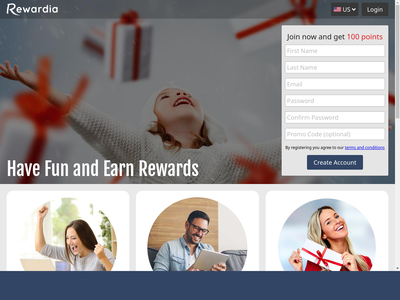 Rewardia
10/6a Gray Street, Bondi Junction, NSW 2022, Australia
Contact: [email protected]

Rewardia is a free website which pays its users to answer surveys. You can also earn money via everyday activities such as watching videos or playing online games. It's currently available to residents of the USA, Australia and New Zealand only, although the company is supposedly planning to expand into other countries.
Fill out your profile with as much detail as possible - your Rewardia profile will be used to decide what surveys you are eligible to complete. You have the opportunity to fill out your personal details, as well as information about your family, education, career and hobbies. The more detail you add to your profile, the more surveys you're likely to be eligible for.
Take Surveys

This is likely to be your fastest means of making money on Rewardia. You can earn up to 1,500 points ($1.50) per survey completed. Its survey system - which requires you to fill out 'pre-screening' surveys to determine your eligibility - is extremely efficient. You'll waste far less time filling out surveys you're not eligible for on Rewardia, compared to many similar websites.
Play games

Rewardia is one of the few GPT websites which allows you to earn money playing online games. If you enjoy classic brain-teasers such as word searches, su-doku or pyramid solitaire, you may as well use a website that pays you to complete them. We think most people will prefer playing these games to completing surveys.
Watch videos

You can earn points by streaming and watching videos on your computer or phone.
Promo codes

Rewardia will publish promo codes on its various social media channels, and these will give you the opportunity to earn additional points. Whenever you spot a promo code, copy and paste it into the Rewardia promo code page. If the code is legitimate, bonus points will instantly be credited to your account.
Referrals

If a friend signs up for Rewardia with your referral link, you'll earn 10% of their points for LIFE as a reward. What's more, once your friend earns their first 3,000 points, Rewardia will double it.
Earn loyalty bonuses

You can climb to higher statuses of membership - Silver, Gold and Platinum - over time by earning more points. Those who reach these milestones will be rewarded with bonus payments - up to 5% extra - whenever they use their points to purchase a gift card.
Use Rewardia efficiently on desktop or mobile - Rewardia was designed for desktop use, but its website works perfectly well on tablets and smartphones too.
You can convert your points into gift cards from a broad range of popular retailers, including iTunes, Target, Myers, Woolworths or Coles. You'll need to earn a minimum of 5,000 points ($5) before you can cash out. Some gift cards have an earnings threshold of 10,000 points ($10).
PayPal payments aren't currently offered. However, Rewardia is one of the few websites that offers to pay via bank transfer. You'll need to earn at least 50,000 points ($50) to be eligible for this though.
Gold and Platinum members have their rewards processed immediately. For everyone else, it should take no longer than 24 hours to process your payment.
Rewardia provides an effective platform for making some extra money online. Its online games arguably make it one of the more enjoyable GPT websites around, although you'll make faster money completing surveys.
There's a nice range of retailer gift cards available. The threshold for cashing out is relatively generous, as are the loyalty and referral bonuses.
Joining Bonus! Rewardia is currently offering a 100 point sign up bonus to new members.
» Click here to claim your bonus!
Eligibility: Open to residents of Australia, New Zealand and the USA.
August 19, 2020 by Michelle from Australia
Rewardia is one of my very best favourite sites for earning some quick cash. Sure, it will take time to accumulate points, and their surveys offer up to 1000 points. Not only surveys, but you can play games, vote in polls, join daily discussions and watch videos.
This one is good to me so far!
July 30, 2023 by Michele from United States
You can do everything from take surveys to picture polls and little games for points. You need 10,000 points to cash out for $5. It takes a bit - have patience. Like I said this one has been good to me so far. Also some of the people there seem nice as well! Give it a try!
95% Good. Sometimes does not give fair reimbursement.
October 18, 2020 by Shisha from Australia
Not sure if the errors are to do with the website, or if it's geared this way to see what they can hope to 'shave' in costs and get away with, but occasionally, I've done 20-30min long surveys to gain around 1000 points ($1) worth and instead get 50 points. Could be a late disqualification bonus (didn't think I was disqualified), could be an error of the website, could be dodgy point giving similar to what I experienced with survey junkie (they were really disappointing with their points delivery in my experience - sometimes giving more, sometimes less than expected but an average added up to less).

Either way, keeping an eye out for this sort of issue. With rewardia I have noticed it happening twice after a week or so and have about $35 rewards accrued. (May have not noticed issues before, so still feeling a bit uneasy). Have not cashed out with them yet either since payout is at $50 direct bank debit, so will see if there are any issues there. Hopeful there will not be any delays but will see.
November 28, 2020 by Austin from United States
Surveys pay 50% less then multiple other survey sites Ive used and maybe they have been affected more by the corona virus but as of right now I wouldn't use the site like who wants to do multiple 20min 50cent surveys its not that good of pay. But if you do like doing work for 50% less money then they will probably pay.
March 25, 2022 by Lee from Australia
Tried Rewardia and there are both pros and cons. You'll have to try it out for yourself and see if the time and effort you spend there is worth it. For me it isn't.

The pros:

1. They have lots of different games to play to earn points. Useful to waste time when doing something else.

2. They do have a lot of surveys.

3. They pay promptly and have a variety of ways to claim rewards.

Cons:

1. The points that you can earn from games are basically pathetic. Play solitaire and earn a little over 1 cent if you make it to the end.

2. Almost all games have breaks in them to show you ads which increase the amount of time needed to make those pathetic rewards.

3. Surveys are typical of those found at other places with numerous redirects, rejects, and a lot of people claiming that they get rejected after wasting a lot of time on a survey or never get the points.

The rewards for surveys have to be some of the lowest in the survey universe with other outfits paying four or five times as much for the same survey.

4. They have discussion boards which are nice, but have a certain poster that is rude, racist, and attacks other posters. Despite this, Rewardia allows this person to continue to post.

If you want to discuss something and read posts there it is basically impossible to avoid this person's posts which turn everything into an anti-capitalism, anti-USA, everything is racist theme. Wrecks the entire idea of the boards .

Sorry, but I won't support a company that allows the kind of posts that attack other posters.
» Return to: TOP RATED GPT SITES
---
Popular Topics
Top Survey Sites of 2023
---
Best Rated Survey Sites
---
Ultimate Guide to GPT Sites
---
Taking Surveys for Gift Cards
---
The Best International GPT Sites
---
14 Ways to Get Free Amazon Gift Cards
---
Find Swag Codes to Make Extra Money
---
GPT Sites That Pay Instantly
---
Guide to Legitimate Paid Surveys
---
Survey Sites That Pay Instantly
---
25+ Easy Ways to Make Money Fast
---

Featured Advertisers: