Rewarding Ways Reviews and Features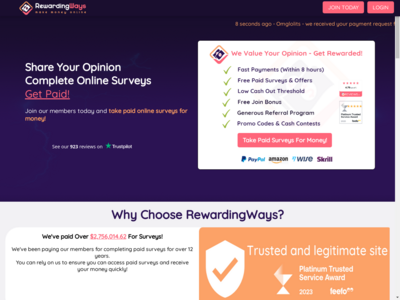 Rewarding Ways
99 Ventures Ltd
Summit House
4-5 Mitchell Street, Edinburgh
EH6 7BD, United Kingdom
Contact: [email protected]

Rewarding Ways offers you a quick, simple and free way of making money from home or on-the-go.
This GPT website focuses primarily on paid surveys for its members, although you can also earn money by watching videos, engaging with its partners' online content or referring your friends to the platform.
After completing these activities, you'll be rewarded with points, which can be converted into cash payments on platforms like PayPal and Skrill, or Bitcoin payments.
No matter where you are based in the world, you can create an account and start earning money today.

You can create a RewardingWays account in a matter of minutes - Once you've entered your full name, address and payment details, you're ready to roll. You'll be given a $0.20 new member bonus just for doing this, and there will be plenty of opportunities for you to go ahead and start making money immediately. You can be paid by PayPal, Skrill or Bitcoin, although you only need to enter one set of payment details to complete your registration. Others can be added later.
Paid Surveys

The amount of paid surveys available on RewardingWays means you'll be unlikely to run out of opportunities to make money online. Click 'Earn Money' in the main navigation and you'll see a huge list of survey suppliers. Click 'Daily Paid Surveys' to access the surveys hosted by RewardingWays. The third-party survey suppliers appears further down the list. With each survey, the reward for completing it is displayed clearly on the right hand side of the page.
Watch Videos

Right at the bottom of the 'Earn Money' tab, you'll see a link to 'Engage Videos'. Here, you'll be paid for watching online videos. The videos are mostly adverts, but you'll at least be given the choice of genre. The money on offer isn't as much as for other activities, but this task is as passive as it gets.
Offer Walls

Navigate to 'Offer Walls' and you'll see a list of money-making opportunities offered by RewardingWays' partners. These include opportunities to make money by installing and testing third-party apps. Many of these are fun smartphone games.
Promo Codes

RewardingWays sporadically posts Promo Codes on its social media pages. If you enter these on the RewardingWays Promo Codes page (on the 'Home' tab in the main navigation), you'll be rewarded with extra points.
Contests

If you're in the top 20 highest RewardingWays users at the end of a quarterly competition period, you'll earn a cash reward. The top earner wins $350. The second-highest earner gets $200, while the third-highest earner pockets $100. There's a total of $1,000 in cash prizes given away for every competition. All members are automatically entered and you'll be able to see how close you are to the top 20 when you navigate to the 'Contests' tab in the main navigation.
Referrals

If you refer friends, family or anyone else to RewardingWays, you'll be given 25% of their earnings for life as a bonus. Simply grab your referral link from the 'Referrals' tab in the main navigation, then share it far and wide.
Mobile usage

RewardingWays works well on both mobile and desktop, although there is no dedicated app.
Visit RewardingWay's Website

›

If you choose to convert your RewardingWays points into PayPal payments, you can withdraw once you've earned as little as $1. There is no limit to the amount of withdrawals you make per day either, meaning there's unlikely to ever be a lengthy wait for you to see the fruits of your labor.
If you choose to convert into a Skrill payment, the withdrawal threshold is $5. You can also choose to convert your payments into Bitcoin payments or retail gift cards if you prefer.
RewardingWays features a live feed of payments made to other members on its main dashboard. Over $2,700,000 has been awarded to members to date.
Eligibility: RewardingWays is available to users worldwide.
Joining Bonus! Rewarding Ways is currently offering a $0.20 sign up bonus to new members. » Click here to claim your bonus!
Rewarding Ways Reviews (6)
June 29, 2020 by Nicole from United States
Rewardingways is the best survey site across the site! I love the pay and the professionalism that they have for each surveys within their site.
July 2, 2020 by Seth from United States
If you wanna make about 1000 dollars a year join this site. It won't let you down, pays every day has lots of good offers you can do to make extra cash and lots of surveys.
June 29, 2020 by KYLIE from United Kingdom
Rewarding ways is a legitimate, fun way to earn some extra money. The surveys are varied and fun to complete. Great website. Would highly recommend.
June 25, 2020 by deb from United States
I love the site it is fun and a great place to earn daily money. i like how you can chat with people from all over the world and be able to make money at home and enjoy it. I have been on the site for years now and nothing could be better than this site to get money.
June 23, 2020 by Evelyn from United Kingdom
I've been with rewarding ways for 4 years now and its a fantastic way of making money from home. Very reliable with fast instant payments and the community are really nice.
» Return to: TOP RATED GPT SITES
---
Popular Topics
Top Survey Sites of 2023
---
Best Rated Survey Sites
---
Ultimate Guide to GPT Sites
---
Taking Surveys for Gift Cards
---
The Best International GPT Sites
---
14 Ways to Get Free Amazon Gift Cards
---
Find Swag Codes to Make Extra Money
---
GPT Sites That Pay Instantly
---
Guide to Legitimate Paid Surveys
---
Survey Sites That Pay Instantly
---
25+ Easy Ways to Make Money Fast
---

Featured Advertisers: