ySense Reviews and Features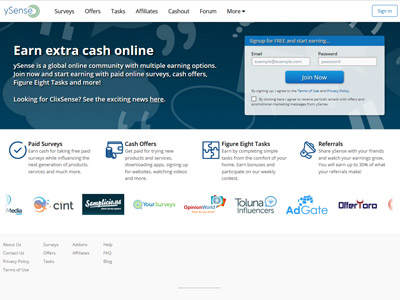 ySense
Operated by: Prodege, LLC
100 N. Pacific Coast Highway,
8th Floor, El Segundo, CA 90245
Contact: https://help.ysense.com/hc/en-us/requests/new
ySense is a GPT (get-paid-to) website where you can earn rewards by taking surveys, completing tasks, shopping, and more. For every successful task you complete, you'll be rewarded with cash from PayPal, Skrill or Payoneer, or you can opt for an e-gift card instead.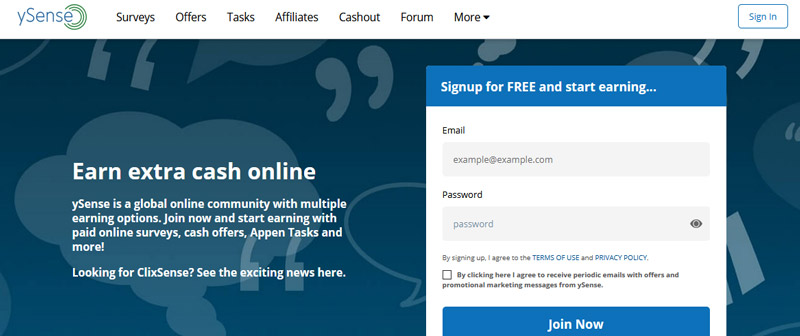 Take Surveys

ySense has partnered with some of the biggest market research firms to provide a huge array of online paid surveys to their members. Daily survey routers are available, and every day new surveys are posted to the platform.
Complete tasks

Every day, new tasks are posted on the website. These are typically things such as completing surveys and doing internet research. Receive a $5 bonus for every $50 worth of tasks you complete, and participate in weekly contests where you can win even larger bonuses.
Participate in offers

ySense offers many of their own direct offers, as well as ones through AdGate, Adscend, OfferToro, Peanut Labs and more. Get free trials, download apps, make purchases, etc. to earn cash credits.
Watch videos

USA-based ySense members can watch videos to earn cash credits. Simply navigate to the Offers section and click 'ySense Watch'.
Use the ySense Toolbar

Download the ySense toolbar to your browser, and get instant ad notifications, see your current account balance, play games, listen to the radio, and more to conveniently earn credits. The toolbar has been downloaded almost one million times.
Refer and Earn

Earn a $2.00 commission on the first $5.00 earned from new referrals, a $0.30 signup commission on new active affiliates in top tier countries (USA, UK, Canada, etc), and a $0.10 signup commission on new active affiliates in other countries. Find your unique referral link in your account under the Affiliates tab.
Visit ySense's website

›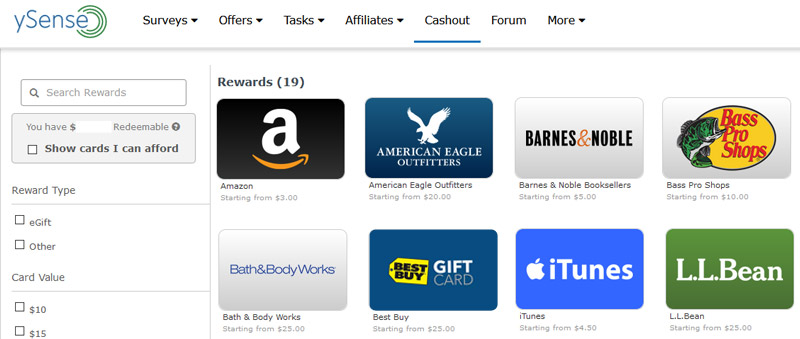 Payment Threshold
Get paid via your choice of Payoneer, Skrill, PayPal, gift cards, or by Reward Link. The minimum account balance required to redeem your rewards will vary by reward. A $3-$5 minimum account balance is required for cashing out rewards such as Amazon gift cards, Walmart gift cards, etc. Skrill payments start at $5, and Reward Links start at $10 denominations..
PayPal Payments
If you prefer cash, you can redeem your ySense account balance for a PayPal payment. Payments take a few days to process and are issued in either US dollars, or your own local currency. The minimum cash balance required for a PayPal payment may vary based on the currency of your redemption, but most typically starts at $10.00.

Is ySense Legit or a Scam?
Since starting in 2007, ySense has had over 7 million members join their community and claims to have issued over $39 million dollars in payments (before Prodege acquired the website in 2019). ySense is a legitimate GPT program and is not a scam. As with any GPT site, it's important to keep track of your earnings and take screenshots of completed offers and surveys for your own records and in case of dispute. ySense is not a scam and is a credible rewards site.
Eligibility: Residents worldwide who are 16 years of age or older are eligible to join ySense.
April 11, 2022 by Shantale from United States
I have tried this I think it is sad when they have surveys no one is eligible for.
December 6, 2019 by Don from United States
Participated in ysense surveys for a couple of weeks. My account got suspended twice each after I claimed considerable rewards, the 2nd time was final. Upon asking for reasons - which I couldn't think of - service team claimed there were "irregularities" without specifying. Most untrustworthy panel I've come across. Don't fall into their trap!
October 24, 2019 by Marie from United States
Good day- I wanted to warn you about ySense. The very first survey I completed I wasn't redirected back to their website through their router so I lost my credit. This is something that stops me dead in my tracks because it usually means there is something wrong with a panel. I contacted customer service to let them know I wasn't credited. It took them around three days to contact me...not too bad sometimes it can take longer with some of these survey sites. So today an agent finally contacts me. They want a screen shot, the number (not the click #) and the exact amount that was supposed to have been credited for the survey I completed. I'm like, you can't figure this out yourself??? I just started taking surveys I had a balance of five cents (QR HAS NO PROBLEM crediting me when there is an issue with rewards). Before I contacted CS I had perused my history, I mean right after it happened, and it showed all of the surveys I had attempted that day; but when I checked it today after I was contacted by their CS agent it was all gone. The thing is I shouldn't have to take a screen shot; or write the number down; most people are honest and just want their credit. Survey ya later.
November 19, 2018 by Chapman from United States
Can't redeem for paypal. Only has payoneer. Then they mentioned that it is a PTC site but there are never any ads to click.
October 15, 2018 by simon from United Kingdom
It is a great service when you are a member. However they have of late stopped peoples accounts. For instance I was about to cash out at 20.00 and they blocked the account. The money/time reinvested was never returned to me. So there may be an element that they get you to do the surveys and then just before cashing out, they pocket the money and they use integrity or security as an excuse. Use other sites. Also they affect the score in your surveys, so if you fail a check or dont complete a survey correctly they limit your score. Was a great service, now an awful one.
» Return to: TOP RATED GPT SITES
---
Popular Topics
Top Survey Sites of 2023
---
Best Rated Survey Sites
---
Ultimate Guide to GPT Sites
---
Taking Surveys for Gift Cards
---
The Best International GPT Sites
---
14 Ways to Get Free Amazon Gift Cards
---
Find Swag Codes to Make Extra Money
---
GPT Sites That Pay Instantly
---
Guide to Legitimate Paid Surveys
---
Survey Sites That Pay Instantly
---
25+ Easy Ways to Make Money Fast
---

Featured Advertisers: