9 Questions with PointClub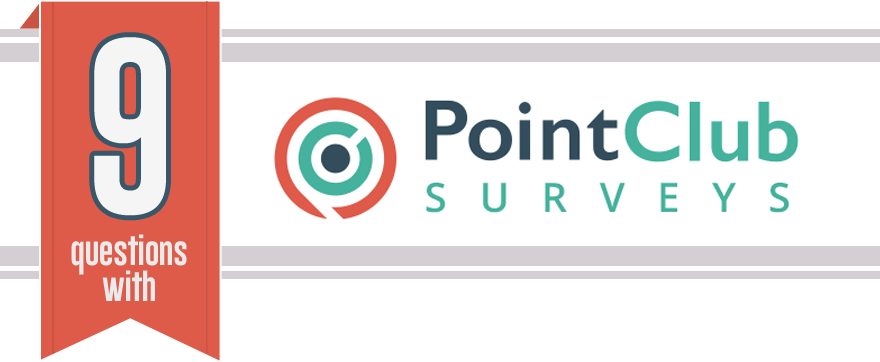 1. Can you provide a background on PointClub?
PointClub has the BEST online surveys for getting paid! Our panel team has been in the business since the inception of online market research. We have a proven track record of building and managing world-class research panels, and PointClub is no exception! At PointClub, we rewards our members with a variety of activities including surveys, offers, promotions and contests. In exchange for your time, our members earn Club Points which can be redeemed for cash as well as major gift cards such as Amazon.
2. What makes PointClub unique?
Unlike other panel sites, PointClub rewards members in a variety of ways, and we even provide points for members when they don't qualify for a survey. This is a very unusual approach, but we are truly committed to providing a positive and rewarding experience to our members!
3. What types of surveys and research opportunities do you have available for members of your panel?
PointClub hosts a wide variety of earning opportunities to our members i.e., surveys, offers, promotions, videos, games, sweepstakes and weekly polls/contests.
4. What kinds of organizations hire you to conduct market research?
The PointClub team is commissioned by major market research companies and marketing agencies throughout the world. These agencies represent major brands that you use routinely. Participating in our panel affords our members the opportunity to share feedback on the products and services they use every day.
5. What types of incentives can members of PointClub receive in exchange for their participation?
Our members earn club points which can be redeemed for a wide variety of cash options such as PayPal or major gift cards such as Amazon. Unlike other panel companies, we give the equivalent of $5 just for signing up. We want our members to know that we are serious and committed. Additionally, we provide rewards even when you don't qualify for an opportunity and we make it easy to redeem for your cash. We never understood why other companies make it so hard to earn a reward! We want our members to stay with us for the long-term so we do everything in our power to provide a positive and rewarding experience.
6. How are panel members notified to take part in studies?
We send email invitations to our members when a new survey opportunity is available. Additionally, our members can log-in daily to view the many opportunities available in our Clubhouse.
7. How is the privacy of your members protected?
We take privacy very seriously and we work with major research companies that feel the same way! We've invested a lot of time and resources to ensure our systems are secure and safe. Our privacy policy is always available for your review and can be found on our site, located here: https://www.pointclub.com/privacy.
8. What are some of the top five reasons to join PointClub?
PointClub provides the highest earning potential in the research industry. We know where our bread is buttered. Without panelists, we don't have a business. We spend our time focused on making it the best experience possible for you.
Our site is fun and engaging! Let's be frank – a lot of survey sites are boring, riddled with errors and don't spend the time needed to send you relevant opportunities. At PointClub, we are reshaping the panelist experience and you will see this immediately when you join our community.
Our reward system is fun, easy and fast! We offer over 150 cash and gift card options, so we have something for everyone. You will be redeeming for your reward in record time and the experience will be seamless.
Point Club sources fantastic surveys and earning opportunities. We have a large staff focused exclusively on finding fun and rewarding gigs for you! Don't waste your time on boring sites that only send you the occasional survey – we have dozens to choose from every day.
We have the best customer service team in the industry. We know what it takes to run a successful panel and that's putting you first, EVERY TIME. We will work tirelessly to make your experience a GREAT ONE.
9. What industry memberships and business standard practices do you currently uphold?
Our parent company belongs to a wide variety of industry associations including CASRO, MRA and ESOMAR. Our staff are leading a committee for CASRO which is focused on improving the respondent experience and maximizing user engagement. We care about your experience and we live and breathe this mission every day!