It's not easy making money as a student; schoolwork can take up big chunks of time, and many students find it difficult to even try holding down part-time employment. If you're in this position, one income source to seriously consider is taking online surveys.
» Skip ahead to our top survey picks for college students
Income for university students
Whether you have a block of time available between classes, at odd hours of the night, or if you're looking for a break from online classes, the flexibility and convenience that online survey taking provides is second to none. No, it's not going to make you rich, nor will it even pay your tuition for the year (unless you're seriously dedicated and go to a very inexpensive school!), but every little bit counts, and if you can make money on the go, that's always a bonus.
How paid surveys work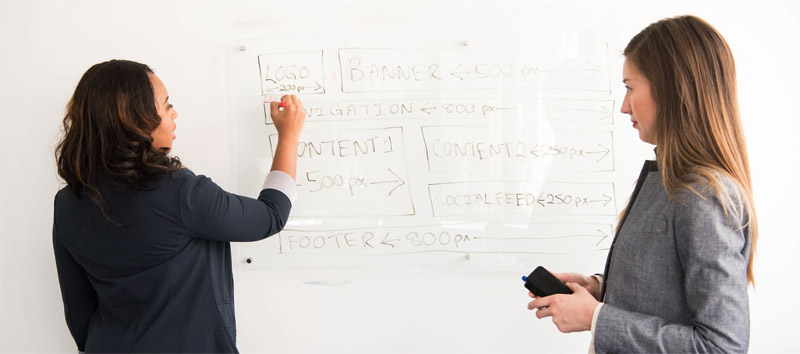 Brands you care about are owned by companies (including Fortune 500 companies) who want to make themselves better. They hire market research companies to conduct surveys on their target audience so that they can learn more about what it will take to get you to buy more of their product, how they can improve things, or what you think about their upcoming product line.
Market research companies have a database of users they tap into when they want these questions answered. This database is called a "panel" and if their users answer online surveys, this group of people is called an "online panel".
Online survey panels are free to join, and in exchange for doing paid surveys on things like providing your feedback on what Apple's new Macbook should look like or how Starbucks should improve the quality of their coffee beans, you receive rewards by providing your opinions. This can be anything from cold hard cash, to gift cards, to merchandise, to airline points, to movie vouchers, and more!
Can this replace a job?
If you're looking for the best part time jobs for college students, check out our article on easy ways to make fast cash. Some of the gigs posted there can be considered both offline and online jobs for college students that can help inject cash into your bank account quickly.
However, if you're looking for something that will replace a income from a full-time job, that's not what survey taking is designed for. Cash here and there, yes. An alternative to going to working regular hours at a store or coffee shop? Unfortunately, not.
Your rewards, your way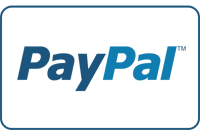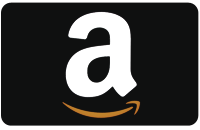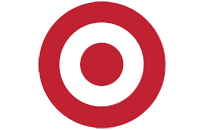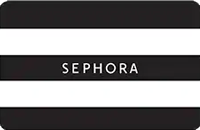 If you're like most university students, you probably spend what little disposable income you have on things like music at the iTunes store, odds and ends at places like Target and Walmart, electronics and books from Amazon and coffee from Starbucks. That's if you're lucky of course to have any spare cash at all! Many online survey companies offer gift cards and e-gift vouchers from these retailers, along with dozens of others.
Rather than paying cash for purchases from these places, or instead of putting your purchases on your already maxed-out credit card, paying with a gift card that you earned from taking surveys is an easy way to lessen any financial stress that you may already be facing.
Alternatively, you might think that cash is king, and prefer that as a payment option. There are survey panels who strictly pay cash by PayPal, and others issue payments via check. If these are your preferred methods of payment, zero in on and join survey panels who offer these payment methods.
Protecting yourself from scams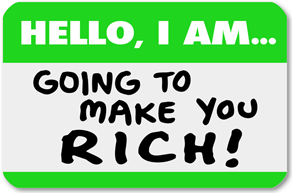 Like with anything online, you should have your guard up when first getting involved with survey taking. The first thing you should look at is a survey panel's listing on SurveyPolice. Read the user reviews, check out their website, and then decide whether or not to join. If you join the top rated panels on SurveyPolice, you will not run into scams, as the sites listed there are ordered by user reviews. Instead, survey job scams are most commonly found by doing internet searches for "online surveys", clicking on ads on platforms like Snapchat and TikTok, and finding sketchy websites that usually make promises that are a little too good to be true…
If you still want to join a site you find on your own, do the bare minimum: skim the privacy policy and terms of service agreement, see if they're a member of any market research associations, look for a working Contact Us page, ensure that it's completely free to join the website, and then, and only then should you consider joining. Even then, we strongly advise against this method; it's always better to consult reviews on sites before joining them and reading one person's account of how great a site worked for them, should be met with skepticism.
Regardless, if you are unsure about something, feel free to send us a message, or reach out to the community by posting your question on our forum. The people there are super-nice, want to see you succeed and will happily help you out.
Useful tips
Set a block of time aside to do your survey "homework". Setting aside time especially for surveys will help maximize your earnings.
Join a few survey panels to start; there's no point in just joining one, as you won't get sent enough surveys to collect a decent amount of rewards.
Ensure the e-mail account you use for surveys is sending push notifications to your phone. Every time a new survey is sent your way, and the faster you get notified about it, the better your chances of being able to complete it before it closes.
Look out for focus group opportunities – in person or online, these are especially lucrative and pay much more than regular online surveys.
Complete survey "profilers" available in your account. These are short surveys which will make it easier to match you with the right survey opportunities.
Need survey takers for your assignment? Use SurveyPolice for that too
If you have a project for school and need people to answer a survey you've put together, try posting it on the SurveyPolice forum under our Student Surveys section. This section of our forum is frequented by other students and is a great place to "trade" answers to surveys; post your survey and ask our users to take it, while you take a few student surveys that other people have posted. It's totally free and is a good way to kick-start the number of survey completions you need for your class assignment.
Not 18? No problem
If you're not old enough to be in college, or are just super-smart and are already in college before you're 18 (congratulations, if you're in this fortune position!), check out our list of survey panels for teens. Being at least 13 is old enough to join these survey panels!
To sum it up
Finding great survey sites for college students isn't hard if you follow a few guidelines. Join legitimate survey panels, and the rest is up to you. Take surveys when you want and when you can. Doing so can help you get rid of your student loans a little bit faster, or will help you feel less guilty about having those couple of drinks after class – it's all up to you!
Top 5 survey site picks for college students: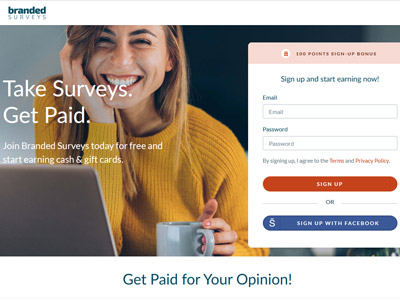 Branded Surveys has an amazing selection of e-gift card options (or PayPal, and cash bank transfers if you prefer) to choose from. Take surveys and refer your friends to earn points which you can redeem for a great selection of rewards with this fun, attractive website. $1.00 joining bonus offered to new members.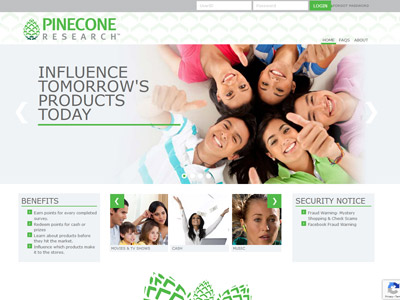 Pinecone has consistently been one of the top rated survey sites on SurveyPolice for many years in a row. Receive $3 for each online survey you complete – it's that simple. Choose from cash, gift card, and merchandise options to collect your rewards.

If you like politics, YouGov is the site for you! Take interesting political surveys (that are frequently published in the media) and opinion polls to earn rewards such as cash, e-gift cards, and more. Product testing opportunities, mobile surveys, and a refer-a-friend program are also available.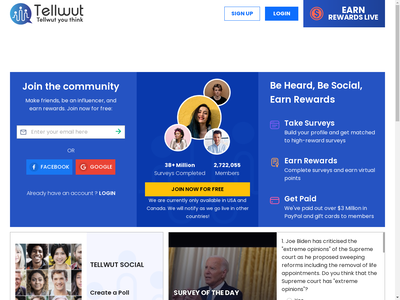 If you like short surveys and polls and gift cards, Tellwut is the site for you. Create polls, answer polls and participate in short surveys to earn e-gift cards from your favorite retailers. If you prefer something more cash-like, choose to be paid by pre-paid credit card.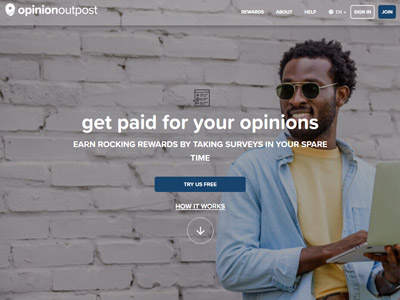 Take online and mobile surveys in exchange for $10 payments made to your PayPal account, or choose to receive an Amazon e-voucher or iTunes e-gift card instead. Rewards are typically awarded within a few hours of request and hundreds of thousands of dollars worth of rewards are awarded to members every month.
» Find the top rated survey sites on SurveyPolice