EarnHoney Reviews and Features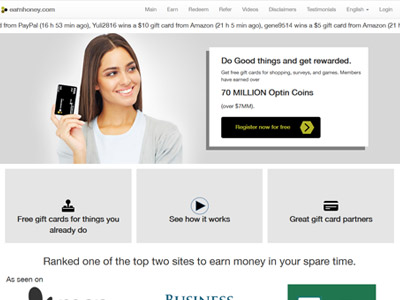 EarnHoney
222 Merchandise Mart, 12F @ 1871
Chicago, Illinois
Contact: https://earnhoney.zendesk.com/hc/en-us/requests/new
Warning: EarnHoney does not appear to be issuing payments and customer service inquiries go answered. We do not recommend signing up with this program.
For alternative suggestions, please visit our listing of the Top GPT sites.

EarnHoney is a GPT Program that claims it pays its members more than any other GPT site out there, at over 50% of their earnings. Earn points by completing various online tasks and exchange them for cash rewards, crypto currency and e-gift certificates.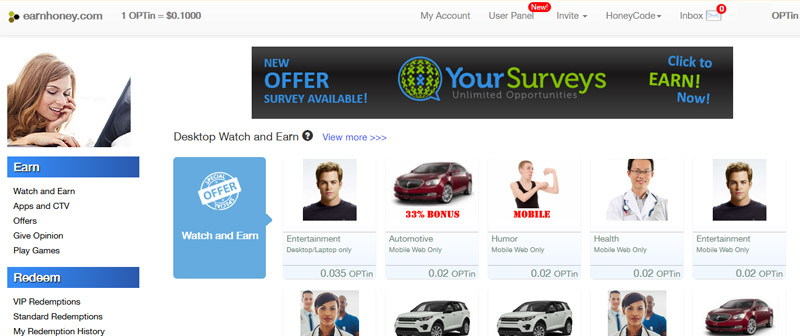 Complete offers - sign up or trials, try out products, and register for services and earn OPTin Coins.
Watch and earn - watch various videos such as humor videos, auto videos, medical videos, etc. and watch advertisements to beef up your OPTin balance.
Enter HoneyCodes, which are codes that can be redeemed for OPTin within your EarnHoney account, and are found in emails, on Facebook, Instagram, Youtube, Reddit, etc.
Give your opinions in surveys – participate in online surveys and earn OPTin.
Referral program – earn 10% of what your referrals earn, for life! Referral bonuses are awarded once per month.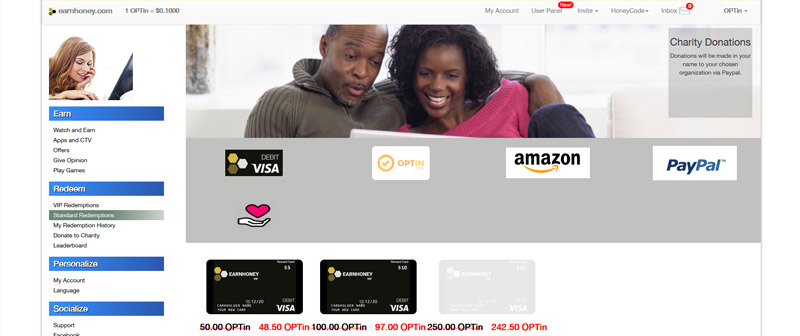 Get Rewarded Faster with the VIP Program
EarnHoney offers standard and VIP redemptions to its members. VIP users can redeem up to their individual weekly limit from their pool of Instant OPTin, which enables them to receive their requested rewards immediately. To increase your available VIP redemption amount, verify your account information, and look out for videos and certain surveys and offers that qualify for Instant OPTin.
Multiple Reward Options
With a low standard rewards redemption threshold of just 50 OPTin in your account, you can request a reward worth $5. Choose from Amazon e-gift cards (available in denominations of $5, $10, and $25), pre-paid debit Visa cards, a cash payment to your PayPal account, or donate your points to charities, including the American Red Cross, the Salvation Army, WWF, and more.
VIP redemption amounts (which are received immediately after request), start at either $5 or $10 worth of VIP OPTin, and include rewards such as pre-paid Visa cards, Bitcoin, PayPal, and more.
Tip! Look out for holidays bonuses, etc. to earn extra points for completing tasks and activities. These will be listed in a message at the top of your EarnHoney account.
Note that in early 2018, HoneyDollars (HD$) were discontinued and were replaced with OPTin coins. EarnHoney guaranteed the minimum conversion of 10 HD$ = 1 OPTin, so users who were using the old currency system did not experience a decrease in the value of their points when the conversion occurred.
Relatively New, but Growing Strong
EarnHoney launched in April, 2015. They claim to have paid out more than $7,000,000 to their members since then, and are growing daily.
Eligibility: Although the website is available internationally, due to advertiser demand, EarnHoney makes it clear that USA visitors will have the most success in terms of earnings.
As a new member, you can receive 2.00 OPTin for answering 3 very basic questions about yourself via the Answer and Earn popup, which will display prominently in your account as you navigate the website.
February 8, 2021 by Will from United States
Was with them for around 2 years and cashed out 2 times, the last time I tried I was told I needed to do a video response to a survey and I never sign up for video surveys. I was told either do the video or forfeit my earnings. I did the video and in the video I told them what I thought of this tactic and cashed out then after 4 or 5 surveys completed I all of the sudden had a negative balance as I had violated one of their attention checks or gave false info. I pay close attention and do not Lie. I guess I offended their delicate sensibilities with my video.
January 5, 2020 by john from United States
the instructions are confusing and when you think you have it figured out, still don't work. they don't help you when they should.
November 11, 2019 by amanda from United States
Unfortunately, it seems like they have stopped paying. I had contacted them multiple times, starting back in July of this year. I made new tickets, sent emails, replied immediately the 2 times they did respond. I was missing a $25 visa reward. I quit using the site since they eventually just started to ignore me. I wasn't even getting an automated response so it's possible they just blocked me. Sad to see this site go down this way.
November 21, 2018 by Steven from Canada
Use to be good, but rarely get any ads in my videos nowadays. They need to work on their inventory.
February 17, 2018 by mike from United States
Received videos for a few weeks then received an IP ban.

Why bother using a site where you're banned for following the rules?

Don't waste your time.
» Return to: TOP RATED GPT SITES
---
Popular Topics
Top Survey Sites of 2023
---
Best Rated Survey Sites
---
Ultimate Guide to GPT Sites
---
Taking Surveys for Gift Cards
---
The Best International GPT Sites
---
14 Ways to Get Free Amazon Gift Cards
---
Find Swag Codes to Make Extra Money
---
GPT Sites That Pay Instantly
---
Guide to Legitimate Paid Surveys
---
Survey Sites That Pay Instantly
---
25+ Easy Ways to Make Money Fast
---

Featured Advertisers: