FusionCash Reviews and Features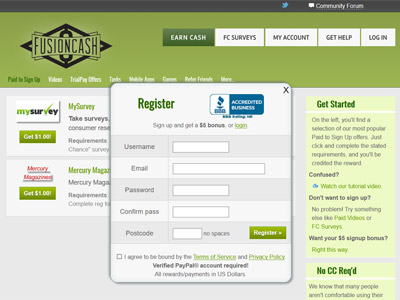 FusionCash
Operated by: FusionCash Inc.
PO Box 7095, Santa Cruz, CA 95061-7095
Contact: http://www.fusioncash.net/support.php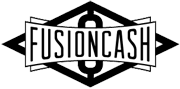 FusionCash is mainly a GPT (get-paid-to) website where you can earn cash for completing offers. You can earn additional incentives by completing tasks and participating in online surveys.
Upon becoming a member and logging into FusionCash, you will be presented with some choices on how you can earn cash:
Offers – completing offers is one of the main ways to earn cash with FusionCash. Try out new services for a trial period (typically 30 days) and try out a product, or test out software during this time. You may cancel when the trial period is up, and earn credit for your participation. Some of these are "instant credit" offers, and some offers require a credit card, though not all do.
Surveys – FusionCash offers surveys available as "FC Surveys", which are provided by Precision Sample LLC, as well as by occasional other providers. You may be e-mailed surveys, and there may also be surveys available through your own personal account dashboard.
Shopping – earn cashback on the purchases you make at different online retailers when you access their stores through your FusionCash account.
FusionCash also offers paid to call opportunities, and the opportunity to earn more by listening to their radio, watching videos, completing tasks, and doing internet searches.
Refer friends and family – earn $1 every time you successfully refer a friend, $2 when they complete their first offer, and $5 each time they cash out their earnings.
Visit FusionCash's website

›
3 Reward Options
FusionCash offers three different payout options: check, direct deposit, and PayPal. The minimum payment threshold is $25, with $15 having to be in personal earnings (not from referrals).
PayPal payments tend to be quick, and a verified PayPal account is required. All rewards and payments are issued in US dollars and unlike other GPT websites, no processing fees are applied.
FusionCash is Over a Decade Old
Since 2005, FusionCash has been rewarding their members. To date, they have paid out more than 3 million dollars. They are based in California and have members in all 50 States.
FusionCash also runs a very popular online forum which has over 1 million posts.
Eligibility: Residents of USA and Canada 18 years of age or over, or US residents 13-17 years old with parental permission.
Joining Bonus! FusionCash is currently offering a $5 sign up bonus to new members.
» Click here to claim your bonus!
The Best Site I Joined. UPDATED
January 7, 2021 by Sharon from United States
Pro: They pay better than any PTC site. They also have the usual surveys, various sites to join, and cashouts are easy to get. They have different promos that you can earn extra cash in bonuses like forum posts and proof of payment.

Con: As with other sites, surveys are hard to qualify for, but even if DQ'd, you get 1 cent. If you don't keep up on it, you can lose some cash after 180 days. Due to an illness, I lost $8 when I first joined (my signup bonus and $3 in offers) but that was the only time. I can't cash out every month, but it's better than 6 months or a year like some sites.

I highly recommend this site. I've been with them for a few years now. They always paid as long as you make the $25 or more in offers You don't HAVE to take your cash out as soon as you make your $25; you can build it up as much as you want. For a while, things were getting really bad but there is now a new owner, and things are looking up for the better. I was going to leave a couple months ago when things go bad, but stuck around and I'm glad I did! Things are looking up.

For the person who said he didn't get paid, don't know why not. When you submit your for payment, you get paid around the 20th of the following month every time. They have never missed paying anyone unless there was a problem with the account. Maybe he didn't choose a way to get his payment or the 180-day period ran out. There's something wrong if you can't make $25 in 6 months, at which time they start deducting money.

They don't "pay in points." It's CASH.

UPFATE 1/7/2021: A few months ago, FC started sliding. First came weeks before answering any support help. Then certain offers disappeared. There used to be not a lot of offers but enough to make at least 5 cents a day to do PTC. Not much anymore. No videos. No weekend bonus Trivia promotions. No phone call studies. They still have the daily email and add that to the account but it doesn't add to the total for PTC. They still have the forum bonus but they haven't paid in 5 months. Lots of surveys but they 2 or 3 are duplicated on the same day with less rewards. Then they took away the best survey partner. Instead of $1 or more a day, I earn $5 cents or less. I believe they are going to close without telling anyone.
November 30, 2020 by Brian from United States
I used to like this site but you waste too much time an survey qualification questions and most the time you don't qualify. Some surveys will tell you that you earned 1cent for the attempt but you don't even get that anymore. They used to have tap surveys but now that those are gone all I can say is don't waste your time with this one.
October 5, 2020 by Peter from United States
Stay away from this site unless you enjoy wasting your time. Support from this company is not there ever. Takes months for a response to issues and rarely do they have solutions to issues. Your earnings can be taken from you without explanation and points also randomly expire. Had I known this, I would have never signed up and wasted a lot of time doing their hour long surveys that should only take about 10 minutes (as stated before attempting to qualify for the survey).
June 20, 2020 by Sammy from United States
This use to be a pretty good site but has went down hill over the years. Nothing works on the site any longer. Most surveys end up not paying. You can visit the site and read in the threads in the forums at all the complaints members have if you want to get more info. Then the forums are a problem as well. They have been hijacked by a crazy man touting his crazy religion. He constantly attacks and bullies other members. Has multiple accounts and admits to this and yet fusion cash does nothing, even though this is suppose to be against their rules. That is all beside the point but adds to the low rating for the site. Back a few years ago I could easily make $100 a month with not a lot of effort. Today you are lucky if you can make the minimum amount to be able to cash out in 2 months. Another issue with this site is you can complete a survey and get paid and as long as 2 months later they come back and revoke payment and take the pay back away from you because the company behind the survey did not like your answers. If you read in the forums you also see there are a lot of complaints about spending as much as an hour doing a survey and then when you submit your answers getting a message saying "sorry you did not qualify to take this survey" or "the survey is full" and again you do not get paid.

As far as getting paid by the site when you request payment you will get that. They pay on the 20th of the month. So when ever you cash out you will get paid the 20th of the following month. If you are desperate for a few dollars you can make a little money on this site. But it is in no way a job. If you need money quickly this is not the place to make that happen.
December 8, 2019 by mary from United States
I reached my cashout amount and requested a payment. I got an error message so sent a request for help. Waited 2 weeks, kept trying to cash out, never heard from them after sending 3 assistance requests. BEWARE!!! Stay away from these yahoo's, Opinion Outpost, Lifepoints, Survey Junkie....many others do pay and can be trusted!
» Return to: TOP RATED GPT SITES
---
Popular Topics
Top Survey Sites of 2023
---
Best Rated Survey Sites
---
Ultimate Guide to GPT Sites
---
Taking Surveys for Gift Cards
---
The Best International GPT Sites
---
14 Ways to Get Free Amazon Gift Cards
---
Find Swag Codes to Make Extra Money
---
GPT Sites That Pay Instantly
---
Guide to Legitimate Paid Surveys
---
Survey Sites That Pay Instantly
---
25+ Easy Ways to Make Money Fast
---

Featured Advertisers: