FusionCash Reviews and Features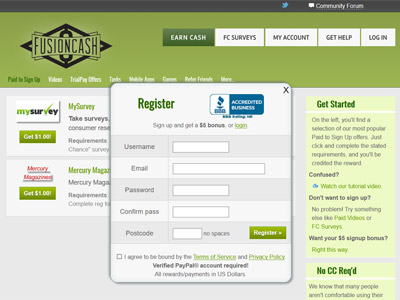 FusionCash
Operated by: FusionCash Inc.
PO Box 7095, Santa Cruz, CA 95061-7095
Contact: http://www.fusioncash.net/support.php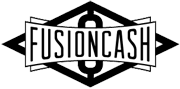 FusionCash is mainly a GPT (get-paid-to) website where you can earn cash for completing offers. You can earn additional incentives by completing tasks and participating in online surveys.
Upon becoming a member and logging into FusionCash, you will be presented with some choices on how you can earn cash:
Offers – completing offers is one of the main ways to earn cash with FusionCash. Try out new services for a trial period (typically 30 days) and try out a product, or test out software during this time. You may cancel when the trial period is up, and earn credit for your participation. Some of these are "instant credit" offers, and some offers require a credit card, though not all do.
Surveys – FusionCash offers surveys available as "FC Surveys", which are provided by Precision Sample LLC, as well as by occasional other providers. You may be e-mailed surveys, and there may also be surveys available through your own personal account dashboard.
Shopping – earn cashback on the purchases you make at different online retailers when you access their stores through your FusionCash account.
FusionCash also offers paid to call opportunities, and the opportunity to earn more by listening to their radio, watching videos, completing tasks, and doing internet searches.
Refer friends and family – earn $1 every time you successfully refer a friend, $2 when they complete their first offer, and $5 each time they cash out their earnings.
Visit FusionCash's website

›
3 Reward Options
FusionCash offers three different payout options: check, direct deposit, and PayPal. The minimum payment threshold is $25, with $15 having to be in personal earnings (not from referrals).
PayPal payments tend to be quick, and a verified PayPal account is required. All rewards and payments are issued in US dollars and unlike other GPT websites, no processing fees are applied.
FusionCash is Over a Decade Old
Since 2005, FusionCash has been rewarding their members. To date, they have paid out more than 3 million dollars. They are based in California and have members in all 50 States.
FusionCash also runs a very popular online forum which has over 1 million posts.
Eligibility: Residents of USA and Canada 18 years of age or over, or US residents 13-17 years old with parental permission.
Joining Bonus! FusionCash is currently offering a $5 sign up bonus to new members.
» Click here to claim your bonus!
December 26, 2018 by Darren from United States
I do like Fusion Cash. However, they take away from your 'cashout' just days before it is dispersed. No answer why, and never a response from admin... Therefore, a paypal or check will not be given. I have asked and opened up 'Tickets" but never a response. I'm sorry FC, but you rank LOW... They pick a survey that will just drop you below the 'cashout' amount and never say why, and it could be done months before... Be careful here... Darren Z.
August 18, 2018 by Ryan from United States
I was just ready to cash out over $25 I earned until the amount changed to under $20! Apparently, you only have 6 months to earn the $25 minimum and it's a slow climb. Not to mention, about half of the offers are currently expired. Other offers disappear when you click on them too much (i.e. exploring websites). These guys really don't want you to reach the $25 minimum anytime soon. Needless to say, I'm canceling my account and moving on to reliable GPT websites like SwagBucks and InboxDollars where I make and save money all the time.
July 17, 2018 by Charlotte from United States
Love it. Earn cash for surveys, videos post your comments & more!
Takes several months to reach cash out minimum
June 8, 2018 by Eva from United States
I've been a member of Fusion Cash for 7 months but have only cashed out 3 times. In the beginning I would get approved for and complete many surveys, but now I'm down to just clipping coupons, clicking the daily email, paid to click, and watching videos. I work on it a little each day. It's more of a filler survey site for me at this point. At least once my balance is sufficient enough for cash out, I have $25 to look forward to receiving every 3 months or so. It gets directly deposited into my bank account without any issues. My only gripe is that the money comes in around the 20th of the month following your cash out request.

UPDATE: I may have to let this site go. It's taking forever to get my balance up to the minimum cash out, over six months now. I just noticed points from last year are expiring and keep being deducted from my balance every day! This is making it impossible for me to ever cash out. I'm really disappointed and it's upsetting to see my hard work going out the door for nothing.
April 28, 2018 by suzie from United States
2 years i been a devoted survey taker , I Get a new wifi account and get locked out of my account..... owed 37.00 bucks and no answers from the support ! Their support sucks , its good but not for problems.
» Return to: TOP RATED GPT SITES
---
Popular Topics
Top Survey Sites of 2023
---
Best Rated Survey Sites
---
Ultimate Guide to GPT Sites
---
Taking Surveys for Gift Cards
---
The Best International GPT Sites
---
14 Ways to Get Free Amazon Gift Cards
---
Find Swag Codes to Make Extra Money
---
GPT Sites That Pay Instantly
---
Guide to Legitimate Paid Surveys
---
Survey Sites That Pay Instantly
---
25+ Easy Ways to Make Money Fast
---

Featured Advertisers: