InboxPounds Reviews and Features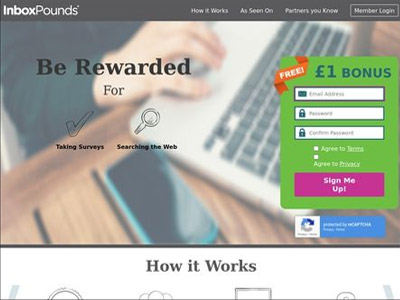 InboxPounds
Operated by: Prodege, LLC
100 N. Pacific Coast Highway,
8th Floor, El Segundo, CA 90245
Contact: https://support.inboxpounds.co.uk/hc/en-us/

Inboxpounds is a UK-focused cash-based online rewards club that passes on the revenue it generates from advertisers to its members. By participating in paid surveys, reading e-mails, playing games, redeeming coupons, and more, you can get cashback on your activates.
Earn cash credited to your account when you complete particular tasks. These include:
Playing games – earn additional cash playing online games including Bingo, slots, and digital scratch cards.
Complete offers – discover new products and services by completing special offers, and not only save money by doing so, but earn additional cashback.
Answering surveys – visit your surveys dashboard to find available online surveys, and earn cash upon every successful completion.
Complete tasks – label products, sort online content, research answers, and earn additional cash rewards for completing simple tasks.
Reading e-mails – receive emails with special offers for famous brands, and earn cash when you open some special emails.
Referring friends - refer friends and earn 10% of what they earn. Banners and links are provided in your account.
Once your account reaches a balance of £20, you can request a cheque.
For non-Gold members, it takes around two weeks for payments to be processed. For gold members, payments are processed weekly.
Becoming a Gold Member
Once you cash out for the first time, your account will automatically be upgraded to gold. Gold members enjoy additional perks including faster payments, more sweepstakes entries, more loyalty rewards, and additional referral rewards.
InboxPounds is a Solid Choice in the UK
InboxPounds was founded in 2010 and has a large presence in the UK with over 230,000 Facebook fans. Internationally, including their InboxDollars website, they have awarded over £40 million in rewards to their members. 24/7 support is provided.
InboxPounds is run by Prodege, who also runs Swagbucks, InboxDollars (USA/International website) and DailyRewards (Canada focus).
Eligibility: InboxPounds is open to UK residents 18 years of age and older.
Well you do get paid, but...
October 11, 2016 by Nicholas from United Kingdom
I'm now a 'Gold Member' but to completely honest, most of the surveys, in fact all of them, aren't prescreened, so you waste your time on rubbish that goes on & on. Can you make money, yes if you're patient & don't mind being paid via a virtual MasterCard or an Amazon UK card. Their contact point is a little odd, no email address, you have to use this chat screen, which works Okay, provide that there's someone there to 'chat' to. Don't do the 'offers' you'll end up wasting money, just do the paid emails and the surveys, which I'm afraid you'll have to hunt down yourself.
Becoming a complete ripoff
June 5, 2016 by Doug from United Kingdom
Their surveys never py more than 30p, last one (Tickbox for JUST 20P) came up with in excess of 120 questions, 25 minutes) and was still expecting more answers when I gave up.
Problem is they have you over a barrel, until you reach £20 (a lifetime based on current performance) you can't get out without wasting all previous work, can't wait to reach £20!
March 23, 2016 by Martin from United Kingdom
Go on site & it will show about 20 surveys available, but end up being screened out for 15 of them.

Customer service is rubbish - a recent changed to invitation e-mails started showing "this survey will take [blank] minutes". I queried this, as I often take surveys during breaks at work so need to know if I'm going to have enough time. When I queried this they told me I needed to take it up with the actual survey provider!
I told them as far as I was concerned I was dealing with Inbox Pounds so they should sort it out - and I wouldn't know who the survey provider is until I started a survey. They simply repeated their response
June 19, 2015 by Steve from United Kingdom
I've been a a member for a couple of months but I've rarely been accepted for surveys and some of their providers (like Univox) seem to have loads of technical problems (questions repeated over and over again, random crashes etc).

I'm registered with quite a few other survey sites and Inboxpounds is by far the least satisifying. I guess the lack of eligibility for surveys may be due to overlap with surveys I've done elsewhere, but I've not experienced the almost total screen out anywhere else.

I won't bother going back to their website as it just isn't worth it.
June 16, 2015 by Linda from United Kingdom
This survey is great you can get the points on so many thing like looking for anything and the survey are so fair and you can do about five a day so does not take long to get the money and they are very quick at paying out.
» Return to: TOP RATED GPT SITES
---
Popular Topics
Top Survey Sites of 2023
---
Best Rated Survey Sites
---
Ultimate Guide to GPT Sites
---
Taking Surveys for Gift Cards
---
The Best International GPT Sites
---
14 Ways to Get Free Amazon Gift Cards
---
Find Swag Codes to Make Extra Money
---
GPT Sites That Pay Instantly
---
Guide to Legitimate Paid Surveys
---
Survey Sites That Pay Instantly
---
25+ Easy Ways to Make Money Fast
---

Featured Advertisers: