InboxDollars Reviews and Features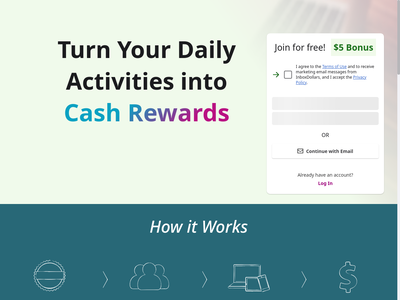 InboxDollars
Operated by: Prodege, LLC
100 N. Pacific Coast Highway,
8th Floor, El Segundo, CA 90245
Contact: http://support.inboxdollars.com/hc/en-us

InboxDollars is a cash-based online rewards club that passes on the revenue it generates from advertisers to its members. By participating in paid surveys, reading e-mails, playing games, redeeming coupons, and more, you can get cashback on your activates.
Earn cash credited to your account when you complete particular tasks. These include:
Using coupons – find hundreds of printable grocery coupons, and earn additional cash back when you use them!
Playing games – select from dozens of card, strategy, sports, and word games, and get paid when you play.
Shopping cashback – visit the InboxDollars website and get cash back for your purchases from hundreds of merchants including Walmart, Target, Old Navy, and more.
Answering surveys – take online surveys when they become available, and earn cash every time you successfully complete a study.
Using the toolbar – earn additional cash by using the toolbar for your web searches, and have an easy way of staying informed about the latest free offers, surveys, etc.
Reading e-mails – receive emails with special offers, and earn cash when you open some special emails.
Referring friends - refer friends and earn 10% of what they earn. Banners and links are provided in your account.
Once your account reaches a balance of $30, you can request a check or a Visa Cash Card.
For non-Gold members, it takes around two weeks for payments to be processed. For gold members, payments are processed weekly. Payments are issued in US dollars, regardless of where you live.
Becoming a Gold Member
Once you cash out for the first time, your account will automatically be upgraded to gold. Gold members enjoy additional perks including faster payments, more sweepstakes entries, more loyalty rewards, and additional referral rewards.
Got disqualified? Still have a chance to win
If you try to complete an online survey but get disqualified when attempting to do so, you'll still receive an opportunity to win a prize by earning a spin on Billy's Spin and Win wheel. The number of spins you've accumulated is found on the 'Surveys' page.
Prizes include: $0.25 tokens (after your next successful survey completion, get an extra .25 credit in addition to the survey credit; 5 tokens maximum can be sitting in your account), $5.00, $1.00, and $0.05 cash bonuses credited immediately to your account, or Scratch Off Progress which will be credited immediately to your account; win and you'll see the Scratch Off progress bar will move forward towards the next scratch off card.
Is InboxDollars legit?
InboxDollars was founded in 2000 and has over 17 million members, and over 2.5 million Facebook fans. They have awarded over 80 million dollars in rewards to their members and have a mobile app available.
InboxDollars is run by Prodege, who also runs Swagbucks, InboxPounds (UK focus) and DailyRewards (Canada focus). Collectively, these sites have awarded more than $700 million dollars to their members since their inception. As such, Inboxdollars is not a scam, nor is Prodege - their parent company. InboxDollars has been reviewed thousands of times online, and although people's experiences with the site may vary, they are real and are certainly not a scam.
Eligibility: InboxDollars is open to international residents 18 years of age and older.
InboxDollars Alternatives
If you're already a member of InboxDollars and are looking for something different to join to make extra income, there are literally hundreds of alternatives out there. Here are a few of our suggestions. Branded Surveys offers online surveys, a low $5 cash out minimum and a $1 joining bonus! Tellwut is a fun community where you can take surveys, create surveys and answer daily polls for gift cards. TGM Panel is a popular survey platform with tons of survey inventory.
InboxDollars Reviews (150)
May 23, 2022 by Janet from United States
Never had any problems cashing out. I would prefer if they would use Paypal.
May 22, 2022 by Sandra from United States
As usual inbox is doing it again. Everything is fine till you try and redeem your points then they simply will not let you. I've turned them in to BBB before so I guess it's my fault for trying to work with them again. As anyone else had to go through such a hassle to get your money???
May 12, 2022 by Lisa from United States
It's too bad I can't attach the screen shots that I took. But, I'll try to explain. I joined 5 months ago, mid-Oct. 2016. I worked on surveys every day, did the paid emails & trivia quizzes, some searches and special offers. I got my 1st payout on 12/7/16, and was disappointed about the $3 fee taken from the $30 payout. That is for a "Virtual Visa" (online only.) If you want a "Real" plastic Visa, it's an extra $3. I did get a $3 credit on my account though, and Gold Status which meant that Spins for prizes had their value increased. However most prizes are sweepstakes points. You won't likely win $5 or $1, although you might win .05 or a .25 token (usable the next time you complete a survey.) I earned my 2nd payout on 1/11/17, and it went a little faster because I got a rebate for shopping at Walmart. Again there was a $3 fee, then a $3 credit to my account. After that, things began to change. I attempted surveys every day, but was turned down over & over. Values of surveys went down, and time it takes to do them increased. I will not do surveys that pay a penny a minute or less! That's 60 cents an hour. Counting the average 12-15 surveys refused or ended early in between, you are lucky to be making 5 to 10 cents an hour. I use the Online Chat when I complete a survey and am then disqualified. Usually I get the credit, but always get told it is an exception to their policy, they don't control their clients. -- So now, over 2 months later, I have a balance of $25.94. So close, and yet so far! If and when I reach $30 again, I can't imagine going through it again. I took screenshots of a typical day of trying to do these surveys a few days ago. 1st, I accidentally clicked on a 25 cent survey taking 28 minutes. I completed it & was then disqualified. I went on Chat to complain, and was awarded that one. Then I selected a $3 survey, didn't qualify, a $1 survey, was offered a 25 cent/31 min. one instead (I declined), tried another $1 one, was offered the same 25 cent survey, gave up for a while, and did some spins on Billy's Wheel. I won a 25 cent token but have not qualified for a single survey since then. The only credits I am getting now are pennies for paid emails & trivia, and a few disputed surveys (completed then disqualified) that I was grudgingly rewarded for. Logging in right now, I see one $3.75 survey; the rest are 25 to 75 cents. There are 11 of them and I can predict that I will be turned down for them all except for the ones I will not do. Pennies an hour is an insult for the time and effort I put into it. Before I go, I'll try that $3.75 survey. Surprise, I don't qualify! I was instead offered a 50 cent, 25 min. survey. I accepted it, and was disqualified. Next offer, a 75 cent survey, 15 min. Disqualified. So, it could take hours, or days, to actually qualify, complete & be credited for another survey. Pennies per day, then? That is why I am leaving.

Update: 9/23/2017

I wrote a review for Inbox Dollars in March 2017. I was frustrated with the low value surveys and constant disqualifications, as well as the bad attitude when asking for credit on the Chat board. However, I decided to stay on with lowered expectations of this survey program, because money earned is in fact paid out. The $3 service fee for payout has been refunded as a credit each time. I have now made $105 (4 payouts.) I no longer do Peanut Lab and rarely accept a 25 cent survey. Only 40 cents or higher. If the survey length is too long compared to the value, I won't do that either. I continue to ask for credit when disqualified for a survey right at the end or after finishing it, and this continues to be done reluctantly with warning that each time is an exception. Now I do the surveys on a more limited basis. There have been a few cases where a survey was worth $1 or more and was awarded. Just don't count on it!

Update:

I have been doing Inbox Dollars surveys & activities for over 5 years now. I appreciate the lower $10 payout limit and removing the $3 fee for cashing in.
However, recently many of the surveys have changed to include a statement that it will take 4 - 6 weeks to get credited! This is for ordinary surveys. I did several of them, then a few more, and realized I had lost track and really would not know if and when I got paid for those surveys. It is discouraging to spend 30 minutes on 75 cent or $1 surveys and then wait many weeks to see any credit. It also means long delays in getting paid. I'm no longer doing surveys that have that message.
May 8, 2022 by Jimmy from United States
Everytime I try to cash out I'm led to believe I will get my usual check like in the past & now after a month of waiting they put the money back into my acct & no check. Are they not issuing checks anymore?
May 3, 2022 by Corey from United States
i been trying to redeem from inbox dollars for a week they have not helped me at all the surveys are racial soon as you say you black they cut you off they dont respond to me at all it took me a whole day to get 15 dollars this is the worst site ever nobody has gotten in touch with me a whole week my paypal is right they dont have a number i want to get in touch with a supervisor nobody helping me sad.
» Return to: TOP RATED GPT SITES
---
Popular Topics
Top Survey Sites of 2022
---
Best Rated Survey Sites
---
Ultimate Guide to GPT Sites
---
Taking Surveys for Gift Cards
---
The Best International GPT Sites
---
14 Ways to Get Free Amazon Gift Cards
---
Find Swag Codes to Make Extra Money
---
11 Ways to Succeed on GPT Sites
---
Guide to Legitimate Paid Surveys
---
Survey Sites That Pay Instantly
---
25+ Easy Ways to Make Money Fast
---

Featured Advertisers: