instaGC Reviews and Features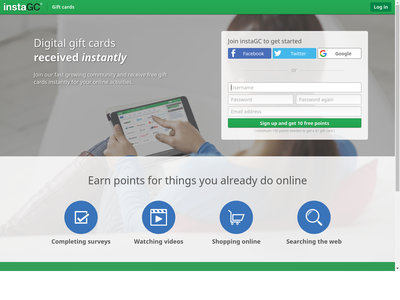 instaGC
Operated by: Day Online Solutions, LLC.
PO Box 48; Sellersburg, IN 47172
Contact: [email protected]
instaGC is a GPT (get-paid-to) website where you can earn gift cards and cash in exchange for watching videos, testing apps, shopping, and completing tasks and surveys. Members of the website are called "instaGC'ers".

Simply create an account on instaGC's website using your Twitter, Facebook or Google accounts (or just sign up using your e-mail on their registration page), and participate in the following activities to accrue points which you can then cash out for rewards:
Complete Surveys

instaGC lists a fair number of surveys available at any given time. If you attempt some and get disqualified, you will still be awarded one point. This doesn't sound like much, but daily, this can really add up.
Complete Appen tasks

Rack up points by completing small tasks on Appen. Simply follow the instructions in your account, and earn points for doing small things such as data entry, internet research, etc.
Participate in Offers

Download programs and software to earn additional credits.
Search the web

Use instaGC's search engine in place of what you currently use, and earn additional points every day.
Partake in Trials

Sign up for trial offers where you can try out a product or service for a set time period (such as one week). Earn points for your participation.
Visit Websites

Earn easy points just for visiting different websites from advertisers on the website for short periods of time.
Watch Videos

Watch short videos and earn additional points.
Enter Promo Codes

Enter 'Point Booster Codes' into your account in order to get free points. These codes are typically worth 3-5 points and are posted periodically on instaGC's social media pages.
Sign up friends, and earn more

Refer your friends and earn 10% of any earnings that your referrals earn (outside of instaGC tasks as well as bonuses received). Additionally, earn 10 bonus points for each person who signs up and confirms their account and is from Australia, Canada, United Kingdom, or United States.
Visit instaGC's website

›

Gift Cards
As the name implies, instaGC offers gift cards to its members as a reward for their participation. In most Western nations, a wide selection of gift card options is available including ones for use on Groupon, at BestBuy, Starbucks, Amazon, and many, many more. Amazon gift cards are available in USA, Canada, UK, and most European countries. Overall, gift card selections are best in these countries and in total, over 300 gift card options exist..

Cash, bitcoin and more
In early 2016, instaGC added cash as a redemption option which allows you to exchange your points for cash payments made through bitcoin, PayPal, or a Visa prepaid card. Cash payments carry a small processing fee which is waived for your first monthly cash redemption. So to save on fees, limit your redemptions to once per month.
Points Conversion
100 points = $1 US/CAD, 160 points = 1 pound, 130 points = 1 Euro. Keep in mind however, that conversion rates can fluctuate based on foreign exchange rates.
Cash out minimums
You may request a reward with as little as 100 points ($1.00) in your account. Rewards and payments for most users are issued instantly, however if you have racked up a larger balance (usually 10,000 points or more) and wish to withdraw it all at once, you may have to wait 1-2 business days to receive your reward. At any time, you can check your daily redemption limit by clicking the 'Limits' option in your account.
Member's Tip! Watch out for "sales" on gift cards. The savings on these is usually 10%, meaning that by selecting certain gift cards, you will need 10% fewer points.
Love Cash and Gift Cards? instaGC is a Great Choice!
instaGC has awarded over 1,400,000 gift cards since their inception in 2011 and are perfectly legitimate. Their 1 millionth gift card was awarded back in November, 2017. They have over 250,000 Facebook fans and on their Facebook page as well as a Twitter feed, and they regularly post "bonus" codes for free points. Giving members the ability to convert their points into cash payments and not just for gift cards has made them a competitive and legit GPT website.
Eligibility: instaGC is open to residents worldwide 18+ and eligible minors who have obtained parental permission.
Joining Bonus! InstaGC is currently offering a 10 free points to new members.
» Click here to claim your bonus!
Alternatives to instaGC
There are tons of different GPT programs out there, so you are certain to find one that works for you. Here are some additional gpt survey sites that can help you earn some extra cash.
PrizeRebel gives you the opportunity to take surveys and participate in tasks in order to earn cash and gift cards. 4 different account levels are available, each offering their own unique benefits.
Swagbucks is a very popular surveys and earnings program which has awarded over $650 million in rewards to their members! A $5 joining bonus is offered. If you're not already a member, this is one to check out.
Still looking for more? Check out our top rated GPT programs, which are determined by user reviews.
August 24, 2022 by Betty from United States
I have been a member for many years. Made a lot of money.
March 30, 2021 by Carlos from United States
Even so I did the points in a fair way and verified the account with the phone number, even so, he did not let me withdraw, he asked me for my license or passport ID, it is not worth using.
December 14, 2020 by Sammy from United States
I joined this site and was really excited. I easily made $3 in a couple days and wanted to cash out to make sure the site was worth my time. You can cash out at $1 for various gift cards. When I tried to cash out I got a message saying my account was not eligible to cash out and had to be approved. Okay, fine I will jump through this hoop (remember here I have already confirmed my phone number as well as my email). An admin responds to me almost immediately and says they need a copy of my DL to prove who I am. I question this and they point out that per their terms they can ask me for a copy of my DL as well as a copy of bills sent to my address such as an electric bill. A this point I told them to forget it and to delete the account. I understand it says you may be asked to confirm your identity but I assumed this was if they suspect fraud not just random pick people. I am not doing anything wrong but I am not comfortable giving a copy of my DL or a copy of my electric bill to some random PTC site that I don't even know for sure who they are so I can make a few dollars over the course of a month. This is also one of them sites that after you have been there a while you won't make as much money. Once you complete the offers you have done them and there is nothing else to do. I would not recommend this site. I deleted my account and forfeited the earnings I had. If I had known that a copy of DL would be required to cash out I would not have even bothered to sign up. This is not a real job and that is too much personal info.
October 20, 2020 by Joe from United States
Wonderful site if you're looking to earn online, however, there's a chat moderator who seems a bit power obsessed. It ruins the experience at times.
July 20, 2020 by Christina from United States
Best GPT site around! So much money to be made.
I've made $3k.
» Return to: TOP RATED GPT SITES
---
Popular Topics
Top Survey Sites of 2023
---
Best Rated Survey Sites
---
Ultimate Guide to GPT Sites
---
Taking Surveys for Gift Cards
---
The Best International GPT Sites
---
14 Ways to Get Free Amazon Gift Cards
---
Find Swag Codes to Make Extra Money
---
GPT Sites That Pay Instantly
---
Guide to Legitimate Paid Surveys
---
Survey Sites That Pay Instantly
---
25+ Easy Ways to Make Money Fast
---

Featured Advertisers: