Prime Opinion Reviews and Features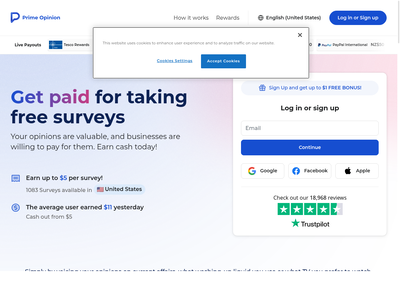 Prime Opinion
8 The Green Ste R, Dover, DE 19902 US
Tel: Contact: https://www.primeopinion.com/en-us/contact
Operated by: Prime Insights Group LLC

PAYMENTS OFFERED

Cash paid via PayPal

Cash paid via bank transfer

Apple gift cards

Amazon gift cards

Starbucks gift cards

Google Play credits

Home Depot gift cards

Restaurant gift cards

Retail e-vouchers

Walmart gift cards

Target gift cards

Prepaid debit or credit cards

Donations to charity

HOW TO PARTICIPATE

Online surveys

Refer-a-friend program

REDEEMING REWARDS
500 point ($5) - 2500 point ($25) withdrawal minimum, selected at the time of registration.

Prime Opinion is a paid survey website offering consumers the opportunity to make money by answering paid online surveys.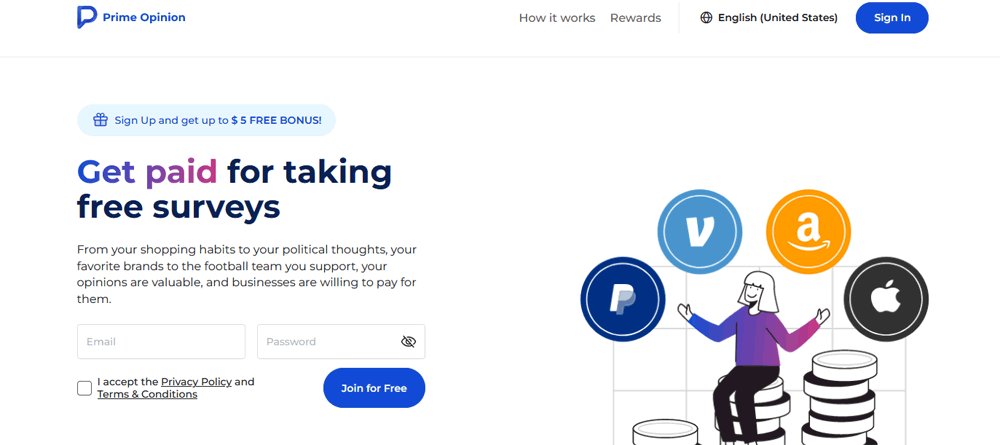 Sign Up And Earn Quick Money Answering Surveys
Sign up to Prime Opinion simply by entering your email and a desired password on their website. Once you confirm your email, you'll be ready to start answering paid surveys!
How Much You Can Earn
The Prime Opinion homepage features updated statistics letting new users know how much they can earn by signing up and participating. At the time of this listing, users were earning an average of $7 per survey and had earned an average of $15.24 the day before.
The homepage also features a live ticker where you can see live payouts of other users. As the platform is international, it's interesting to see the different rewards that users from around the world request. For instance, you may see $100 US Amazon gift cards, €5 PayPal, £20 Amazon.co.uk, etc. stream by.
Check out Prime Opinion

›

Reward Options
Prime Opinion is one of the few paid survey websites that pays users directly to their bank accounts. Alternatively, you can redeem your points for PayPal payments, Visa gift cards, charity donations or retail gift cards. There are dozens of retailers partnered with Prime Opinion offering gift cards, including Amazon, Shopify, Apple, Target, Walmart, Home Depot, Starbucks, Domino's Pizza and many more.
Redeeming Rewards
Earn points for answering paid surveys on Prime Opinion, which can then be converted into your choice of reward. One hundred points is equal to $1 USD.
Select one of three points withdrawal thresholds when signing up to the website. If you choose a larger threshold, you'll be granted a larger welcome bonus.
The options are:
100 points welcome bonus and a 500 point withdrawal minimum
200 points welcome bonus and a 1,000 point withdrawal minimum
500 points welcome bonus and a 2,500 point withdrawal minimum
Expect to be able to withdraw a bonus within a day or two when you sign up and choose a lower withdrawal limit. A larger withdrawal limit is only recommended for users who are expecting to use Prime Opinion for a long time.
Cash rewards are processed in a matter of hours, while other rewards are advertised as being delivered even sooner!
Check out Prime Opinion

›
Paid Surveys
Before you begin answering surveys, Prime Opinion confirms to all users that their responses are completely anonymous. It warns them that their ability to answer surveys may be retracted if they submit false responses.
Your first survey will ask for a few personal details, such as your nationality and date of birth. Once that survey is answered, a wide range of surveys will become available for you to answer.
Survey Formats
Each survey includes an estimated time of completion and the total amount of points you will earn.
The initial questions of some surveys will request your demographic information to see if you qualify for the survey. If you're deemed unsuitable for the survey, it will close without you earning any points.
Most of the surveys involve multiple choice questions, although a few require a longer written-out opinion. Users are advised to submit lengthy original answers to prevent themselves from being screened out without payment.
Prime Opinion App
There is no Prime Opinion app, although the website is mobile-friendly so it is easy enough to complete surveys when you're outside the house with a few minutes spare.
Social Media
Prime Opinion currently doesn't have a social media presence, but they claim that they are able to offer larger payouts (150% more for the same surveys!) than their competitors because they have no marketing budget.
Refer Your Friends
Upon signing up to Prime Opinion, you'll be given a unique referral link to share with your friends and family. You'll be awarded 100 points after someone uses your referral link to sign up to Prime Opinion and they make a withdrawal. They are no limits on how many referrals you can make and be rewarded for.
Is Prime Opinion Legit or Scam?

Is Prime Opinion Legit?
Although Prime Opinion is a new survey website, they are run by a credible market research company (Prime Insights Group) and are legitimate. Prime Insights Group has over 2 million survey takers in 20 different countries and are certainly not a scam.
Eligibility: Users 18+ from select countries including the United States, Canada, Australia, Germany, Ireland, India, the United Kingdom.
Joining Bonus! Prime Opinion is currently offering a sign up bonus of up to 500 points ($5) to new members. » Click here to claim your bonus!
Prime Opinion Reviews (36)
August 10, 2023 by Dave from Canada
I joined this website a few weeks ago and it was amazing! I got points very quickly and redeemed a few gift cards. Then all of a sudden, I got blocked from doing surveys until August 9th. It is the 9th as I am typing this and I went back on and it now says I can't take surveys "forever". I heard they have been doing this to other people because we made too much money. So, don't join this website! It was great until it wasn't. If I could rate it 0 stars, I would.
I don't like the customer service people
July 20, 2023 by Mary from United States
I was taking a survey and the question asked me "which city is not part of the united states'" the choices were Miami Chicago and new Orleans...I reported this maybe it was a typo, the customer service person had the nerve to say just pick a answer and continue with the survey....I couldn't believe she said that... Chicago Miami and new Orleans are all part of the united states' being dumb doesn't signify how pretty you are...there are a lot of pretty females who are very intelligent...
I DID like the panel at first...
July 17, 2023 by Michele from United States
Things were going ok and at first you could make a few dollars there. Then they sent you a link to rate them on Trustpilot. So I did give them a fair review over on trust pilot. I did say so far so good... of course not even a month later all of that has changed. I knew though from the beginning ... anyone who spends time taking surveys knows that it usually goes well for a while in the beginning. So I went back to change my review on Trustpilot to tell others it is not worth it. Prime Opinion apparently wanted more information and I was supposed to update my review. Trustpilot wanted my phone number then as well, which I found to be a bit odd. So I have decided no. No more of this. I deleted the review and will now post one here where people tell the TRUTH about their experiences with survey sites. My advice is that if you are taking surveys at a new survey site and things are going well - and they prompt you for a review on Trustpilot not long after joining the site - be careful. If you do leave a good review and things do change, please update and share your experience. It really can help others. Prime Opinion was great at first... and then crap. I give it two thumbs down.
July 11, 2023 by Scott from United States
I'm assuming all of the bugs are because it's a relatively new survey site. I signed up because it was featured on the home page of Survey Police. I took more than one survey, went through the entire thing only to get an error message at the very end. I then went onto the support page, loaded up a screenshot of the error and clicked submit. However, their submit button doesn't work. Maybe it's just me, but I'd stay away from this one.
June 27, 2023 by Greg from United States
Prime Opinion is one of the sites that pay you to take surveys among others. While they do have a minimum to meet before you can cash out ($10 or 1000), it is actually pretty easy to reach. You can actually reach it within a day or even a few hours because it is very easy to qualify for surveys.

After you sign up, you will be able to complete a couple of surveys, then they will pause your account in order to verify and make sure that your account is legit. Afterwards, you will be able to continue to use your account to make money taking surveys.

Once you reach pay out, you can choose the type of reward you can receive. I chose the PayPal award for $10. There were a few steps I had to go through. I confirmed my PayPal email address. Then there were a couple of emails I had to answer. After that, the money showed up in my PayPal almost immediately.

So far, this is one of the easier to use sites for making money with surveys. Just make sure that you are honest and consistent when taking surveys. If you are in a state where you are having cognitive difficulties, it is a better idea to not take any surveys in order to avoid getting flagged or even banned.
» Return to: TOP RATED SURVEY SITES
---
Popular Topics
Top Survey Sites of 2023
---
Highest User Rated Survey Sites
---
Survey Sites That Pay Instantly
---
Get $100 Free PayPal Payments
---
9 Product Testing Job Websites
---
12 Online Surveys That Pay Cash
---
How to Earn Free Uber Gift Cards
---
14 Ways to Get Free Amazon Gift Cards
---
Best Paid Focus Groups
---
How to Get a Free Visa Gift Card
---
Ways to Get Free Xbox Gift Cards
---
Featured Advertisers: