PrizeRebel Reviews and Features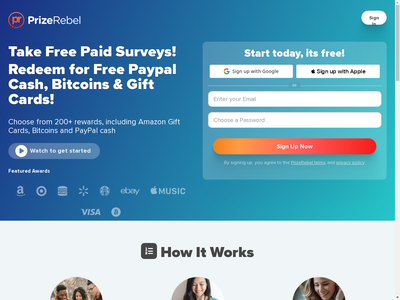 PrizeRebel
Operated by: iAngelic, Inc
25379 Wayne Mills Pl Ste 192 Valencia CA 91355
Contact: http://www.prizerebel.com/contact.php
PrizeRebel is a GPT (get-paid-to) rewards website where members are rewarded for completing tasks and activities in exchange for gift cards, cash, and merchandise.
PrizeRebel launched in 2007 and has grown to become one of the most widely-used GPT websites. It has a worldwide membership of over twelve million people and users from the UK, USA, Canada and Australia have the most opportunities to earn rewards.
Joining PrizeRebel is free to join and over $25 million dollars has been earned by Prizerebel members. Read on to learn how this website works and how it compares to its competitors.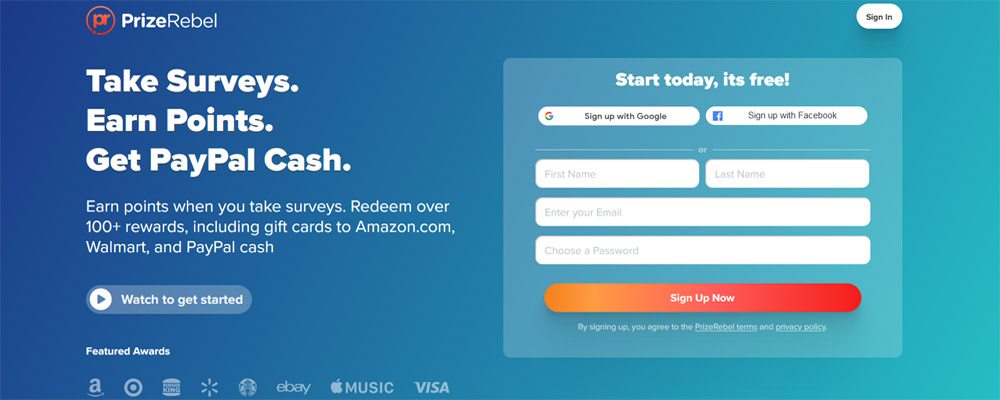 Joining a Leading GPT Site
To join PrizeRebel, the registration process for Prizerebel is as simple as it gets. Enter your name, email address and desired password on the home page. Then, you're in. You can register using your Facebook account if you prefer.
Once your registration is completed, you'll be transferred to the main Prizerebel dashboard. It's an easy page to navigate, which presents all the money-making opportunities available to you.
This page illustrates the amount of people who have already earned points from the activity, which can be somewhat comforting for new users who remain worried about the legitimacy of the website.
How to Make Money with PrizeRebel

There is a variety of different activities you can participate in in order to build your account balance with PrizeRebel:
Fill out Offers

Complete offers such as signing up for trials, joining mailing lists, etc., in exchange for points.
Take Surveys

Take online surveys and get rewarded for your opinions. Daily surveys are available via the following survey routers: Your Surveys, Samplicious Surveys, Cint Daily Surveys, OxSample Router, Precision Sample Surveys, Tap Research Surveys and more. You'll always be shown the amount of time it takes to complete a survey and the amount of points on offer. Many members have praised Prizerebel for being among the most generous payers for survey-takers.
Watch Videos

Watch short videos on your desktop and earn points. The points at stake per video watched are minimal, but you can earn an unlimited amount.
Complete Tasks

Complete simple online tasks such as doing internet searches, and watch your account balance grow.
Collect daily points

In your PrizeRebel account will be a daily points page which will list opportunities for tasks that can be completed up to 20x a day. This is an easy way to accumulate extra points.
Participate in contests and games

Earn bonus earnings by participating in contests, raffles, and things like the high-stakes Lucky Numbers lottery game. There are also regular sweepstakes, where you can win prizes simply by spending your accumulated points on virtual raffle tickets. If you're feeling lucky and enjoy the occasional gamble, this might be a fun way to spend your points.
Offer Walls

Earn points by purchasing items or services from Prizerebel's retail partners. The Offer Walls page on its website lists all the partners, what you need to buy and the amount of points available for doing so. Many of the offers only require you to take a free trial, answer a survey or download a free app.
Referrals

As soon as you register a Prizerebel account, you'll be provided with a unique URL to refer your friends and family. When you successfully refer someone to the site, you'll between earn 15%-30% (depending on your account level status) of the points they earn on an ongoing bonus, excluding promo codes, contest winnings, and their own referral earnings. What's more, there's a clever dashboard that allows you to track who has been referred and how much money they have made you.
Account Level Extras

Prizerebel has a nifty loyalty bonus system, which allows you to unlock more account benefits as you accumulate more points. Account level points are based on regular tasks and activities, including your referrals' earnings. Reach the gold level or above and automatically receive rewards claim codes if they are in stock. The tiers are as follows: Bronze, Silver – 1000 points, Gold – 2500 points, Platinum – 7000 points, and Diamond – 12,000 points.
Did You Know? Rewards processing is completed within 24 hours, but Gold status members and above receive their rewards immediately after request!
Explore PrizeRebel's Website

›

Gift Cards
PrizeRebel offers a rewards catalog with over 500+ gift card options. This is far more than the majority of its competitors, and more are being added all the time. Occasionally, Prizerebel will offer discounts on specific gift cards, and these will be advertised at the top of the rewards page.
Alternatively, you may redeem your points balance for a PayPal cash payment or ACH bank transfer.
You can request a reward with as little $5 worth of points in your account. Rewards processing is completed within 24 hours, but gold status members and above receive their rewards immediately after request!
You can also request a $2 Amazon gift card for just 200 points, so you don't need to worry about dedicating several hours to the website before you're able to cash out.
PayPal Cash
Alternatively, you may redeem your points balance for a PayPal cash payment or a Visa prepaid gift card.
For each of these, you can request a $5 reward with as little 500 points (worth $5) in your account. Many websites force you to earn far more points before these types of cash payments are made available to you, which is a bonus feature of PrizeRebel.
Start Earning with PrizeRebel

›
Surveys Specialists
PrizeRebel prides itself on being able to offer a wide selection of surveys to their members through their real-time integration with various market research companies. Through these partnerships, they are able to offer members a real-time ever-changing inventory of opinion surveys that can pay anywhere from 50 cents to $20. By partnering with some of the best companies in market research, they can ensure that their users always have the most choices in opinion surveys and some of the highest payouts per survey completion.
PrizeRebel's Millions
PrizeRebel has been around since 2007 and has over 12 million members. They have awarded more than $25 million in rewards to their members and have over 240k fans on Facebook. Promo codes for bonus points are regularly posted on their Facebook and Twitter accounts. Although they don't offer a mobile app, the PrizeRebel website is mobile-friendly and utilizes a responsive design so you can complete tasks, take surveys, etc. directly from your phone.
View Other Members' Activity
You can see how many members have already had points credited from specific activities, while the rewards page contains a real-time list of the gift cards and payments claimed by other users. The names of previous sweepstakes winners are also listed after the prize draw takes place. This creates a sense of community about the website, which can help new members trust in its legitimacy.
Is PrizeRebel Legit or Scam?

Is PrizeRebel Legit?
With such a prosperous history and broad range of ways to earn rewards, it's little wonder so many people have chosen to spend time making money on Prizerebel. With over 15 years online, millions of members and millions of payments issued to their community members, PrizeRebel is definitely not a scam. Although individual experiences may vary, PrizeRebel is most certainly legitimate.
Its intuitive website, huge range of gift cards and generous payment structure do a lot to help it stand out from its competitors. You can read what Prizerebel users have experienced using the website by reading the PrizeRebel reviews, below.
Eligibility: PrizeRebel is open to people around the world who are 18 years of age or older. Users 13-18 can use the website with parental permission. Note that users from the USA, UK, Canada, and Australia are likely to have the most success with the website.
5 Star Reviews (126)
61.5
July 2, 2023 by Peter from United Kingdom
Great website to use - completely legit and once you hit the right tier (which does not take long!), rewards are instant!

Any problems encountered are dealt with on their side with the utmost speed and efficiency

Highly recommended!

PrizeRebel responded to this review on July 12, 2023
Thank you for the kind words Peter, we love being able to provide instant rewards to our users. Thank you for leaving a review!
July 2, 2023 by Julian from United Kingdom
I`ve been using PrizeRebel for about 2 months now and it works fine, you won`t retire on what you make but you will put a few extra pounds in your pocket through the week, myself last I had about £25,not an earth shattering amount but it certainly helped :) Recommended site by me, had no issues whilst using it

PrizeRebel responded to this review on July 12, 2023
Thank you for sharing your experience Julian, I hope we can serve you for many years to come for all of your gift card and paypal cash needs!
April 18, 2023 by Courtnay from United States
Received my rewards the same day, most other survey sites have a few days waiting time. Also there's a lot of different ways to earn rewards.

PrizeRebel responded to this review on July 12, 2023
We pride ourselves on being able to send our rewards as fast as possible so there is no delay, thank you for taking the time to leave a review!
March 16, 2023 by Sue from United States
After 4 months on PrizeRebel, this has been my go-to earning site. I've tried them all, Swagbucks, FreeCash, RewardsXp, you name it, I've created an account and tried to earn some extra side cash. Here's my review of what I've encountered on PrizeRebel.

Personally for me what makes PrizeRebel stand out the most is the number of survey partners and the variety I can take. While many of the other site stick and promote only one partner, or in some cases, they dont tell you which provider you are doing the survey from, PrizeRebel clearly distinguish each partner. What makes me happy about this is that I can tell which partner I have better success with and which one might feel like a drain. Can't win with all the partners but now I can pick and choose what works for me. For me, I've had great success with Your Surveys and Pro Surveys. Might be different for others.

A reward is pretty easy to claim. At first, I had to wait 24 hours to receive the redemption. But after gold, the rewards were added to my PayPal account within 10 minutes. Sooo easy. Click of a button, 10 minutes later, funds in my PayPal.

In terms of their support team, I love the quick attentive action their team provides. I'm not sure if it's a 1 man show in "Dan Lee" but he's been there to help me with any issues. When my reward didnt process, he helped looked into this with the PayPal team and got me my points back and redemption was processed immediately.

The worst part honestly is encountering issues with surveys. While I do get that the surveys aren't hosted by PrizeRebel, it sucks when an error occurs or you get disqualified late. Get's my blood boiling, but I do appreciate the courtesy credit their team provides when I write in. Still frustrating nonetheless. I know this is like a survey industry issue, but I still hate it.

Overall, PrizeRebel been the easiest survey site that I've used. They offer variety with a large inventory of surveys. Seems to never run out. While giving pretty good support.

PrizeRebel responded to this review on July 12, 2023
We appreciate you taking the time to leave such a detailed review about PrizeRebel, I've shared this with the rest of our team so we can continue to improve and serve our users!
June 14, 2022 by Philip from United States
Been taking surveys for a while and Prize Rebel is by far the best site and highest paying overall. Also the easiest way to cash out and numerous ways.
» Return to: TOP RATED GPT SITES
---
Popular Topics
Top Survey Sites of 2023
---
Best Rated Survey Sites
---
Ultimate Guide to GPT Sites
---
Taking Surveys for Gift Cards
---
The Best International GPT Sites
---
14 Ways to Get Free Amazon Gift Cards
---
Find Swag Codes to Make Extra Money
---
GPT Sites That Pay Instantly
---
Guide to Legitimate Paid Surveys
---
Survey Sites That Pay Instantly
---
25+ Easy Ways to Make Money Fast
---

Featured Advertisers: