SurveyTime Reviews and Features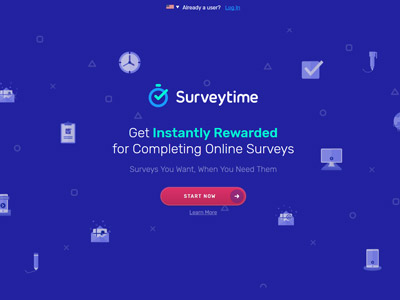 SurveyTime is run by Persona.ly - a global mobile ad-tech company who works with the world's largest market research companies to provide direct, exclusive survey campaigns. It is the only survey panel that offers users instant surveys with truly instant rewards.
Get $1 Immediately After Every Survey Completion
With SurveyTime, there are no complicated points systems to figure out. Every time you complete a survey, you will receive an instant $1 reward of your choosing (from the rewards options available), sent immediately to your e-mail. There is no waiting for points approvals or for payment - everything is instant!
Desirable Rewards Options
SurveyTime offers instant payment for highly desirable rewards. These include PayPal cash payments, bitcoin payments made via Coinbase, Amazon e-vouchers, and e-gift cards to retailers including Walmart, Target, and more. Note that rewards options will vary per country.
Visit SurveyTime's website

›
Create Your Profile, Get Matched to Surveys
When you first sign up with SurveyTime, you will be asked to answer a short list of questions to create your profile. Your answers will be used to pair you with surveys that are matched to your profile.
Getting Notified of New Surveys
You can get notified of new surveys in a few different ways: log in to your Survey Time account and check the website for new surveys, or sign up for e-mail or text notifications so you can be among the first to find out about new opportunities!
Desktop or Mobile - Your Choice
SurveyTime's surveys and website are both desktop and mobile friendly, so when you're ready to take a survey, take it on the device of your choosing.
Eligibility: Users worldwide.
---
December 2, 2019 by Sharon from United States
I get up to 6 emails a day to do surveys. I always qualify for those surveys (according to the website) but then nothing. No survey. I forget when I signed up but it hasn't been too long. I did receive one survey that I did do and congratulated me on it and Paypal was going to get the $1, but on the next page, it wouldn't accept my phone number. I've had the same phone # for 40 years. So, I couldn't collect my reward...then I get an email telling me to complete the process to receive my reward. Can't do it.

Other times, when I click on the tab to complete a survey, it goes nowhere. I have contacted them but no response. I have 10 survey requests just received this morning. I won't bother and I'm going to give up on that site unless I hear back from them quickly.

UPDATE: It's been a while now and I qualified and did 2 surveys even though I supposedly qualified for many more. I just checked my PayPal account was never credited with the $2. I did get a reply to my support question and they said I was good to go now but now I haven't qualified for any surveys since and still haven't received my $2. STAY AWAY!! This site is a waste of time. Their website is horrible, too.

Update 11/29:
I received an email from Survey Time. They fixed whatever was broken and I have now received my rewards. I don't understand the reply they left me about my landline not being supported. Doesn't make sense. But, at least now, thinks are fine and I have received my reward for another survey I completed.

I now give it 3 starts instead of 1 only because the response to my support help answer via email was so slow.
I didn't even get started
December 1, 2019 by Marie from United States
I've never had this problem before. I finished a survey which took several times for me to even find one that wasn't already full or I didn't qualify. Then I finish one with the thought of receiving a dollar as a reward instead I was rewarded 1 cent in my Paypal account. I was sent a email saying that I had been flagged (like I'm some kind of criminal). That's alright though if there's a problem I can talk to them and iron it out. But...the problem is there's no customer service link on their site in which to contact them. Until I'm able to talk to customer service my rating stands. :0( Too bad this was a cute site with all the little cartoons and pretty colors.

UPDATE: It looks like I was paid through PayPal today so I upgraded my rating to three stars i'll continue with them and see were it goes.

NEW UPDATE: I've tried this site several times and I'm still having issues with glitches or surveys that won't start so I had to lower my score.
November 29, 2019 by Luis Henrique from Brazil
I would like refer Survey Time for it is legit and fun. I've won many times. And the best thing is to see the money right after the survey! Love it!
November 27, 2019 by Justin from United Kingdom
Pro: Instant payment.
Con: No customer support should a survey be faulty
November 27, 2019 by Mario from Ireland
Good surveys, instant pay. Fairer than many others. Nothing wrong!