Swagbucks Reviews and Features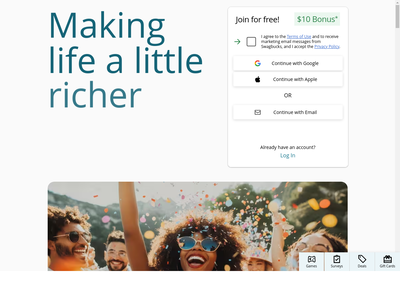 Swagbucks
Operated by: Prodege, LLC
100 N. Pacific Coast Highway, 8th Floor, El Segundo, CA 90245
Contact: http://help.swagbucks.com/home

Swagbucks is a website where you can earn rewards by doing activities you normally do, such as shopping, searching the web, watching videos, playing games, printing coupons, and taking surveys. Every time you complete one of these activities, you can earn points called SB's.
Upon becoming a member and logging into their website, you will see links to Shop, Search, Watch, Play, Answer, Discover.
Shopping – receive "cashback" for making purchases from major online stores through Swagbucks. These include Amazon, Walmart, Best Buy, and more.
Searching – use the Swagbucks search engine over your regular one, to conduct your internet searches, and earn bucks.
Watch – watch videos about music, news, entertainment, pets, travel, and more, and earn credits to your account.
Answer – at any given time, Swagbucks has a list of online surveys available where you can earn SB's by answering them.
Discover – print grocery coupons, or install the Swagbucks browser add-on to earn more, faster.
Referring Friends - do this and earn 10% of what your referrals earn.
Visit Swagbucks' website

›
You can redeem your SB's for two main reward options: cash, or e-gift cards. One SB is worth approximately 1 cent.
PayPal Payments
If you would like to receive cash, you may request a PayPal payment to your account. Payments take approximately 10-14 days to process and will be issued in US dollars. Denominations are $25, $50, $100, and $250.
Tons of e-Gift Card Options
Alternatively, you may request an e-gift card to major retailers such as Amazon, Home Depot, Starbucks, and more. Other options include Facebook credits, iTunes cards, restaurant gift cards, Cineplex credits, and hotel credits. E-cards are awarded within 10 days of request and denominations of anywhere from $1 - $100 are available.
Tip! Look out for "sales", where gift cards require around 10% less the SB's they normally require.
You may also donate your SB's to charities such as Unicef, Doctors Without Borders, Red Cross, etc. Donation amounts start at only 5 SB's ($0.05).
Visit Swagbucks' website

›
Bonuses
Daily goal points are offered where you can receive bonus SB's if you reach the daily goal by the end of the day. Receive another bonus when you reach the daily goal 7 days in a row. Bonuses are paid on or around the first day of the following month.
Swagbucks is Immensely Popular
Swagbucks has been around since 2005 (the same year SurveyPolice was created!) and has over 13 million members and over 2.4 million Facebook fans. They have awarded over 400 million dollars in rewards to their members making them, by far, the internet's largest GPT website! Every day, they award 7,000 gift cards to their members.
Eligibility: Swagbucks is open to residents 13 years of age and older who reside in USA, UK, Canada, Germany, France, India, Australia, and Ireland
» Swagbucks is currently offering a $5 sign up bonus to new members. Click the green Join Now button to claim your bonus!
June 11, 2015 by Barbara from United States
I have been with Swagbucks for less than a month and have already cashed in 2 gift cards of my favorite shopping places. SB answers my emails promptly and even gave me courtesy sb's on a question I had. What I really see as ingenuous about SB is their videos and info on the site which they pay you to watch and in watching these I am able to complete more surveys because of the knowledge I receive about product, business and health subjects that are taught to me.
June 8, 2015 by Sarina from United States
I like to take the surveys that take about 10 minutes to earn points. I really like this size and have earned 30 dollars in gift cards so far
Probably the worst survey website
June 6, 2015 by sam from United Kingdom
I am from the UK and have been doing surveys online for over 5 years.

In all those years, SwagBucks is the worst survey website I have been a member of.

I completed all profiling questions on SwagBucks and went to the survey pages. On average, at any 1 time there will be 20+ surveys listed across all sections (including peanut labs).

The problem is that 90% of those you simply wont qualify for.

A few weeks ago I clicked more than 20 of their surveys. 17 redirected to the survey and without answering a single question, redirected back to swagbucks and said I didn't qualify.

This is not acceptable. They have my profiling answers, thus shouldn't show surveys that I won't qualify for the second I click on them.

I would much prefer to see just 2 surveys a week that I do qualify for and can do. Instead I really can't be bothered to waste my time clicking surveys that I already haven't qualified for before I even get to answer questions.

The rewards are also very inconsistent. Most panels will give set amounts depending on the length of the survey. I.e, £0.25 for a 5 minute survey, £0.75 for a 15 minute and £1 for 20 minutes. Swagbucks have all strange amount for the surveys. Some might be 10 minutes for 53 swagbucks, however others will be 30 minutes for 10 swagbucks (£0.05).

Another thing is that payments can take a while. I cashed out £5 paypal which took 4 days to arrive in my account. There are so many other survey panels that pay instantly so this is also a negative.

It's a shame really as swagbucks seems to have potential but inconsistent reward amounts and with 90% of surveys that instantly take you back to the "did not qualify" page (without even answering a question), I have had no choice but to terminate a survey account for the first time.
Lots of opportunities to get points
June 5, 2015 by Steve from United Kingdom
I've only been a member for about 2 months but have already made more than £20 on surveys alone, so I'm very impressed with the site so far. There are lots of opportunities to accumulate swagbucks so you need to keep an eye out for bonuses on daily polls, internet searches as well as the surveys. I do get screened out of a lot of surveys, but there are so many of them that it doesn't really matter.

I tend to steer clear of some of the special offers, though, such as for credit reference reports, on-line casinos etc, but it looks as if you could earn loads more swagbucks on these if that's your preference.
June 4, 2015 by Cloe from United States
I like it well enough, they payout quick and have reasonably low thresholds, many different ways to earn, just have to find what works for you.