YourVoice Reviews and Features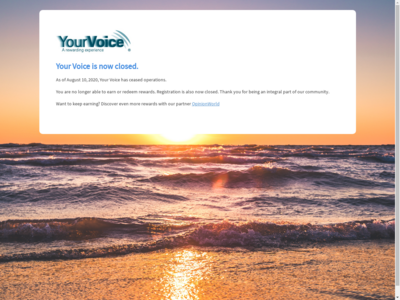 YourVoice
6 Research Drive, Shelton, Connecticut 06484 US
Tel: 1-800-601-253 Contact: [email protected]
Operated by: Dynata
YourVoice Quick Overview:
Rewards Offered: Retail e-vouchers Sweepstakes entries
Member Opportunities: Online surveys Daily surveys Teen surveys
Redeeming Rewards: $10 minimum account balance required to request rewards.
Similar Panels: Myiyo, OpinionWorld
The YourVoice panel is a community that gives members an opportunity to voice their valuable opinions on product and services, current affairs and other exciting subjects! YourVoice is part of Dynata.
Quick & Easy Registration Process
To become a member of YourVoice, begin by filling out your details on the sign-up page. An application link will then be sent asking you to provide more detailed information. The more information you provide, the better tailored your surveys will be to your interests.
Survey Details
Surveys tend to vary in length depending on the subject matter. They can range from 10 to 40 minutes. Survey pay-out can be from $1 to $10 depending on the complexity and/or length.
Rewards
Every time you complete a survey, you will earn points that can be redeemed for rewards from YourVoice's WebShop which contains a range of popular gift vouchers. You need a minimum of $10 AUD in order to begin redeeming your rewards.
Quarterly Prize Draws
An added bonus of signing up and completing surveys with YourVoice is gaining entries into the lucrative quarterly cash prize draws. When you first sign up, you will get an entry, and you also get an entry for every survey you complete, receive a screened out notice for, receive a quota full notice for or when you update your profile upon request. Each month, $5,000 AUD is given to one lucky member of the YourVoice community. This totals $20,000 a year that can be won!
Eligibility: Residents Worldwide, 14+
---
January 6, 2019 by Cynthia from Australia
Received this reply from their Help Desk as an explanation for terminating my account. As I have been a member for many years I feel it is just an excuse to get out of paying rewards!!
"Unfortunately, the accuracy and attentiveness of your account activity has been flagged, and upon review of your account, we have been forced to suspend your account.
As a member of our program, you may only have one account, provide accurate profile information and survey responses. You must also be thoughtful and attentive in responding to our surveys. When we have concerns about any of these program rules, we are obligated to take steps to investigate and unfortunately suspend accounts.
We do not take account suspension lightly and do so only when account issues have been identified. At this time, your account has been indefinitely suspended and you will no longer be able to participate in surveys or claim rewards from our website.
Thank you for your understanding."
What a lot of rubbish!! They are a complete waste of time, don't join!!
Account terminated when cashing out
November 16, 2018 by Luke from Australia
I've waited about 3 weeks before posting this. My account hasn't been reopened. Any similar site involving SSI haven't sent me survey invitations since the YourVoice account termination. I've had my account terminated before by all of these sites but they reopen my account usually. Seems they are just out to rip people off now. It's not so much the $50, it's the absolute waste of time that annoys me. Don't waste your time with anything involving SSI. YourVoice didn't send many surveys and I'd usually screen out anyway. Used to be a little better. Shouldn't have bothered. SSI is a terribly managed company it seems, very poor customer service when you can actually get any.
February 26, 2018 by Sibel from Australia
Online Survey Discriminate your age example if you are over age 50+ they wont let you enter or if you have no kids family that bad luck you still cant enter so I lost interest on any survey I even paid for surveys and got nothing because of your age and being single so I lost my money entering surveys no more now there is internet everyone is aware what is happening
October 18, 2017 by caroline from Australia
Just hit 200 points and attempted to redeem. You guessed it got the message saying my account has been terminated, and no paypal payment. Emailed support and know that this will NOT result in a fix or reasonable explanation. I'm not going to raise my blood pressure getting myself worked up over it but it is very poor form.
June 26, 2017 by Marguerite from Australia
I suspect that Your Voice is also part of the sleezy My Opinions conglomerate because I had just cashed out $20 worth of points and next time I logged in, was told my account was terminated for violation ..... I had 3,300-odd points in My Opinions account. When I wanted to cash out, got a message that my account was terminated for violation of terms & conditions.- account terminated.
» Return to: TOP RATED SURVEY SITES
---
Popular Topics
Top Survey Sites of 2020
---
Highest User Rated Survey Sites
---
Survey Sites That Pay Instantly
---
Survey Sites with Low Cash Outs
---
Surveys That Pay by Check
---
Earn Walmart Gift Cards for Surveys
---
14 Ways to Get Free Amazon Gift Cards
---
Get Paid for Browsing the Internet
---
How to Get A Free Visa Gift Card
---
Get Paid by PayPal Without Fees
---
Featured Advertisers: