askGfK Reviews and Features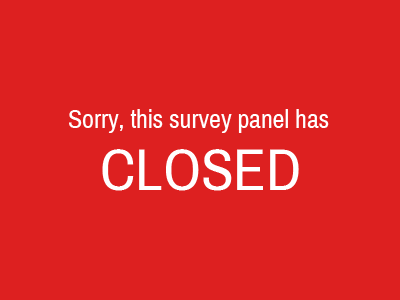 askGfK
90419 Nürnberg, Nordwestring 101 Nuremberg, DE
Tel: +49 911 395-0 Contact: [email protected]
Operated by: GfK

PAYMENTS OFFERED

Prepaid debit or credit cards

Merchandise

Cash paid via PayPal

Retail e-vouchers

Sweepstakes entries

HOW TO PARTICIPATE

Online surveys

REDEEMING REWARDS
USA: Minimum of 2.500 points ($25) required in order to request rewards.
UK: Minimum of 500 points (£5) required in order to request rewards.
Note: askGfK closed its doors on the 26th of June, 2017. Outstanding rewards will be redeemable until September, 2017.
*ask GfK was formerly known as surveys.com.

askGfK
GfK is a large market research company that operates internationally, ask GfK is a branch panel that is exclusive to residents in some parts of Europe and The United States. Members of this panel will answer surveys on Fortune 500 companies, and could help influence future business decisions!
Unfortunately, askGfK is no longer operational. Click the button to discover survey panels that are running and are actively looking for new members!
Start with 150 Points!
To become a member, begin by filling out a registration form which takes 5 minutes or less. Once you are registered, as a token of appreciation, askGfK credits all new member accounts with 150 points! Begin your survey taking journey with money in the bank to start.
Survey Details
Members usually will receive 4-8 surveys a month depending on their unique set of likes and interests. Most surveys pay $1 - $2, but are very quick to complete.
Earn Points Quickly
Points are credited to panelist accounts 1-2 weeks after surveys are completed. 2,500 points is the minimum amount required to collect rewards. In the UK, 500 points is required for a £5 reward code.
Variety of Reward Options
Panel members receive askGfK points for each survey completed – your points will never expire if you remain an active member. Points can be redeemed at a website known as "All Digital Rewards" which offers various gift cards, pre-paid Visa cards, music downloads, as well as, fuel discounts. Choose from over 1 million reward options at All Digital Rewards!
Prize Wheel Contests
Some surveys or research opportunities give members a chance to spin the "prize wheel" for extra rewards! Spin the wheel and you could win a great prize for landing on a lucky category!
Eligibility: Most European countries and The United States.
May 10, 2016 by Victor from United States
Add me to the chorus of unhappy users. Waste of time and no rewards.
September 22, 2015 by Doug from United States
It takes so many surveys to earn enough points. The when you get enough points you send them to their reward partner. Lots of various rewards but no cash, check, paypal, or gift cards, only physical gifts.
Wow what a waste of time!
July 17, 2015 by stacey from United States
Surveys were generally easy and it didnt really take me long to reach 2500 points. When I got to that point I was excited thinking I would be able to cash out for $25 in Paypal cash. Boy was I wrong! So I thought ok no paypal but they have to at least have Amazon. Nope! So I looked to see what other rewards they had and saw that they all require an astronomical amount of points for something I can get at the store for 75% less than what my points could get me. So needless to say I probably wont be redeeming points or wasting anymore of my time doing surveys for them since they wanna have crappy rewards! So I dont recommend this survey company at all unless you want a substandard magazine subscription which you can probably get free elsewhere online.
June 13, 2015 by Brigitte from United States
My experience with askGfK is basically the same as that of other members who have posted reviews here. Last night I finally had enough points to cash out. I knew gift cards were offered and expected Amazon, iTunes or Starbucks cards. I was very disappointed to find out that the rewards offered are completely worthless to me. I wouldn't want to spend all that time for a magazine subscription for instance. That's ridiculous. In the past, I was under the impression that this panel really appreciated my membership, because they once credited my account just for being active and sent me a nice e-mail for my birthday. However, that doesn't make up for their worthless rewards. There are more rewarding survey panels around.
Dealing with GFK is generally bad
April 29, 2015 by Leo from United Kingdom
I'm going very back first, when it used to be called Surveys.com, a website that was really crap (you could not find your competed surveys, then I could not login etc), but it was constantly sending me surveys to complete (still as Pam Hughes!).
It took me 1 year to get my points transferred to Maximiles. Then, finally a flimsy reply letting me know that they were having a website makeover and I could redeem my 'new points' directly with them!

So, their website looks much better BUT it does not allow you to see what exactly are these rewards!! Incredible! You first have to reach some redemption no. of points!

According to some feedbacks I read, their catalogue is crap. I emailed them and pointed it out adding that members and potential members have the right to know in advance what their rewards are. Their reply was not very helpful, they appreciated my feedback and will be 'thinking' over it !

I guess it is a good way for them to spend little: keeping respondents 'in the dark' (we don't know what we'll get), then after many completed surveys 'surprise'!
So gfk found a cheap way to refresh their respondents database, some members leave and new ones will join unaware of how badly their time is appreciated.
GFK loves taking advantage of members' time (like with their MediaVew panel).
Unless I know exactly what do I get for my time, it is not for me.
» Return to: TOP RATED SURVEY SITES
---
Popular Topics
Top Survey Sites of 2023
---
Highest User Rated Survey Sites
---
Survey Sites That Pay Instantly
---
Get $100 Free PayPal Payments
---
9 Product Testing Job Websites
---
12 Online Surveys That Pay Cash
---
How to Earn Free Uber Gift Cards
---
14 Ways to Get Free Amazon Gift Cards
---
Best Paid Focus Groups
---
How to Get a Free Visa Gift Card
---
Ways to Get Free Xbox Gift Cards
---
Featured Advertisers: