askGfK Reviews and Features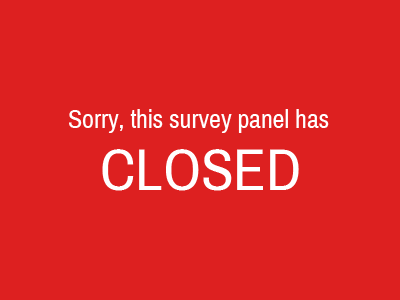 askGfK
90419 Nürnberg, Nordwestring 101 Nuremberg, DE
Tel: +49 911 395-0 Contact: [email protected]
Operated by: GfK

PAYMENTS OFFERED

Prepaid debit or credit cards

Merchandise

Cash paid via PayPal

Retail e-vouchers

Sweepstakes entries

HOW TO PARTICIPATE

Online surveys

REDEEMING REWARDS
USA: Minimum of 2.500 points ($25) required in order to request rewards.
UK: Minimum of 500 points (£5) required in order to request rewards.
Note: askGfK closed its doors on the 26th of June, 2017. Outstanding rewards will be redeemable until September, 2017.
*ask GfK was formerly known as surveys.com.

askGfK
GfK is a large market research company that operates internationally, ask GfK is a branch panel that is exclusive to residents in some parts of Europe and The United States. Members of this panel will answer surveys on Fortune 500 companies, and could help influence future business decisions!
Unfortunately, askGfK is no longer operational. Click the button to discover survey panels that are running and are actively looking for new members!
Start with 150 Points!
To become a member, begin by filling out a registration form which takes 5 minutes or less. Once you are registered, as a token of appreciation, askGfK credits all new member accounts with 150 points! Begin your survey taking journey with money in the bank to start.
Survey Details
Members usually will receive 4-8 surveys a month depending on their unique set of likes and interests. Most surveys pay $1 - $2, but are very quick to complete.
Earn Points Quickly
Points are credited to panelist accounts 1-2 weeks after surveys are completed. 2,500 points is the minimum amount required to collect rewards. In the UK, 500 points is required for a £5 reward code.
Variety of Reward Options
Panel members receive askGfK points for each survey completed – your points will never expire if you remain an active member. Points can be redeemed at a website known as "All Digital Rewards" which offers various gift cards, pre-paid Visa cards, music downloads, as well as, fuel discounts. Choose from over 1 million reward options at All Digital Rewards!
Prize Wheel Contests
Some surveys or research opportunities give members a chance to spin the "prize wheel" for extra rewards! Spin the wheel and you could win a great prize for landing on a lucky category!
Eligibility: Most European countries and The United States.
January 6, 2015 by Steven from United States
I've been apart of this survey site for a few years now. They rarely send you surveys and when they do you just add up your points and transfer them over to another reward site that they use. The rewards take a long time to get though. I still haven't cashed out with anything because everything is too high in the reward site. I wish they could someday have paypal and make the reward points much lower as some might not last that long with this site. I'm surprised I'm still there.
GfK: Don't waste your time
December 1, 2014 by Rosalie from United States
I have been answering surveys on this site for about a year, and I can't believe it took me that long to realize I wasn't get any rewards I used my points on!! I kept thinking its probably a mistake,etc. But No !! I sent many many emails asking about my purchased rewards and why have I not received them. They either responded with a shallow: thank you for your email, someone will respond to you soon, or some other ridiculously stupid and un-helpful response. DO NOT SIGN UP THERE !!
October 31, 2014 by Ella from United States
There was no way to tell what the options were for payout ahead of time. You have to reach 2500 points and then find out that you won't even be able to get anything after doing all those surveys. You need way more points than that to get the worst piece of junk, and about a million more to get anything half decent. It would probably take three years to reach that.
Completely frustrating!!!!!
October 17, 2014 by Brita from United States
After having a million and one issues even trying to find the reward site, I ended up her on Survey Police. I wish I would have came here first. The only reason I haven't stopped going to that site is because I don't want to waste the points I've already earned. My plan was once I've earned enough to redeem I was going to end my relationship with them. Now I'm thinkin' its not worth the work.
If You Like Their Surveys, Do Them Through Other Panels
September 18, 2014 by Yusef from United States
"Thank you for taking the time to contact ask GfK regarding points.

At this time we do not offer cash, PayPal or Amazon in return for points. Out catalog of redemptions is available at www.surveyrewardplace.com. Please check out your account to see what you can redeem in return for points.

Please let us know if you have any additional questions. Thank you for your participation with ask GfK.

Best regards,
ask GfK Panel Services"

If you're looking for Paypal, check, or Amazon, turn back now. askGFK does not and has not had that for awhile. Of course, there are many sites that deal solely in rewards or specific gift cards/e-vouchers, so why is my rating still so low? Strap in, we'll be here for awhile.

2500 points. It seems a bit far but reasonable, right? That is, until you know the conversion rate for points to their general reward value (askGFK doesn't even give you this info, only saying that it "varies" from reward to reward). 7.5 points = $0.01. I had to calculate that by using the value for a $100 Lobster Gram card (one of the few gift cards they have) and weighing it against the point value, which was 75000. The threshold before they even let you redeem your points or even see for what you can redeem them is 2500 (~$3.33), and when you can finally do so:

-It takes a week or longer for your points to transfer to their SEPARATE rewards site, during which time your points are being validated.

-Even once you reach the rewards site, the entry threshold isn't enough to redeem for ANYTHING. The lowest and probably only worthwhile gift is the $25 dining certificate at 3250 points, just because that's like $4.33 for a $25 coupon you can use at a restaurant of your choice (limited to the ones that are part of diningdough). To give you an idea of how crap the value of some of the rewards actually is, it would take 375188 points (roughly $500.25) to get an Xbox 360 bundled with controllers and a game (doesn't say which game, btw). That's twice as much cost for what you can buy at Best Buy currently, which incidentally would come bundled with two games and one controller.

But enough about rewards. Let's talk about how many points it takes to get them. The best paying surveys GFK has to offer give 550 points (~$0.73)on successful completion. The average payouts tend to be about 150 points ($0.20). A fair amount (I'd say... 30%) of the surveys you take will give you a consolation of 15 points ($0.02) if you don't qualify.

As you can see, unless you're spamming the portal for failed qualifications or qualifying for every survey you come across, it'll take you awhile to accumulate enough points for anything, and then you have to wait a week for them to go to the rewards site before you have to wait even longer to redeem them. Tedious is probably the best word for this site. Frustrating is a good second, because their survey topics (when you actually qualify) are really interesting! I checked this site out because a couple panels I was on often had GFK surveys that I liked taking. Now, I regret joining askGFK because all that awaited me was tedium and disappointment. Their survey topics, combined with their survey presentation and ease of navigation during surveys are the reason I gave them 1.5 stars and not .0.5.

Stay away. If you like their surveys, do them through other panels.
» Return to: TOP RATED SURVEY SITES
---
Popular Topics
Top Survey Sites of 2023
---
Highest User Rated Survey Sites
---
Survey Sites That Pay Instantly
---
Get $100 Free PayPal Payments
---
9 Product Testing Job Websites
---
12 Online Surveys That Pay Cash
---
How to Earn Free Uber Gift Cards
---
14 Ways to Get Free Amazon Gift Cards
---
Best Paid Focus Groups
---
How to Get a Free Visa Gift Card
---
Ways to Get Free Xbox Gift Cards
---
Featured Advertisers: