GPT, or Get-Paid-To sites have existed since the early 2000's and almost instantly gained popularity. Almost 20 years later, they're still going strong, with hundreds of millions of dollars in payments awarded by the GPT site Swagbucks, alone!
Whether you're new to the get paid to world, or have some experience, we've learned from our users that there are some things you can do to help with your success on such websites. Here's a quick tip list!
How get paid to sites work


If you're unfamiliar with how GPT (or get-paid-to) websites work, they are online programs in which you can earn rewards for participating in online market research surveys, watching videos, playing games, shopping online, and trying brand name products and services from advertisers. They are free to join and often have millions of members.
Watch out for scams!
Unfortunately, there are plenty of flashes in the pan, and fly-by-night operations with get paid to sites. Because website owners can purchase a license to run standard gpt site software on their server, setting up a GPT website isn't difficult. Avoid websites that aren't established, appear to make exaggerated claims and aren't written in perfect English.

Before signing up with any new program, ensure it's reputable. Read user reviews to find the top rated gpt sites on our main website.
Set up a new e-mail account
Avoid using your primary e-mail address when signing up for get paid to sites; as many feature signing up for offers as a way to earn rewards, participating in this part of a GPT site (which is optional, by the way), will almost certainly result in an influx in unwanted e-mails.
It's also easier to spot and keep track of surveys and offers if you keep things separate from your personal e-mails. Even with online survey panels, it's good practice to keep survey invitations separate from the rest of your online dealings. Luckily, creating a new Gmail, Hotmail, etc. account only takes a few minutes and is easier than ever.

By separating get paid to signups from your main e-mail account, you eliminate the risk of spam and your personal e-mail account will always be safe.
Keep detailed records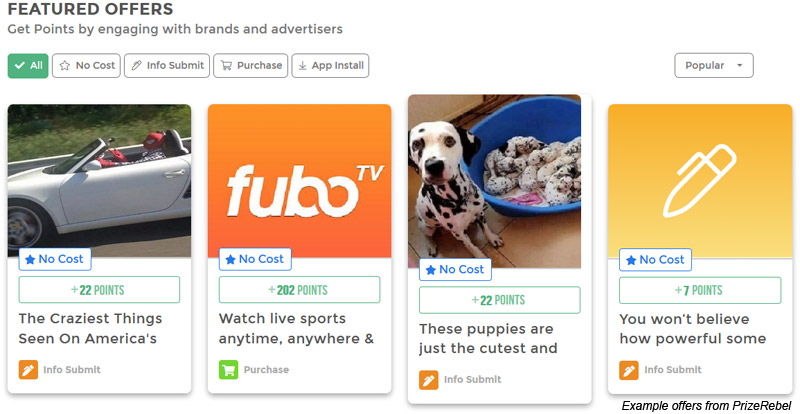 If you choose to sign up for offers or free trials, ensure you keep detailed records of when you signed up for them, and when you need to cancel these services by in order to avoid being charged. Some offers have timeframes that require you to subscribe to a newsletter, service, etc. for only a couple days long, while others span 7 days, or even a couple of weeks. Make sure you know when these timeframes are if you don't wish to continue a service; set up an alarm on your phone, or a calendar reminder so you can cancel right when it's time.
Generally speaking, the greater the reward offered for completing a trial, the more likely there is to be a 'catch'. Keep this in mind and always follow instructions exactly.
Read instructions carefully
If you choose to sign up for an offer or complete a task, make sure you read the instructions very carefully; you want to make sure you do things correctly so you'll qualify for a credit. Read the fine print (if there is any), and do things to the letter so that you don't waste time completing tasks you won't be properly credited for. Unsure of what's required of you? E-mail the get paid to site for clarification if you have any questions.
Consider microtasks

You may have heard about microtasking before. These small, generally easy and generally repetitive tasks consist of simple things like data entry, checking for errors, etc. in exchange for a small reward. Such tasks may take just few seconds to complete, or can take a few minutes. Figure Eight is one of the largest providers of microtasks, with PrizeRebel and instaGC both integrating their system.
Take screenshots
As part of keeping detailed records on your completed offers and tasks, take screenshots of screens confirming you completed an offer, an online survey, signed up for a trial, etc. That way, if an advertiser questions whether you completed a task correctly, or whether you finished a survey successfully, you can easily provide proof.

Tip! Place your screenshots and notes on offers in folders named after the GPT programs you have membership with. Name the screenshots after the task or survey number.
Search using toolbars
The next time you need to do an internet search, consider doing so via your GPT account. Some sites like Swagbucks and InboxDollars offer a built-in search function where you can earn points using their own search engine, just by conducting web searches you're doing anyway.



Some programs like ClixSense also offer a toolbar you can download and use through your browser so that instead of having to log into your GPT account, you can conduct a web search directly from your browser. These toolbars also have the added convenience of providing notifications for new surveys, promo codes (see below), and more.
Print and use coupons
If you like saving money on groceries, Swagbucks and InboxDollars both offer coupons that you can print, redeem in store, and then receive credits for! Be sure to check out both of these websites before you make your next food run.
Click before you shop


If you do any online shopping, it's worth checking if any get paid to sites you're a member of offer cash back at the online stores you shop at. Cash back is frequently offered towards major retailers like Amazon, Walmart, Best Buy, Macy's and more.
Cash back programs are offered by the following GPT websites: InboxDollars, Swagbucks, QuickRewards Network and FusionCash.
Pass time productively
If you're bored online and want something rewarding to do, open up your get paid to account, and try playing a game. InboxDollars, QuickRewards Network, and ClixSense all offer fun online games where you can earn and win points just for playing!

If games aren't your thing, pick out some videos to watch on Swagbucks, instaGC, or EarnHoney. You can watch anything from how-to videos, to news, to funny videos, and more while earning credits.
Rack up easy points on social media
Many get paid to sites regularly offer special bonus codes that you can enter into your account for free points. These are typically posted on their social media accounts, and expire within 24 hours of being posted on the GPT's Facebook, Twitter, or Instagram account.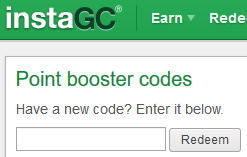 These codes are often in celebration of a holiday, event, or are sometimes just random. An example code could be 'HoorayforJuly4', or '304294-2'.
To use these, simply log into your GPT account, and look for a link that says something like 'bonus codes' or 'promo codes'.
Sites who regularly post bonus codes on their social media include PrizeRebel, instaGC, Swagbucks and EarnHoney.
» Find all top rated get paid to websites