GooPoll Reviews and Features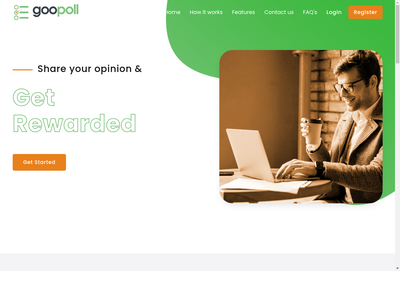 GooPoll
Yew Tree House, Lewes Road, Forest Row East Sussex, RH18 5AA GB
Tel: +44 (0) 1342 776149 Contact: https://goopoll.com/#contact
Operated by: SurveyGoo Ltd.

PAYMENTS OFFERED

Cash paid via PayPal

Amazon gift cards

Retail e-vouchers

Sweepstakes entries

HOW TO PARTICIPATE

Online surveys

Product testing

Online focus groups

Video surveys

Diary surveys

Mobile app

Mobile surveys

Telephone surveys

Teen surveys

Refer-a-friend program

REDEEMING REWARDS

No points system
£10 minimum account balance required to request PayPal payment, GiftPay voucher, or Amazon voucher.

In May of 2020, Surveygoo rebranded itself as GooPoll. All existing members of Surveygoo were moved over to the new GooPoll panel.
GooPoll survey panel is an online survey site and community, and runs polls and online surveys for leading brands, advertising, marketing and PR agencies. Surveygoo is run by Asia Opinions Ltd. who also operates the Opini panel network in the UK and Asia Pacific. This particular panel focuses on engaged UK consumers ready to take polls on a range of topics.
Participate and Earn Cash, Amazon Vouchers and More
Become a member of GooPoll and earn your choice of cash paid via PayPal, Amazon vouchers. or a GiftPay e-voucher. A low £10 balance is needed to request rewards.
Earn Rewards
Typical surveys pay out £0.08-£2.80. Once you hit the minimum of £10, you can claim your rewards. Withdrawals must be made in increments of £10 (ex: £10, £20, £30, etc.)
Receive Your Rewards Quickly
Once you have attained the minimum account balance to request a reward, you can request to transfer the funds to your PayPal account. Alternatively, choose an Amazon voucher. Rewards are typically paid within 2-5 days of request.
Survey Types and Topics
Survey topics vary however, most surveys will cover your views regarding products, services, brands or matters of public opinion. Some studies are designed to gauge consumer reaction to specific adverts or new products before they are launched.
Most studies will be in online survey format, however on occasion, you may be asked to participate in a product test, bulletin board assignment, or keep a diary - all of which will offer greater rewards for your participation. The cash reward for each study is always clearly stated before you participate.
Survey Lengths
Depending on the subject matter and type of study, survey lengths can be between 1 and 5 minutes, or up to a maximum of 25 minutes. Special studies involving providing feedback via a telephone interview, video diary, etc. may take longer.
Cash for Screenouts
GooPoll awards a screenout reward of £0.02 for every survey you get disqualified from. So if you click on a survey and are unable to complete it, you'll still earn some compensation for your time.
Take Surveys Using the App!
Download the GooPoll app and to access your account and get notified of new survey opportunities and request payments. The app makes it easy to take surveys directly from your phone and to keep on top of your rewards balance.
Earn up to £2.45 for Every Friend you Refer
Earn additional cash incentives by referring friends to GooPoll using your custom referral link, located in your account. Earn £0.10 when your friend joins the panel using your referral link, an additional £1.00 after they complete their first survey, £2.00 after 15 survey completions, another £0.25 after 25 completions - up to a total maximum £2.45 after 100 survey completions.
Earn Extra Rewards with Loyalty and Profile Rewards
Earn cash bonuses after achieving certain milestones:
Earn a £1.00 bonus after 5 survey completions
Earn £0.30 bonus after 15 survey completions
Earn £0.50 bonus after 35 survey completions
Earn £1.00 bonus after 55 survey completions
Earn £1.10 bonus after 75 survey completions
Earn a £2.00 bonus bonus after 100 survey completions
Complete the profile listed in your account to earn additional cash rewards. Complete 50+% of your profile to earn £0.50, all the way up to £1.00 for full completion of your profile.
Eligibility: UK residents 16+
---
January 27, 2021 by greg from United Kingdom
Having been a member for a few years i love the topics and quality of surveys they send me. Fast redemption payout every time - highly recommend this site.
December 17, 2020 by Doug from United Kingdom
Even despite paying pathetic rewards they REALLY drag out paying the pittance they offer, more than two weeks for 20p to be paid is just insulting panellists.
Once you reach a cashout, EVEN MORE delays awaiting payment. Glad I've finally go out
Becoming extremely painful, was bad when Surveygoo, but comparing the two, SurveyGoo was deluxe. Can't wait to FINALLY reach enough to cash in then I'm quitting, what was the point of the rename, they've just gone from bad to awful, there just isn't any point in being a member any longer.
13/Nov, 4p for a survey, taking the pi$$ I think
[previous]
Never get any large reward surveys, but the surveys you get are quick, normally complete OK & earnings build up if you're patient.

Update: Now GOOPoll & they are just GOO-ey. Customer support non-existent, no response after 9 days despite assurance that they respond in 48 hours.
June 7, 2020 by Leo from United Kingdom
Rebranded themselves New name New app BUT NOTHING NEW! They got so slow in last year that now missing 100p (or 1000p in the new system) feels it will take another year! New app has errors, asks to login every time, shows nothing new! No polls No surveys! If I get to redeem I'll ditch them!

OLD REVIEW
I redeemed 4 vouchers from May16 to Sept17 which included Loyalty Draw £8.00; £2.00 for 100 Complete surveys (Loyalty stops at 100); £0.20 once Profile Reward; Screenout reward once £0.02.

Screenouts are rare and usually I get there in time before surveys close. Often a TABLET browser can be used but strangely, I have to use the one with an older Android version.

Rarely you have a longer survey and they will tell you in their invite email.
Surveys are more like very short or extended polls from 4p to 24p, quite fun. Often I feel options are either not enough or their questions are in contrast to what you previously selected, but I do my best with the options available.

In their terms they state for FEES to check your PAYPAL account but the latter says that it depends from where the payment is from etc.
When I redeemed Paypal with other panels the fee always was 2% BUT with SurveyGoo I did it once and it was an exaggerated 3.4%. I will consider my Loyalty rewards to off-set this fee but no wonder they do not specify it in their Terms like other panels do.

PANEL FORUM - Yes, there is a bit of this as well with various topics but I often forget it exists.
February 14, 2020 by richard from United Kingdom
No surveys for two months and only a few for the months before that.
November 4, 2019 by Alan from United Kingdom
I have tried entering my logon information for this panel and I am informed using invalid information. In the unlikely case that forgot password tried resetting password but received a internal error message.

Edit: Closed my account for spurious reasons which show that organisation run by an organisation which cannot be trusted. I am planning to contact Market Research society; escomar and my local MP as untrustworthy organisations like this should not be allowed to operate.

Edit:
Allowed me back on site after complaints but do not get any surveys now for over a month so may as well forget.
Edit:
Unable to get on website states they do not have SSL certificate - should be removed with panellists compensated
» Return to: TOP RATED SURVEY SITES
---
Popular Topics
Top Survey Sites of 2021
---
Highest User Rated Survey Sites
---
Survey Sites That Pay Instantly
---
Survey Sites with Low Cash Outs
---
9 Product Testing Job Websites
---
12 Online Surveys That Pay Cash
---
14 Ways to Get Free Amazon Gift Cards
---
Best Paid Focus Groups
---
How to Get a Free Visa Gift Card
---
Get Paid by PayPal Without Fees
---
Ways to Get Free Xbox Gift Cards
---
Featured Advertisers: