iPanelonline Reviews and Features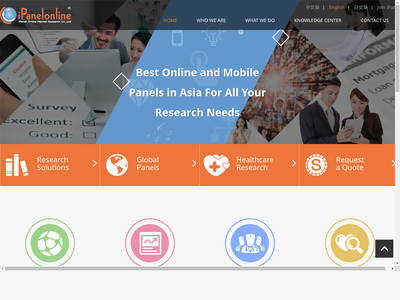 iPanelonline
Suite 705-706 Building A 818 East Longhua Rd., Shanghai, 200023 CN
Tel: +1-206-618-8627 Contact: http://www.ipanelonline.com/contact_us.php
Operated by: iPanel Online Market Research Co., Ltd

PAYMENTS OFFERED

Cash paid via PayPal

Retail e-vouchers

Sweepstakes entries

HOW TO PARTICIPATE

Online surveys

Mobile app

Mobile surveys

Telephone surveys

Refer-a-friend program

Teen surveys

REDEEMING REWARDS
500 points minimum account balance required to cash out via PayPal or other options. Transfers typically take 48 hours but may take up to a week.
Ipanel Online was founded in 2004 and was one of the earliest online panel providers in China. Ipanel Online is now one of the largest propriety online panel companies in Asia. Become a panelist, and join the 6.5 million members worldwide in over twenty different countries! Ipanel is seeking panelists to share their opinions and insights on travel, automobiles, beauty products, electronics, automotive and parenting.
Earn Points in A Variety Of Ways
At Ipanel Online you can earn points with a variety of research types: quick surveys, online surveys, telephone surveys (only for doctors), mobile surveys or posting your thoughts on the forum board. Quick surveys are shorter than online surveys, but both consist of a questionnaire style. Surveys typically take from anywhere between 3-20 minutes to complete with longer surveys offering more points.
Even if you disqualify from surveys, you will get a few points for going through the screening process. Each survey generally rewards you with 60-80 points, but some unique studies offer between 150-300 points. Panelists in the USA and Australia occasionally may also receive requests for surveys that reward up to 1,000 points.
Weekly Draws and Friend Referrals!
Ipanel Online offers extra incentives to earn points through weekly sweepstakes draws for their members. Also rack up points by referring family and friends to the panel. Once they register with Ipanel and complete a survey you get points.
Rewards
Complete online surveys and get rewarded with points for your efforts! Redeem collected points for cash via PayPal, e-vouchers, gift cards, virtual game credits and more. Minimum redemption is 500 points and payment is sent 1-2 days after it is requested, although it may take up to one week to process payment.
Regular Surveys Available
Invitations are quite regular and usually range between 5-10 surveys monthly but depend on a member's geographic area.
Mobile Application
For ultimate convenience, Ipanel Online has developed a mobile app for IOS and Android phones for survey takers to have access anywhere.
Eligibility: Ipanel is available in over 20 countries worldwide, but focuses on the Asia Pacific area. Certain countries allow for panelists as young as 13, but the typical minimum age to join a panel is 16+.
---
iPanelonline Reviews (26)
April 23, 2021 by Suhartini from Indonesia
iPanelonline is one of reliable surveys online. We can redeem points after collecting $10. Screening profile was not too strict! It was fun as a subscriber!
ipanelonline South Africa not paying
August 21, 2020 by Alastair from South Africa
Zaipanel responded to my 20th email query dated 31 January 2020 regarding redemption request on 21 August 2019 as follows:

Administrator : Our payment team will audit your request after receive it and we will arrange for payment within 7 work days after receive your redemption request. If you still didnt receive, please directly contact us.

I have emailed ipanel South Africa a further 4 times since the above response.

As of today 7 March 2020 they have still not paid. I have also emailed the parent company at http://www.ipanelonline.com/contact_us.php. They too do not respond.

Today, 20 August 2020 marks exactly one year since I redeemed points and have still not received payment or a justification for non payment. No communication from them at all despite many emails to them. Shame on you ipanelonline. I certainly would never recommend this site.
April 17, 2019 by kimmy from Hong Kong
redeemed a month ago, no pay at all. the site was ok, sometimes having error and not adding points.
December 8, 2018 by PARIDHI from India
redeemed rs 1000 on 25-12-2017 till now no payment received in paypal also their site shows that it has been payed by them, and paypal also confirmed that panel had canceled my payment at their end , and again on 15/10/2018 redeemed rs 1000 which has the same fate , what is the point in wasting time to do surveys for survey sites
i redeemed rs 1000 on25/12/2017 and 1000 points on 15/10/18 now its 7/12/18 and till now they have not paid , i have sent repeated mails and queries to them but till now they have done nothing all they say is that they have paid although on calling paypal they confirmed that the request was made and canceled immediately
No contact, will NOT payout
October 9, 2017 by Doug from United States
Unpaid10.00 USD
2017-03-18 21:09:14 10 Dollar 1000

Paid: 5.00 USD
2015-01-25 11:45:06 5 Dollar 500

Payments Refused: 10.00 USD
2017-03-18 21:09:14

The above clearly shows $10 unpaid, and $5 paid then, $10 refused.
But my points total shows being paid $15????
2 redemptions
0.00 being reviewed
15.00 USD total rewards

I've tried to contact them numerous times but get nothing. Payment were to go to my Paypal but nothing get put in there from iPanelOnline US
» Return to: TOP RATED SURVEY SITES
---
Popular Topics
Top Survey Sites of 2023
---
Highest User Rated Survey Sites
---
Survey Sites That Pay Instantly
---
Get $100 Free PayPal Payments
---
9 Product Testing Job Websites
---
12 Online Surveys That Pay Cash
---
How to Earn Free Uber Gift Cards
---
14 Ways to Get Free Amazon Gift Cards
---
Best Paid Focus Groups
---
How to Get a Free Visa Gift Card
---
Ways to Get Free Xbox Gift Cards
---
Featured Advertisers: