iThink Panel Reviews and Features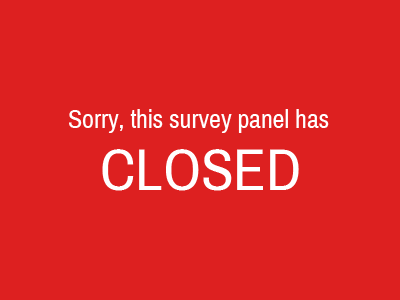 iThink Panel
1685 Glenlivet Dr., Dallas, Texas 75218 US
Tel: 214-855-3777 Contact: [email protected]
Operated by: iThink

PAYMENTS OFFERED

Cash paid via PayPal

Airline Miles

Amazon gift cards

Apple gift cards

Prepaid debit or credit cards

Donations to charity

HOW TO PARTICIPATE

Online surveys

REDEEMING REWARDS

No points system
$35 minimum account balance required to request rewards.
iThink Panel permanently closed on March 11, 2016. To gain access to your account details, contact [email protected].
I.think is an online survey panel which has been in operation since 1995. Their survey panel member size is approximately 1.5 million. Survey participants of i.think inc. receive draw entries for their survey participation, often coupled with a cash reward.
Unfortunately, i.think is no longer operational. Click the button to discover survey panels that are running and are actively looking for new members!
iThink Panel Reviews (22)
I Think Inc is Closed for Business
May 24, 2016 by Tee from United States
About 8 weeks ago the log-in page @ I Think Inc looked like this (The survey panel you are looking for has been shut down.)
(To gain access to your account details please contact [email protected])
===========
So When You Respond To That Email, You Get This Answer - [ Hello,
Thank you for reaching out to Customer Support. Unfortunately, at this time we are no longer offering surveys. If your balance is too low to cash out, we will manually cash out your balance via PayPal. Please fill out the information below and we will request your payment:
First Name:
Last Name:
Survey Site(s):
PayPal Email Address:

If you have any questions, please let us know.
SSI Surveys Helpdesk]
=========
Sounds like they stopped all surveys. What a totally un-professional way to do it too.
I went to this address [http://www.ithink.com/]
It states they no longer support a survey panel.
April 28, 2016 by Beverley from United States
They send me invitations day after day for the same survey and reject me time after time. Don't bother!
November 21, 2015 by Marian from United States
Its taken me MAYBE 2 years, anyway a LONG time, to almost get to $50. Now its taking 4EVER to get my last 95 cents cleared. I have answered MANY, MANY questions that are SUPPOSED 2 help me get surveys that are relevant 2 me, BUT I get booted out of MANY of them. And now I cant get in touch with them. Am gettin very aggravated. Think I will quit them after I cash out. Comments from others?
January 24, 2015 by John from United States
You'll spend months earning enough to cashout and then they won't actually pay you! This is the most dishonest and unreliable survey company out there!
Closed My Account Also....
November 10, 2014 by Bridgette from United States
"Qualifying" For Surveys Was Very Slow Going.When I Had Neared The $25 Pay Pal Cash Out I Discovered(They Didn't Tell Anyone)They Had Raised The Pay Pal Cash Out So I Had To Wait Even Longer.When I Went To Cash Out They Told Me They Were Attaching A 3% Processing&Handling Fee.I Emailed Them And Asked Them Why On Earth Would They Do That And They Gave No Reason.The Email Reply Just Restated That They Would Be Taking The Fee.When I Logged In To Close My Account There Was $2&Change On The Balance But After So Long I Closed My Account Anyway.I Am Moving On To Sites That Pay.People Need To Remember That Even If We Don't Qualify For Surveys They Still Get Tons Of Free Info On The Pre-Qualifying Questions And We Deserve To Be Paid For Our Info.Less Then $35 For Almost 2 Years Of Our Time And Info Isn't Right.
» Return to: TOP RATED SURVEY SITES
---
Popular Topics
Top Survey Sites of 2022
---
Highest User Rated Survey Sites
---
Survey Sites That Pay Instantly
---
Get $100 Free PayPal Payments
---
9 Product Testing Job Websites
---
12 Online Surveys That Pay Cash
---
How to Earn Free Uber Gift Cards
---
14 Ways to Get Free Amazon Gift Cards
---
Best Paid Focus Groups
---
How to Get a Free Visa Gift Card
---
Ways to Get Free Xbox Gift Cards
---
Featured Advertisers: