LoQue Digo Reviews and Features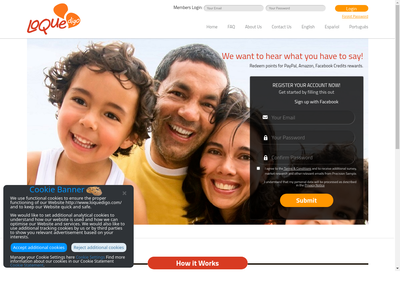 LoQue Digo
3461 Ringsby Court, Suite 240, Denver, CO 80216 US
Tel: 720.360.4230 Contact: http://www.loquedigo.com/Misc/lqcu.htm
Operated by: Precision Sample
Quick Overview:
Rewards Offered: Cash paid via PayPal Merchandise
Member Opportunities: Surveys for Hispanics Online surveys Product testing Refer-a-friend program
Redeeming Rewards: If you have over $20 in your account, you can begin redeeming your rewards in $20 increments.
Similar Panels: DigaYGane
LoQue Digo is operated by LoQuedigo.com. Founded in 2015, LoQuedigo.com's goal is to make it easier, faster and cheaper for all companies and organizations to connect with their current and prospective customers to improve their products, services and offerings. LoQue Digo shares 35% of their revenue with their panelists on surveys they complete and offer the opportunity to earn up to 50% through our Downline program.
Rewards Offered
LoQue Digo offers their members the opportunity to exchange their points for PayPal cash payments, Facebook credits, or magazine subscriptions (available in the USA only). All reward option amounts are expressed in US dollars.
Generous Payments for Surveys
Most online surveys offered provide compensation between $1-$5. The amount will be stated in the email invitation containing the link to the survey. Once your account reaches the minimum redemption threshold of $20, you may select a reward of your choice.
Refer Your Friends to Earn More Rewards
Add your friends to your "Downline" and earn a portion of their rewards. To invite friends to the panel, select the "Downline" tab in your account, and follow the prompts to email your friends with an invitation.
Product Testing Opportunities Available
Product tests, or "evaluation surveys" are offered by LoQue Digo. Sometimes they may require signing up for a service, or purchasing a product in addition to taking a traditional online survey. Participation in these is completely optional.
New Member Points Bonus
New members of LoQue Digo will automatically receive 500 points credited to their accounts. Sign up in seconds using your Facebook account.
Redeeming Points
If you have over $20 in your account, you can begin redeeming your rewards in $20 increments. These are the rewards available:
Rewards available by country:
USA:
Magazine Subscriptions - $10 minimum redemption
150 Facebook Credits - $15 minimum redemption
PayPal Cash Payment - $20 minimum redemption
Outside USA:
150 Facebook Credits - $15 minimum redemption
PayPal Cash Payment - $20 minimum redemption
For PayPal payments, LoQue Digo processes their payments on the 1st and 16th of each month (except weekends and holidays). If you redeem for PayPal on the 1st - 15th of the month (eastern standard time), you will receive your payment on the 16th. If you redeem on the 16th - 31st of the month (eastern standard time) you will receive your payment on the 1st. Magazine Subscriptions and Facebook Credits are delivered immediately via email.
Eligibility: Residents of United States, Canada, UK and Australia.
---
Surveys Under False Representation
July 24, 2018 by Rebecca from United States
LoQue Digo, also known as Precision Sample, often shows up in my inbox misrepresenting themselves as iRazoo and invites me to a survey. After finishing the survey I find the promised points are not credited. Contacting iRazoo, I learned that they do now send out survey invitations at all and all the surveys they offer are listed only on their site.

LoQue Digo/Precision Sample steals your information and gets you to complete a survey without any reward by misrepresenting themselves. Be sure to check the email address, not just the sender name, when responding to a survey invitation sent to your inbox.
October 24, 2017 by Kellie from United States
Besides the fact that I hardly qualify for surveys, their customer service is horrible. I asked them why I did not receive the 500 point bonus for signing up. They got back to me saying I did not complete the "about me" questionnaires. So I filled them out, I did not receive the points, and I contacted them again. It has been two weeks, and I have not received any response from customer service- I have tried a couple times now. I guess they only answer you when it is convenient or when they do not have to manually award points. There are MUCH better survey sites, and I really do not recommend this one.