mingle Reviews and Features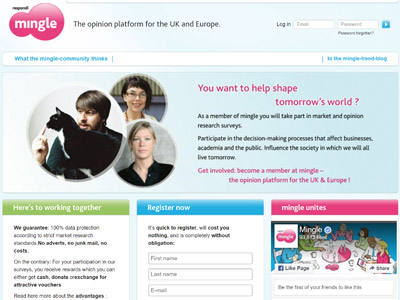 mingle
Huhnsgasse 34b, Cologne, 50676 DE
Tel: +49 221 272318 0 Contact: https://mingle.respondi.com/contact.php
Operated by: respondi AG

PAYMENTS OFFERED

Cash paid via bank transfer

Retail e-vouchers

Sweepstakes entries

Donations to charity

HOW TO PARTICIPATE

Online surveys

Product testing

Mobile surveys

Mobile app

Refer-a-friend program

Teen surveys

REDEEMING REWARDS
Request a bank transfer payment, gift voucher, or donate your points to charity within 3 months when your account reaches a balance of 2000 points (£12).
mingle is the research panel of respondi AG that is geared towards Europe and the UK. It originated back in 2005, and has a very large community following with 300,000 current members. Join mingle and gain the chance to change how decisions are made and other business processes. You could be the influence that the business world needs!
Surveys, Questionnaires and Product Testing
At mingle there are quite a few research methods that panel members can be involved with. Online surveys that come in the form of questionnaires are common, as well as shorter surveys that are known as "opinion trend surveys". You may also be asked to test a product from a well-known manufacturer.
Survey Details
Survey questionnaires usually range from 5 to 20 minutes to finish. Most panel members will be invited to participate in studies twice a month. However, this frequency can vary with some months having more invites and others, less.
Rewards System
Some surveys provide no incentive while others offer entries towards prize draws. Most surveys however give rewards in the form of "mingle points" as a thank you for providing your valuable opinions. The amount of points you receive is based on the amount of content/time you put into questions.
If you do not qualify for a survey you will automatically be awarded 10 mingle points. Most surveys pay out about 50 mingle points each. 1000 mingle points is the equivalent of 8 GBP.
Collect Cash, Vouchers or Donate!
Once you have collected 2000 mingle points (16 GBP) you may redeem your points for a variety of rewards within three months' time. After 3 months, your points will expire, so be sure to act quickly!
Cash deposited into your bank account
Gift Vouchers
Charity Donations: Choose from a variety of well-known charities
Other Bonuses
After you register and complete your welcome survey, mingle will gift you 100 points to get you started! You can also get your friends involved in mingle, if you refer three or more new panel members, you could win an iPad for you and each of your friends!
Eligibility: 16+ and living in the UK or Europe. International banking code is required for payment purposes.
---
February 27, 2020 by Alan from United Kingdom
Once I have got near to redemption the surveys dried up and not had anything now for over a month. This during a time when a friend with the same profile as me had 15 survey invites. I wrote to them to query but no reply. I guess this is another panel to avoid. I told a friend who unsubscribe yesterday only weeks after registering. Please avoid if you read this real review.
November 23, 2018 by Alex from United Kingdom
I dropped this site a while ago when I realised that points I had earned were expiring before I was able to reach the minimum payout level. This meant I could get close to making a claim, but couldn't quite get there. Shame really, because the site has potential if people are paid for the effort they put in regardless of when they put that effort in.
Missing Reward Points. Loads of Excuses
August 5, 2016 by Dominic from United Kingdom
This company is a joke. Missing lots of points for surveys, when contacting them I get excuses like "technical error" or "it was a complicated survey so will take time to sort out". Stay away from this site. They are amateurs
May 21, 2019 by Sue from United Kingdom
Once I arrived at 1,000 points surveys stopped - they have also stopped awarding points if you get screened out. I keep hearing you can receive products to review but in all my many years with them have never received anything.
Awful! Please don't sign up!
May 20, 2016 by Em from United Kingdom
Absolutely awful survey site with absolutely no support! I've been a member of several different survey panels and this is by far the worst one. It is so so time consuming and you are only earning a few pence per survey (that's if your account even matches what they are looking for because sometimes you can get halfway through a 20 min survey and then be told you're not what they're looking for and rewarded less than 5p!) the surveys normally take around 20 minutes sometimes more and sometimes less and you only earn a few pence for it. They require a lot of personal details and want to know your income and all about yourself and your family as well as wanting to install tracking software on your mobile and computers to "track your browsing habits" it's extremely intrusive. I've been a member for several months and have spent hours and hours and hours completing surveys and I've not even earned enough points to redeem a £12 voucher. I read some reviews on their Facebook page and 500 points used to get you a £12 voucher but now you have to earn 1500 for that £12 voucher! I estimate that this will take you 4-5 months to earn with completing every survey that's sent to you equaling days worth of work when you put all the time spent together.
I recently received a survey that didn't even work properly despite me completing it 4 times from different devices to see if there was a technical error and was supposed to get 75 points for this survey. I emailed support twice as well as sent a Facebook message where I was promised a reply in an automated message but there's still no reply from anyone! This morning I checked my account again and noticed the survey had been removed from my dashboard and I had been awarded 0 points for completing the same survey 4 times spending about an hour and a half of my time on it. They couldn't care less about anyone who signs up with them but you will still get bombarded with automated emails reminding you to complete surveys if you haven't already done so. There was a promise of product testing when I signed up as well as monthly competitions to win prizes but I've never been offered a product to test not had the opportunity to enter a prize draw to win something. I'd highly recommend staying clear of them.
» Return to: TOP RATED SURVEY SITES
---
Popular Topics
Top Survey Sites of 2023
---
Highest User Rated Survey Sites
---
Survey Sites That Pay Instantly
---
Get $100 Free PayPal Payments
---
9 Product Testing Job Websites
---
12 Online Surveys That Pay Cash
---
How to Earn Free Uber Gift Cards
---
14 Ways to Get Free Amazon Gift Cards
---
Best Paid Focus Groups
---
How to Get a Free Visa Gift Card
---
Ways to Get Free Xbox Gift Cards
---
Featured Advertisers: