Myiyo Reviews and Features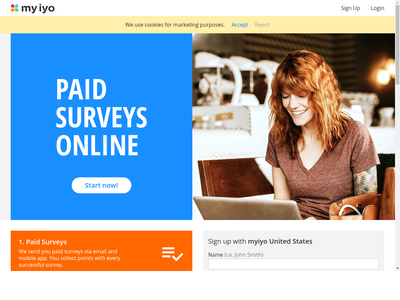 Myiyo
Mertensgasse 12, 40213 Düsseldorf, DE
Tel: +49 211 828 2800 Contact: https://www.myiyo.com/index.php?sec=contact
Operated by: mo'web research

PAYMENTS OFFERED

Cash paid via PayPal

Cash paid via bank transfer

Donations to charity

HOW TO PARTICIPATE

Online surveys

Refer-a-friend program

REDEEMING REWARDS
Request a PayPal payment when your account reaches 20,000 points (20 Euros). 10,000 points (10 Euros) required for long-time loyal members. Note that myiyo only pays in Euros, which may not necessarily be your local currency.

Myiyo was created and is operated by mo-web research and has existed for more than 10 years, in that time collecting millions of interviews and conducting thousands of surveys worldwide. Myiyo is based in Germany with communities of users in select countries worldwide including the UK, Spain, Russia, Peru, Mexico and South Africa among others. It is not currently available in Canada or the USA.
Earnings per Survey
Each survey you successfully complete will be rewarded with points in the range of 1,000 to 3,000 points depending on the length and complexity. 1000 points is the equivalent of 1 Euro. On average, surveys are about 20 questions and take 12 minutes to finish. It may take up to 40 days for your points to get credited to your account, as some surveys may have to close before awarding the participants.
Get Paid by PayPal
Take surveys in exchange for cash paid to your PayPal account. Request a 20 Euro payment (regardless of where you live), when your account reaches 20,000 points. Bank transfer available to those located in countries where PayPal is not available, such as South Africa and Russia.
Donate to Charity
Myiyo also offers its members the opportunity to donate to the charity, Three Little Birds. It is aimed at assisting groups and individuals in need including the homeless, the disadvantaged, and the destitute. You may donate as many points as you with to the charity.
Visit Myiyo's website

›
At Myiyo, your opinions could help shape and support companies and governments. Your experiences could also guide the future of the products and services that you use. Join now and begin making a difference!
Create a Member Profile
This panel allows you to create your own profile, known as a "shoutbox". Within your personal shoutbox you can post photos, videos and your own email votes all for points! Fill in your entire profile and receive 500 bonus points. Confirm your email address and you'll receive 100 more bonus points! Depending on how much you participate with Myiyo, your profile will be given a title such as "novice", "experienced", "pro" and "veteran" so other members can identify how experienced each member is.
Loyalty Program
Long time members of Myiyo may be offered the opportunity to cash out their earnings with just 10,000 points (€10) instead of 20,000 points in their account.
Visit Myiyo's website

›
Refer Friends, Earn More
For each friend you refer, you will earn 500 points (0.50 Euro) after they complete their first survey. You can refer friends through the unique referral url provided in your account.
Eligibility: Aimed primarily at Europeans, 18+
---
November 12, 2019 by maria from Argentina
I´m tired of filling up profiles or even enter their site to feel rejected by them. I really feel discriminated. If you don´t like my age or my country, why did you accepted my inscription in first place? I feel used. And I´m not the only one. Not recommended for Argentina.
December 31, 2018 by Helen from United Kingdom
I joined this site just over 3 years ago, and finally decided that enough was enough. They are not regular survey senders, not even 1 a week, but of those they did send I would almost never qualify for them. In 3 years I managed to accumulate 8000 points which equates to £7.22, but you have to have 20000 points to cash out, so it would probably be another 4 - 5 years before I managed it. I hate to close an account with money left in it, but I just cannot keep trying to qualify for surveys that I seem to have little chance of completing. They have a button on their website that allows you to donate your points to charity (hope this is genuine) so this is what I have done and now closed my account. The website looks good, and if you want to give it a try maybe you will have more luck if your demographics are just right, but forewarned is forearmed.
January 1, 2018 by Leslie from Belgium
I joined one year ago and I did not get more than one survey invite ... so this site for me was a waste of my time... :-/
May 29, 2017 by chris from United Kingdom
they kept sending me surveys and they kept rejecting me saying I was doing the surveys incorrectly, even though I had not done any.
they kept sending more and more surveys.
I had to send an email to ask them to stop
Disgusting and support is pathetic
March 5, 2017 by Yoko from South Africa
After signing up in 2016 I initially received several survey invitations of which only 5-6 were completed. Surveys later became less frequent not long after signing up. The rest of the surveys received, I was screened out before even answering any screening questions or simply for clicking the survey link.
Glitches,bugs and technical issues are constant especially from mobile devices. This, despite following every rule with extreme care. Admin/support/moderators are rude,condescending and not helpful at all when seeking help with issues or making enquiries. No matter what you may report or ask, you are given the same response or excuse and nothing further. In fact my account was suspended after trying to find help and i was accused of being 'rude' after trying to find support for issues experienced.
The Level of service from their 'support'/customer service is unacceptable and the treatment of members is horrendous, especially for an online service claiming to pay people for their opinions.

Furthermore, after filling out a contact form to complain about the unfair suspension and treatment received, I have yet to hear from customer support after two months of making 'contact'. Completed surveys take ages to be approved and needless to say chances of getting a payout are slim. Also, most members seem rather negative about Myiyo in general and make recommendations for other survey websites on their public forums . I regret signing up and further regret recommendations made for Myiyo by myself. What a negative experience.A zero rating is far too deserving for this website and its service. The only positive is that it claims to pay directly into your bank account apart from PayPal.
» Return to: TOP RATED SURVEY SITES
---
Popular Topics
Top Survey Sites of 2021
---
Highest User Rated Survey Sites
---
Survey Sites That Pay Instantly
---
Survey Sites with Low Cash Outs
---
9 Product Testing Job Websites
---
12 Online Surveys That Pay Cash
---
14 Ways to Get Free Amazon Gift Cards
---
Best Paid Focus Groups
---
How to Get a Free Visa Gift Card
---
Get Paid by PayPal Without Fees
---
Ways to Get Free Xbox Gift Cards
---
Featured Advertisers: