Swagbucks Reviews and Features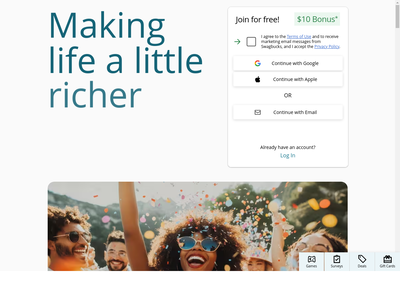 Swagbucks
Operated by: Prodege, LLC
100 N. Pacific Coast Highway, 8th Floor, El Segundo, CA 90245
Contact: http://help.swagbucks.com/home

Swagbucks is a website where you can earn rewards by doing activities you normally do, such as shopping, searching the web, watching videos, playing games, printing coupons, and taking surveys. Every time you complete one of these activities, you can earn points called SB's.
Upon becoming a member and logging into their website, you will see links to Shop, Search, Watch, Play, Answer, Discover.
Shopping – receive "cashback" for making purchases from major online stores through Swagbucks. These include Amazon, Walmart, Best Buy, and more.
Searching – use the Swagbucks search engine over your regular one, to conduct your internet searches, and earn bucks.
Watch – watch videos about music, news, entertainment, pets, travel, and more, and earn credits to your account.
Answer – at any given time, Swagbucks has a list of online surveys available where you can earn SB's by answering them.
Discover – print grocery coupons, or install the Swagbucks browser add-on to earn more, faster.
Referring Friends - do this and earn 10% of what your referrals earn.
Visit Swagbucks' website

›
You can redeem your SB's for two main reward options: cash, or e-gift cards. One SB is worth approximately 1 cent.
PayPal Payments
If you would like to receive cash, you may request a PayPal payment to your account. Payments take approximately 10-14 days to process and will be issued in US dollars. Denominations are $25, $50, $100, and $250.
Tons of e-Gift Card Options
Alternatively, you may request an e-gift card to major retailers such as Amazon, Home Depot, Starbucks, and more. Other options include Facebook credits, iTunes cards, restaurant gift cards, Cineplex credits, and hotel credits. E-cards are awarded within 10 days of request and denominations of anywhere from $1 - $100 are available.
Tip! Look out for "sales", where gift cards require around 10% less the SB's they normally require.
You may also donate your SB's to charities such as Unicef, Doctors Without Borders, Red Cross, etc. Donation amounts start at only 5 SB's ($0.05).
Visit Swagbucks' website

›
Bonuses
Daily goal points are offered where you can receive bonus SB's if you reach the daily goal by the end of the day. Receive another bonus when you reach the daily goal 7 days in a row. Bonuses are paid on or around the first day of the following month.
Swagbucks is Immensely Popular
Swagbucks has been around since 2005 (the same year SurveyPolice was created!) and has over 13 million members and over 2.4 million Facebook fans. They have awarded over 400 million dollars in rewards to their members making them, by far, the internet's largest GPT website! Every day, they award 7,000 gift cards to their members.
Eligibility: Swagbucks is open to residents 13 years of age and older who reside in USA, UK, Canada, Germany, France, India, Australia, and Ireland
» Swagbucks is currently offering a $5 sign up bonus to new members. Click the green Join Now button to claim your bonus!
January 27, 2020 by cora from United States
I had no idea there was places on line like swag. My cat was out of food, My litter was needing changed for her. My check was late and will be held up for 5 more days I had no idea what to do. So I ran across swag bucks and signed up, Less then 4 days I had a 10 dollar visa card, 10 dollar amazon card. 5 dollars burger king card. and my cat got her food and litter and I got to go to burger king. I also have another 5 and 10 dollar card on the way. It really does work. And it saved me this week. Thank you Swag Bucks.
January 26, 2020 by Kastina from United States
Swagbucks is an all around great way to earn that extra money you need every now and again. The great thing is that its free they pay you! Thank you swagbucks!!
January 20, 2020 by Lattia from United States
One of the best and fast checkout programs, so many options to earn swagbucks.
January 13, 2020 by Destiny from United States
I love Swagbucks! All I do is do a couple of surveys and receive gift cards! I was referred by a friend and glad that I was.
January 11, 2020 by acacia from United States
This program is awesome I've gotten so many gift cards by just signing up for services I now use and doing several surveys.