Swagbucks Reviews and Features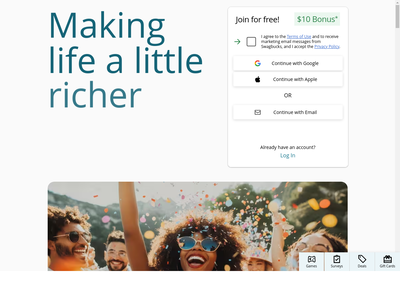 Swagbucks
Operated by: Prodege, LLC
100 N. Pacific Coast Highway, 8th Floor, El Segundo, CA 90245
Contact: https://help.swagbucks.com/home
Swagbucks is a website where you can earn rewards by doing activities you normally do, such as shopping, searching the web, watching videos, playing games, printing coupons, and taking surveys.
Every time you complete one of these activities, you can earn points called SBs, which are redeemable for cash and gift cards.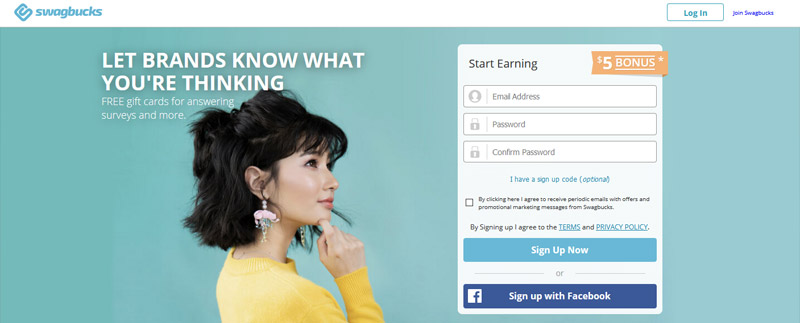 Becoming a member of Swagbucks is very simple. Start by joining their website or downloading their mobile app (available on both Android and iOS). You can then collect points (known as SB's) by participating in a variety of different activates including taking surveys, shopping online, watching videos, and more. You can then exchange your SB's for gift cards or PayPal cash.
Joining is free (and new members even get the $5 joining bonus!), and is available to residents of the USA, UK, Canada, Germany, France, Spain, India, Australia, and Ireland.
After logging in to their website (or in the app), you will see links to Shop, Search, Watch, Play, Answer, Discover.
Online Shopping

Receive "cashback" for making purchases from major online stores through Swagbucks. These include Amazon, Walmart, Best Buy, and more. Simply log in to the Swagbucks shopping page and click on the online retailer you wish to make a purchase from. Swagbucks earns a commission from your purchases, but will return a portion of it back to you in the form of SBs which will be earned for every dollar spent.
Searching

Swagbucks has a search engine called 'Swagbucks Search'. You can use it just like a regular search engine to earn bucks. If you conduct a lot of internet searches in any given day, this can be a great way to easily earn SB's. You can install the Swagbucks browser extension for Chrome which can make it easier to get into the habit of using the Swagbucks Search over Google, Bing, etc.
Watching Videos

Using Swagbucks watch, you can watch videos about music, news, entertainment, pets, travel, and more, to earn credits to your account. The earning potential for this is on the low side, but it's still a method of collecting SBs if you're looking for some entertainment.
Answering Surveys

Access Swagbucks Answer to take surveys and earn points. Swagbucks lists a ton of different online surveys that can be answered for rewards. Each survey will list the estimated time it'll take to complete, the topic of the study, as well as the number of SBs you will earn. Product testing opportunities occasionally become available. Expect to earn approximately 40 - 200 SB points per survey (100 SB = $1), with earning potential up to $50 (5000 SB) for longer and hard to qualify for surveys.
Discovering

The Swagbucks 'Discover' section is one of the fastest ways of earning SB points. You can earn a significant number of points for signing up for product and service trials (things like TIDAL music streaming, audiobook trials, gambling website trials, etc.) or for opening new credit card accounts or bank accounts. If you're currently looking to switch credit cards, banks, or try a new financial product (such as a new type of investment account), log in to your Swagbucks account before signing up! You might be able to earn thousands of SBs just for clicking through to the service provider via your Swagbucks account.
Printing Grocery Coupons

Under the 'Shop' section of Swagbucks (depending on your country of residence), you can find printable coupons for things like cleaning products, diapers, toothpaste, candy, etc. Each time you print a coupon, you will earn 1 SB. It will take a few weeks after the redemption for the SB to show in your account, however without the added bonus of receiving SB points, the printable coupons offered on this part of the website are generally for products that you probably already purchase and from big brands such as Swiffer, Mr. Clean, Febreze, Pampers, Crest, Becel, etc.
Referring Friends

If you have friends who would be good candidates for Swagbucks, make sure you refer them so that you can earn 10% of what they earn (as they remain active). For instance, if your referral earns 5,000 SB ($50) in their first month, you will receive a $5 bonus (500 SB) credited to your account. Simply log in to your Swagbucks account to get your unique sign up link which you can then share with friends, extended family, on your blog, etc.
Entering Swag Codes

Swag Codes are promotional codes that can be entered into the Swagbucks website which give you free SBs (Swagbucks). Find out where to find swag codes that can help boost your earnings.
Get a $5 Swagbucks Signup Bonus

›

You can redeem your SB's for two main reward options: cash, or e-gift cards. One SB is worth approximately 1 cent, so 2500 SBs = $25.00 for instance. To date, Swagbucks has awarded over 500 million dollars to their members!
PayPal Payments
If you're a fan of cold, hard cash, you can exchange your SBs for money by requesting a PayPal payment to your PayPal account. Payments take approximately 10-14 days to process and are issued in US dollars, regardless of where you live. If you are outside of the USA, PayPal can automatically convert these USD into your local currency, or you can keep a separate USD balance in your account if you wish. You can request a PayPal payment in the following denominations: $25, $50, $100, and $250.
Tons of e-Gift Card Options
If you choose to redeem your SBs for a gift card versus a PayPal payment, you'll find that you can receive it with a lower balance. Denominations for gift cards vary and depending on the retailer, but they can be as low as $1 and as high as $100. E-gift cards are issued within 10 days of request are available to a wide variety or retailers including Amazon, Home Depot, Starbucks, Facebook, iTunes, a huge variety of restaurants, hotels, and more. Denominations of as low as $1 - $100 are available.
Member's Tip! Look out for "sales" on gift cards, where you can redeem your SBs for around 10% less the SB's they normally require.
You may also donate your SB's to charities such as Unicef, Doctors Without Borders, Red Cross, etc. Donation amounts start at only 5 SB's ($0.05).
Visit Swagbucks' website

›
Bonuses
Swagbucks offers daily goal points where you can receive bonus SB's if you reach the daily goal by the end of the day. Simply log in to your account to see what that day's daily goal is. Receive another bonus when you reach the daily goal 7 days in a row. Bonuses are paid on or around the first day of the following month.
Swagbucks is Immensely Popular and Offers a Huge Community
Swagbucks has been around since 2005 (the same year SurveyPolice was created!) and has over 13 million members and over 2.4 million Facebook fans. Incredibly, they have awarded over 575 million dollars in rewards to their members making them by far, the internet's largest GPT website! Every day, they award 7,000 gift cards to their members.
Eligibility: Swagbucks is open to residents 13 years of age and older who reside in the USA, UK, Canada, Germany, France, Spain, India, Australia, New Zealand, Portugal, and Ireland
Joining Bonus! Swagbucks is currently offering a $5 sign up bonus to new members.
» Click here to claim your bonus!
If you're already a member of Swagbucks and are looking for something different to join to make extra income, there are literally hundreds of alternatives out there. Here are a few of our suggestions. PointClub is surveys-based, offers over 80 gift card options and is currently offering a $5 signup bonus. Branded Surveys offers online surveys, a great referral program, and more. Tellwut is a fun community where you can take surveys, create surveys and answer daily polls for gift cards.
5 Star Reviews (162)
44.0
March 30, 2021 by Irina from Canada
Update (I have to change my review):
29.03.2021
I have been a Swagbucks member for many years, always enjoyed their surveys, offers and rewards. I have referred people to Swagbucks and always left good feedback.
About 2 weeks ago I was not able to login to my account and it says it's "under review" and they will get back to me in 30 days. I checked their Facebook page and found a lot of members were locked out at the same time and according to the Facebook page it was a glitch and most of them got their accounts back. Not sure what happened with my account, but I first was asked for ID, then asked again for ID and then stopped receiving any responses. I was able to check my tickets yesterday and it says I am deactivated. I do not understand what happened and they keep ignoring my emails. This is not acceptable customer service especially taking into account how long I was using Swagbucks without any issues or warnings. They do not check, they do not respond, they keep my money. It's so disrespectful and disappointing. I never thought they would do it to me. I hope they will read this review of them and will improve their customer service.
(Now they blocked me on Facebook page, so I cannot ask them or talk to other members :( )

June 16, 2016
Swagbucks offers a lot of opportunities to earn points: surveys, videos, points for shopping and search, etc. But sometimes and very often offers don't credit properly and we have to send in ticket. Most of the time, missing points are credited manually. Their redemption process is easy and they offer great rewards and some of the gift cards you can get with discount. Swagbucks works pretty well, customer service does good job most of the time, but if they block your account (due to an error) they don't want to even look into your issue. They will just send you generic responses. (It happened to my husband) You may loose your account forever because of error on their end. Because there are so many errors on the site I gave them 4 stars.
February 20, 2021 by Fred from United States
This site continually sends surveys that at soon as a person indicates that they are older than 62 kills the survey. Their association with the Peanut Labs Survey group is another farce. Clean up your act.
Awful don't waste your time
February 9, 2021 by Chris from United Kingdom
They wait until you have almost enough to get your reward and then they say you account is suspended and then you lose all your rewards.
If I could give 0 stars, I would
January 29, 2021 by Michael from United States
I take surveys as my side hustle, to help supplement my income. I had heard some good things about SwagBucks, so I thought that I would give them a try. I simply cannot urge enough that you do not. I did a whole bunch of surveys over the course of 3-4 weeks, only to get my access denied and my account permanently suspended due to being falsely accused of "inattentive responses". I have been in contact several times trying to get my account reactivated to no avail, and it's really frustrating. For me to invest as much time as I did and earn a good amount only to essentially have it stolen from me is an extremely frustrating experience. I would strongly urge you not to use SwagBucks if you are getting into the whole online survey thing as it will really sour you on the whole experience.
December 3, 2020 by Tyler from United States
I had over $200 on my account saved up and then out of no where swagbucks deactivated it and refused to tell me why or provide any evidence as to why it was banned.
» Return to: TOP RATED GPT SITES
---
Popular Topics
Top Survey Sites of 2021
---
Best Rated Survey Sites
---
Ultimate Guide to GPT Sites
---
Taking Surveys for Gift Cards
---
The Best International GPT Sites
---
14 Ways to Get Free Amazon Gift Cards
---
Find Swag Codes to Make Extra Money
---
11 Ways to Succeed on GPT Sites
---
Guide to Legitimate Paid Surveys
---
Survey Sites That Pay Instantly
---
25+ Easy Ways to Make Money Fast
---

Featured Advertisers: