Swagbucks Reviews and Features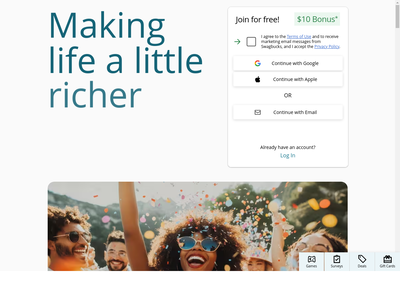 Swagbucks
Operated by: Prodege, LLC
100 N. Pacific Coast Highway, 8th Floor, El Segundo, CA 90245
Contact: http://help.swagbucks.com/home

Swagbucks is a website where you can earn rewards by doing activities you normally do, such as shopping, searching the web, watching videos, playing games, printing coupons, and taking surveys. Every time you complete one of these activities, you can earn points called SB's.
Upon becoming a member and logging into their website, you will see links to Shop, Search, Watch, Play, Answer, Discover.
Shopping – receive "cashback" for making purchases from major online stores through Swagbucks. These include Amazon, Walmart, Best Buy, and more.
Searching – use the Swagbucks search engine over your regular one, to conduct your internet searches, and earn bucks.
Watch – watch videos about music, news, entertainment, pets, travel, and more, and earn credits to your account.
Answer – at any given time, Swagbucks has a list of online surveys available where you can earn SB's by answering them.
Discover – print grocery coupons, or install the Swagbucks browser add-on to earn more, faster.
Referring Friends - do this and earn 10% of what your referrals earn.
Visit Swagbucks' website

›
You can redeem your SB's for two main reward options: cash, or e-gift cards. One SB is worth approximately 1 cent.
PayPal Payments
If you would like to receive cash, you may request a PayPal payment to your account. Payments take approximately 10-14 days to process and will be issued in US dollars. Denominations are $25, $50, $100, and $250.
Tons of e-Gift Card Options
Alternatively, you may request an e-gift card to major retailers such as Amazon, Home Depot, Starbucks, and more. Other options include Facebook credits, iTunes cards, restaurant gift cards, Cineplex credits, and hotel credits. E-cards are awarded within 10 days of request and denominations of anywhere from $1 - $100 are available.
Tip! Look out for "sales", where gift cards require around 10% less the SB's they normally require.
You may also donate your SB's to charities such as Unicef, Doctors Without Borders, Red Cross, etc. Donation amounts start at only 5 SB's ($0.05).
Visit Swagbucks' website

›
Bonuses
Daily goal points are offered where you can receive bonus SB's if you reach the daily goal by the end of the day. Receive another bonus when you reach the daily goal 7 days in a row. Bonuses are paid on or around the first day of the following month.
Swagbucks is Immensely Popular
Swagbucks has been around since 2005 (the same year SurveyPolice was created!) and has over 13 million members and over 2.4 million Facebook fans. They have awarded over 400 million dollars in rewards to their members making them, by far, the internet's largest GPT website! Every day, they award 7,000 gift cards to their members.
Eligibility: Swagbucks is open to residents 13 years of age and older who reside in USA, UK, Canada, Germany, France, India, Australia, and Ireland
» Swagbucks is currently offering a $5 sign up bonus to new members. Click the green Join Now button to claim your bonus!
Use to be Amazing Not these days
November 17, 2019 by Ed from United States
Swagbucks were my go to for cash cards it was easy and fun and it helped me out a lot of tough spots but ever since this company took over(Prodege, LLC) in i think it was 2017 rewards have dropped like 70% to me i dont know what happened is it greed? things to do have slowed or just dont payout like it use to? But these days i go on every once in a blue moon just to see if anything changed but it hasn't. Swagbucks is a waste of time but if you earning the $$$ you want more power to you!!
November 7, 2019 by Melissa from United States
Only had my account for 2 weeks cashed out once cashed out again for 25 dollars never got deposited into account 2 days later my account was deactivated for no apparent reason. I have emailed and tried to get a ticket for my problem to resolve issue - sent email no response. I also had 17 dollars in my account that is also gone. I loved swag bucks till this happened. I spend a lot of time on surveys and I am owed money if this does not get resolved calling the better business bureau for theft. I have everything that I had in my account before they ripped me off. My time is precious and all I'm asking is to pay me for the one I cashed out on already on before u deactivated my account for no reason. It was working fine on Thursday. I answered a phone call after I logged out went to reopen my Swagbucks then get a error with contact customer care technical issue through Google. No response whatsoever and went in to Swagbucks app tells me my account is deactivated. I would like to open another account but not til this gets resolved. I'm not happy I took the time for these surveys pay me what u owe me.
September 16, 2019 by Elyse from United States
I've only been with them for a little over a month & now I know what they are all about. Yes, everything looks AMAZING at first...all the bonuses for being a new member BUT that's where it will all stop. Please take a look at what other's are saying & how far things are going with them! They are NOT paying for what you are doing, not all surveys, not purchasing through them, bonuses are being skimmed off, I've had pending SB that vanished, etc...They were listening to me when I first started seeing things not being compensated but those were pennies. NOW they are not apologizing & giving excuses about not being able to track everything & even more...it's not THEIR responsibility to pay, they get paid by the other websites to be able to pay the customer. I've NO doubt they are being paid for everything we are doing & keeping the money we are all promised. All the proof their customers are having to do with taking screen shots & we are STILL not being paid. They do not deserve anymore business from anyone, in fact the opposite...we all MUST report them for their unethical tactics.
August 28, 2019 by Marie from United States
I am very unhappy with this GPT site every time I complete an offer they never pay up. The last thing I came across was an offer for a 7 day trial with Starz for 600 SW. I contact them and this is what they say:
Thank you for reaching out and we do apologize for any confusion relating to the Starz offer. This offer does have a 7 day pending term on it and we are unable to investigate further until this time passes. If the SB are not pending, please be sure you followed the terms listed below. Offer may only be redeemed once (1) per user.
Now I completed this offer plus I signed up for one months membership with Starz. My question is why is this company so popular??? Because from my experience I've found them to be less than honest when it comes to payouts.
If you want a good GPT site try QuickRewards- you won't make a ton of money, but at least you receive your money!! PrizeRebel-not a bad site just be sure to communicate to them when you're not credited.
July 24, 2019 by Issa from United States
Where should I start?
1. The surveys are awful. Every survey is just 15 minutes of different screens repetitively asking the same questions of your personal information (age, zipcode, etc.), and of them confirming that you're answering accurately. It's excessive and, quite frankly, sketchy.
2. It kicked me out of a survey because, with whatever standards they go by, my preferred hobbies were "inaccurate." Every single question has some form of test/trick in it to see if you're paying attention, so it more becomes more of a test than a survey, where you get booted off if you get one question wrong. Every two or three questions, you have to confirm that you're not a robot.
3. When I finished a 17 min survey worth 100 SwagBucks, it didn't even reward me. To see if this was a fluke, I took a shorter survey worth 23 SwagBucks and I only received 5. I wasted nearly 30 mins of my life simply trying to earn $1.23, and it didn't even give me that.
4. This isn't directly linked to your bank account, so you're not really earning money. Each SwagBuck is worth 1 penny, so it could take hours of surveys to make one $25 gift card.
Do not get SwagBucks. You can find so many better ways to earn more money in less time and frustration.