The Panel Station Reviews and Features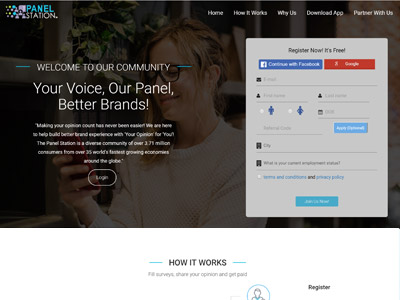 The Panel Station
Building 2A,Aster-East Tower, Lower Ground Floor, Embassy Tech Village Marathalli - Sarjapur Outer Ring Road, Devarabeesanahalli, Bangalore 560 103 IN
Tel: +91 80 41785814 Contact: [email protected]
Operated by: Borderless Access Panels Pvt. Ltd.
Quick Overview:
Rewards Offered: Cash paid via PayPal Amazon gift cards Retail e-vouchers Sweepstakes entries
Member Opportunities: Online surveys Mobile app Teen surveys
Redeeming Rewards: 3000-point minimum account balance required for reward redemption.
Similar Panels: Panel Champ, OpinionWorld
The Panel Station is an online community of consumers who regularly share their views and opinions on a variety of issues by participating in market research surveys. By participating in these surveys, members of The Panel Station influence decision making in organizations worldwide, and help in the creation of improved products and services.
Exchange Your Points for E-Gift Certificates
The Panel Station offers a wide variety of e-gift certificate options. When you have earned 3000 points, you can exchange your balance for a e-gift card. Retailers vary per region, but include: PayPal, Amazon, Rakuten, Submarino, Jumia, Linio, Flipkart, Lazada, and more.
Visit The Panel Station's website

›
Survey Lengths and Frequency
Most online surveys take approximately 12-15 minutes to complete and are straightforward to answer. Surveys that are more complicated or are longer will typically offer more points for completion. You will typically receive somewhere around 2 survey invitations per week.
Earn Reward Points for Each Survey You Complete
For every online survey you complete, you will earn between 500-5000 points. (500 points = 50Rs in India), depending on the survey's length and complexity.
Point Values
500 points equals approximately RS 50, so 3000 points (the minimum amount required in order to cash out) equals Rs 300. In countries outside India, 3000 points equals roughly $6.50 AUD, 60 Rand, 200 Philippine Pesos, etc.
More Ways to Earn Points
If you get disqualified or screened-out of a survey, you will automatically be credited 20 points to your account, just for trying. You'll also have opportunities to earn points through participation in discussion threads, or updating your profile.
Visit The Panel Station's website

›
Monthly Prize Draws
For every country (ex. Australia, India, South Africa, etc.), The Panel Station offers a monthly prize draw. Get a ticket into the draw by exchanging anywhere from 300-500 points (depending on your region) or take special surveys for sweepstakes entries, and you could be the lucky winner of cash, great gift vouchers, and more. Many draws have more than one winner.
Mobile App
Take surveys on your smartphone using The Panel Station's mobile app. Don't miss out on the hottest available surveys with instant notifications and offerings. Available for download on Android and Apple devices.
Eligibility: Open to residents of most of the Asian-Pacific, Middle-East, UK, USA, and a few select African, South American, and European nations. Minimum age requirement of 16+.
---
Not working well- Argentina
November 15, 2019 by maria from Argentina
I completed a lot of surveys with them, but when the time came to redeem my points, they blocked my account! I wrote mails, post them on twitter, and nothing. No answer.
Fortunately, they paid me the redeem amount (I see a lot of people that they didn´t) but I really don´t know why they blocked me. I need a solution!
The worst online survey panel ever
November 7, 2019 by Yu from Hong Kong
I was a member of the Panel Station in Hong Kong and my experience to it was really bad. They keep giving excuses for not rewarding panelists correct amounts of points. For example, after surveys are completed, I was often redirected to a page stating 'it seems you're in a hurry!' though they were done at a normal pace. Worse still, they blocked my account before I received my redeemed points, simply stating that some of the surveys were done in an inappropriate manner and cancelled my accumulated points. Never ever give a single attempt on this dishonest survey platform and waste your precious time. There are thousands and tons of other sites offering paid surveys which are far more reliable. If you're currently a member of this panel, I truly recommend redeeming all the points, unsubscribe to it and close your account to avoid being the next victim like me.
Earned Points taken away 'ONCE AGAIN'. TPS is a total wastage of time.
October 11, 2019 by Harsh from India
Earned Points taken away 'ONCE AGAIN'. TPS is a total wastage of time.

Another incident of points disappearance happened on May 22, 2019. I had 4740 earned points, and after completing Survey #92891 that was for 450 points, instead of bringing me up to 5190, they brought me down to 4640.

This is an outrageous behavior from Panel Station. On top of it, if you raise your voice then is barred from their Facebook page. Once just cannot contact TPS idiots a tall for any concern.

Last time they took away 3,000 points from my upon completion of a survey as mentioned in my earlier post and this time when I was nearing to a 5000 points cash out, they again took away 550 points from.

They are just blood suckers, fooling around people of their valuable time. They may be earning a lot from our answers but are not ready to pay us in a healthy manner.

Please if I may request the Survey Police team to take a corrective action against them, and it is a promise this is going to be my last cash out and will just get myself delisted from TPS and will never ever recommend it to anyone!!

**Another mis-happening done: Received confirmation email against my cash out dated September 04, 2019 stating that my PayTM account has been credited with Rs. 300/-, but nothing received. Have sent them emails along with screenshots taken of PayTM account summary, but no good at all.
August 1, 2019 by rolando from Philippines
since day 1 i haven't got any problem with this survey site and the rewards are truly fantastic.
July 27, 2019 by Peter from New Zealand
The TPS crowd have always been an "also ran" outfit, ever since I joined them a couple of years ago. Their website has often been clumsy and badly-designed, feeling like something out of the late 90's: it's had a nice facelift sometime in the last couple of months which was WELL overdue. When their Android app came out, it was all but unusable. Even today, I can't redeem points through their website: it gets stuck on the "send confirmation text" screen - no text is ever received on my phone. Whereas if I redeem points through the app, as clumsy and ugly as it is, there is no need for a code and the redemption just goes through. So I suppose on the plus side, the 2 or 3 redemptions I've done with them have actually gone through.

In April 2019 the real problems started with TPS. I complete a really long and mind-numbingly boring survey about Cadbury chocolate. After 15 mins of grinding my way through screens covered in dozens of options, asking the same question 10 different ways, I suddenly popped out to the success screen - which was great. Except that it wasn't THEIR success screen, it was Global Survey's success screen. When I clicked submit on GS's screen, I ended up on TPS's dreaded "Oh no, tough luck" screen, claiming I'd been screened out. Really, screened out after 15 tortuous mins of tedium?! I don't think so!

I sent a pointed email of complaint. At first they just fobbed me off. But since I persisted in calling them out, they magnanimously gave me 20 "bonus points"! Oh, yeah, thanks for giving me the equivalent of 5 cents for wasting 15 mins of my life! But wait, there's still more. A couple of days later, the same survey got offered to me, under a different survey number. Leary of a repeat performance, I had a go anyway: Same result! Two days later, the same damn survey was back - again – STILL with the same result! Needless to say, I was rather ropeable by then. I sent TPS a rather terse email demanding 900 points (300 per 15 mins of torture on the damn Cadbury survey), which they ignored. Following up on my "threat" to out them on Facebook, I did just that. I'm writing the negative review as a follow on to that…

Since then, I've not been able to complete a single TPS survey, despite "updating" my profile. But time and again I'm "screened out", whereas with Opinion World and Perceptive Panel, I'm screened out about 20% of the time, which is what I would expect.

A few of the really annoying things about TPS:

1. Pre-screening Qs: Their grammar is bad (they are clearly not native English speakers, so either China or India), they have awful character spacing with words running together or split in funny places. The font is a 1990's throw-back. All in all, their pre-screening screen is ugly, dated and just plain unprofessional - I'm sure high school students today could do a better job. Heck, I probably could!

2. Over the last few months, all of TPS's surveys actually link directly from their pre-screening page to Ipsos Interactive, which has this screen:
"All set! Ready to start?
We'd like to ask you some questions that cover a range of topics to check if you qualify for an available survey..."

But once I click on the agree button, and without even answering any actual questions, I get this:
"UH OH! TOUGH LUCK THIS TIME!
We are sorry! Your responses differ from our requirement at the moment!"

3. The Android app flicks to Chrome when I try to do a survey from there instead of on my laptop. Nine times out of ten Chrome throws up an error message and I can't even do the survey. Nice one TPS, that's so professional… NOT!

So, sign up to TPS at your peril. The only reason I've kept my account open with them is so I could redeem 3000 of my 5500 points (they only allow redemptions in 3000 point blocks) - I'm still waiting on that to come through after 6 days, but I know it's not uncommon to wait up to 4 weeks.
I strongly advise readers NOT to sign up with TPS - they are cowboys who clearly have no idea what they are doing, whose whole system is now very screwed up and barely functional, if at all.

TPS: I warned you I'd bag you if you didn't sort yourself out. You have only yourself to blame