Univox Community Reviews and Features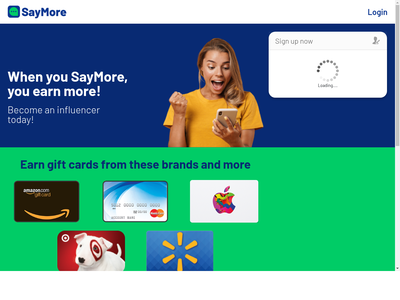 Univox Community
103-3015 Dunes West Blvd, Mt. Pleasant, SC 29466 US
Tel: 1-866-344-7832 Contact: http://univoxcommunity.com/Page/ContactUs
Operated by: Market Cube
Quick Overview:
Rewards Offered: Cash paid via PayPal Amazon gift cards Reward Link Prepaid debit or credit cards
Member Opportunities: Online surveys Mobile app Refer-a-friend program
Redeeming Rewards: Minimum account balance of 2500 points ($25) required to request rewards.
Similar Panels: Opini, Tellwut

Join and Get $2
By joining Univox Community, your account will automatically be credited with points worth $2 as a welcome to the community.
Choose From 4 Great Reward Options
Every time you complete a survey, you will earn reward points. Every 100 points equates to $1.00. With 2500 points in your account, you will be eligible to request a $25.00 cash payment or e-gift card. Univox currently offers its members three ways to request their earnings:
PayPal - receive a $25 cash Paypal payment directly to your account
Amazon e-gift card - opt to receive a $25 Amazon.com e-gift card
Virtual Mastercard - request a virtual Mastercard rewards card which is accepted at any online merchant who accepts Mastercard payments.
Reward Links - receive a Reward Link e-gift card, which can then be turned into a gift card from dozens of your favorite stores.
Visit Univox Community's website

›
Get Rewarded, Even When You're Disqualified!
If you attempt to complete a survey but are unable to (i.e. you get disqualified), your account will still be credited with 2 points if you've been disqualified because of SC drop out, the client is over quota, or the client has terminated the survey (after 10 survey attempts). In order to reduce the number of times you may be disqualified from a survey, community members are invited to participate in surveys based on their basic profile information.
Great Loyalty Program for Regular Participation
Univox has four different levels of users, each with their own point minimums for point redemptions:
Ambassador users - Redemption button is activated once 1000 points ($10) is accumulated, and redemptions start at a minimum of 1,000 points ($10) with a maximum of 10,000 points ($100).
Premium users - Redemption button is activated once 1500 points ($15) is accumulated, and redemptions start at a minimum of 1,000 points ($10) with a maximum of 10,000 points ($100).
Verified users - Redemption button is activated once 2000 points ($20) is accumulated, and redemptions start at a minimum of 1,000 points ($10) with a maximum of 10,000 points ($100).
Basic users - Redemption button is activated once 2500 points ($25) is accumulated, and redemptions start at a minimum of 1,000 points ($10) with a maximum of 10,000 points ($100).
Visit Univox Community's website

›
A Large Community, and Growing!
Univox Community currently has over 3 million members, and is growing every day. The site also features an online forum which features community news, regular contest announcements, and more. Via the online forum, members can participate in group discussions. Members can also chat with other members and with customer support via Shoutmix, a live chat system.
Refer Friends and Family and Earn Additional Points
Each time you refer someone to Univox Community, you will earn 100 points ($1.00) per signup once they've made 10 survey attempts or have fully completed their first survey. You may refer up to 5 friends.
Download the App!
Univox is now mobile! Download their app, available on iOS and Android, and take surveys on the go. Allow for push notifications and you'll know when the latest survey arrives!
Eligibility: Worldwide, 18+
---
January 26, 2020 by mike from United States
Mostly disqualifications, no points for disqualifications any more, offered the same survey over and over that you get told you've already taken, poor or no customer service, surveys that blow up, or fail to credit after completion.
A very frustrating site these days. They have fallen a long way from what they used to be.

Redemption: Mission Impossible
January 4, 2020 by Ernest from Australia
I started actively using Univox in late April 2019 and got enough points to claim a redemption in late May 2019. Nothing arrived, so I sent them a polite message asking re progress in early November 2019. I got the following automated reply:

Dear User,

Thank you for reaching out to us!

We have received your query and we are working on your request. We will strive to respond within minimum possible time, otherwise, you will hear from us no later than 24hrs.

In case of anything urgent, feel free to call us at 866-344-7832.

Thank you,

Support Team Univox

I got no further contact from them after this, so I sent another message to them today and got another identical automated reply.

Obviously spending May doing surveys online on this site seems to have been a major waste of my time. I have NEVER had an experience quite so bad as this before.
December 11, 2019 by Vanessa from United States
If you like to repeatedly answer the same questions again and again, If you like to spend your days waiting and waiting, Or if you like to communicate via email and receive automated responses, Univox is for you. They have great paying surveys. You have to wait more then 30 days to get your digital redemption. Then the goes online shopping fees your don't know about when you use the virtual cards. I'm so going to erase my account. I have pay pal. Why are they sending me an electronic card in 2 weeks in my email? What the heck. Send it to my pay pal! They do unnecessary crap. They cause high blood pressure. And they take way too long to give you your redemption. Sheesh
December 7, 2019 by Vlad from United States
It was one of my favorite panels. It offered short surveys for small rewards and longer ones for longer ones. The disqualification took place at the beginning. Then, a couple of years ago, gradually, reimbursement started decrease. Then, the disqualifying process had moved to the end of the survey, so you had wasted your time more. The phone number just accepts messages, but no responds and e-mail responses became seldom and mostly by template. Then, every survey started to ask same questions for the first 5-10 mins., following by the survey, then often a disqualifying note. At least you would end up with 3 points. Then, Sample Cube started to route completed survey to the next page of ...a new survey, without giving you any points.
What is going on with Univox?
December 2, 2019 by Betsy from United States
I'm so disappointed in Univox. I stayed away for a few months and now find the experience is much, much worse!
Time to give up on Univox. Sorry to say.
What do you think?
I keep trying their surveys and never get anywhere and no DQ points!