Univox Community Reviews and Features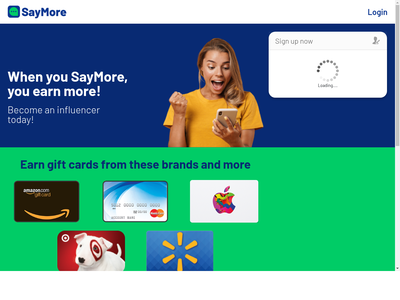 Univox Community
101 Wood Avenue South, Iselin, New Jersey 08830 US
Tel: 1-866-344-7832 Contact: http://univoxcommunity.com/Page/ContactUs
Operated by: Schlesinger Group

PAYMENTS OFFERED

Cash paid via PayPal

Amazon gift cards

Reward Link

Prepaid debit or credit cards

HOW TO PARTICIPATE

Online surveys

Mobile app

Refer-a-friend program

REDEEMING REWARDS
Minimum account balance of 2500 points ($25) required to request rewards.

Join and Get $2
By joining Univox Community, your account will automatically be credited with points worth $2 as a welcome to the community.
Choose From 4 Great Reward Options
Every time you complete a survey, you will earn reward points. Every 100 points equates to $1.00. With 2500 points in your account, you will be eligible to request a $25.00 cash payment or e-gift card. Univox currently offers its members three ways to request their earnings:
PayPal - receive a $25 cash Paypal payment directly to your account
Amazon e-gift card - opt to receive a $25 Amazon.com e-gift card
Virtual Mastercard - request a virtual Mastercard rewards card which is accepted at any online merchant who accepts Mastercard payments.
Reward Links - receive a Reward Link e-gift card, which can then be turned into a gift card from dozens of your favorite stores.
Visit Univox Community's website

›
Get Rewarded, Even When You're Disqualified!
If you attempt to complete a survey but are unable to (i.e. you get disqualified), your account will still be credited with up to 5 points if you've been disqualified because of Client Security terminate, the client is over quota, or the client has terminated the survey. In order to reduce the number of times you may be disqualified from a survey, community members are invited to participate in surveys based on their basic profile information.
Great Loyalty Program for Regular Participation
Univox has four different levels of users, each with their own point minimums for point redemptions:
Ambassador users - Redemption button is activated once 1000 points ($10) is accumulated, and redemptions start at a minimum of 1,000 points ($10) with a maximum of 10,000 points ($100).
Premium users - Redemption button is activated once 1500 points ($15) is accumulated, and redemptions start at a minimum of 1,000 points ($10) with a maximum of 10,000 points ($100).
Verified users - Redemption button is activated once 2000 points ($20) is accumulated, and redemptions start at a minimum of 1,000 points ($10) with a maximum of 10,000 points ($100).
Basic users - Redemption button is activated once 2500 points ($25) is accumulated, and redemptions start at a minimum of 1,000 points ($10) with a maximum of 10,000 points ($100).
Visit Univox Community's website

›
A Large Community, and Growing!
Univox Community currently has over 3 million members, and is growing every day. The site also features an online forum which features community news, regular contest announcements, and more. Via the online forum, members can participate in group discussions.
Refer Friends and Family and Earn Additional Points
Each time you refer someone to Univox Community, you will earn 100 points ($1.00) per signup once they've made 10 survey attempts or have fully completed their first survey. You may refer an unlimited number of friends and family members.
Download the App!
Univox is now mobile! Download their app, available on iOS and Android, and take surveys on the go. Allow for push notifications and you'll know when the latest survey arrives!
Eligibility: Worldwide, 18+
Joining Bonus! Univox is currently offering a $2 sign up bonus to new members.
» Click here to claim your bonus!
---
Univox Community Reviews (273)
1 Star Reviews (201)
73.6
What's happening to UNIVOX?
April 24, 2022 by Rick from United States
4/23/2022 Add to the other recent reviews. I have been locked out and they will not return my calls or respond to my queries.

Until Nov. 3rd I have never had an issue with Univox and now suddenly I can not access my account. On 5 different occasions I e-mailed them about the problem. For the first 4 times they responded by asking me to tell them when they could call me to clear up a minor issue and fix the problem. They never called and their last response was "As per your confirmation, we are deactivating the account". I never asked to have it deactivated, I want the opposite, just let me log in.

Update: As of yesterday I received the phone call and was re-instated. Better late than never, at least they responded (unlike other sites).

10/24/2019. I have been doing surveys on this website for almost 3 years. It use to be one of my favorites, but has steadily gone downhill. I started having problems recently - I was clicking on a survey and getting a blank screen. I tried to log in and discovered I was locked out.
April 19, 2022 by Todd from United States
I had been a Univox member for a few years up until November 2021 when I tried logging in one day to take a survey and discovered I couldn't. After contacting customer support, I learned that my account had been terminated "for one of the following reasons." It went on to list 5 possible reasons, but was never specific as to which one. I sent numerous support queries and even left voicemail messages on their toll free line over about a 3-month period. I repeated requested that someone call me so I could speak to a live person about this, but nobody ever did. Not all of my support queries were replied to, but the ones which were were simply the same automated replies I had received before -- a list of possible reasons but nothing specific. On two separate occasions I submitted a complaint to the Better Business Bureau (BBB) asking them to investigate. For the more recent submission, I received the following response from BBB: "Your BBB has tried to present your complaint to Univox Inc. in an attempt to resolve this matter to your mutual satisfaction. Unfortunately, despite our efforts, we have received no response to your complaint. We attempted to contact Univox Inc. through written correspondence twice on your behalf, but we must now close this matter in our files." At the time that my account was terminated, I had a balance of about 13,200 points (the equivalent of $132 in PayPal), so one can understand why I was so upset and determined to find out exactly the reason why my account was terminated and the specific example of my supposed violation. Nobody there had the decency to speak with me. And the fact that nobody responded to the BBB's inquiries should tell you all that you need to know. My advice: If you're a Univox member, cash out what you have and terminate your account. If you're thinking about joining Univox, DON'T!!!
April 10, 2022 by Rex from Canada
Good site overall fast payouts, but they have some overzealous fact checkers, they could loosen up some, otherwise worth your time and effort. My account has been deactivated, this was immediately after i tried to use my vpn on their site, so if you do, too, beware, they may deactivate your account too.
Resort to Insulting Panellists.
April 4, 2022 by Andrea from United Kingdom
When I suddenly found my account seemed to be inaccessible, I contacted the company in order to iron out this apparent technical problem. Their response? To accuse me directly of providing "false information", using "foul language" and engaging in "offensive behaviour". No one at the company has had the courage to provide a response and explain this defamatory, aggressive and completely baseless message.

Staff at Univox do not seem to understand that defamation is a serious issue.

Avoid this company at all costs.

(One star has been attached to this review for the sole reason that the online format demands this. I would not under any circumstances award this deeply unpleasant company endorsement of any type.)
March 14, 2022 by Mike from United States
I have been a Univox member for many years and thought it was an OK site until my logon did not work. I contacted them and the response was I was booted for offenses and they did not say which ones. If you like to be booted for no reason then sign up at Univox.
» Return to: TOP RATED SURVEY SITES
---
Popular Topics
Top Survey Sites of 2022
---
Highest User Rated Survey Sites
---
Survey Sites That Pay Instantly
---
Get $100 Free PayPal Payments
---
9 Product Testing Job Websites
---
12 Online Surveys That Pay Cash
---
How to Earn Free Uber Gift Cards
---
14 Ways to Get Free Amazon Gift Cards
---
Best Paid Focus Groups
---
How to Get a Free Visa Gift Card
---
Ways to Get Free Xbox Gift Cards
---
Featured Advertisers: