20/20 Panel Reviews and Features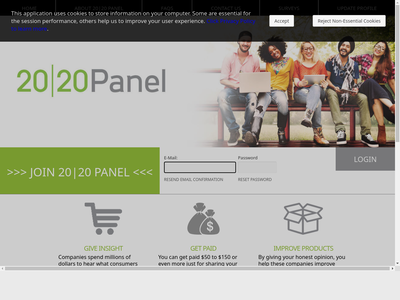 20/20 Panel
101 Wood Avenue South, Iselin, New Jersey 08830 US
Tel: 615-885-2020 Contact: https://join.2020panel.com/page/4
Operated by: Schlesinger Group

PAYMENTS OFFERED

Cash paid via PayPal

Reward Link

Prepaid debit or credit cards

HOW TO PARTICIPATE

Online surveys

Online focus groups

In-person focus groups

Video surveys

Telephone surveys

Refer-a-friend program

REDEEMING REWARDS
$5 (500 points) minimum account balance required to request payment.
20/20 Panel is an online survey panel which has been conducting online surveys since 1986. 20/20 Research conducts online surveys as well as real time focus groups in an online chatroom environment. They compensate their panel members with cash rewards in exchange for their survey or focus group participation.
Earn Points for Your Opinion
Taking quick surveys on the 20/20 panel will allow you to accrue points to redeem gift cards. You can even earn gift cards for participating in online discussions, chats, and web meetings. Surveys are usually short, but online discussions can take up to 90 minutes to complete.
Signing up is as easy as filling out an online profile. The more information you can provide, the more likely you will be matched with surveys or discussion-based studies.
Types of Studies
20/20 Panel offers a variety of studies that offer points as well as cash rewards:
Surveys only
Surveys + online chat interviews
Online discussions
Online web cam discussions
In-person studies (you must be in Nashville TN, Charlotte NC or Miami FL to participate in in-person panels)
Redeem Your Rewards
You can begin to redeem your rewards from surveys once you reach 500 points ($5.00). Discussion-based studies have incentives that range from $50-$300 should you qualify or choose to participate. The cash for discussion based studies comes in the form of a virtual or physical gift card. You decide which you would prefer to receive, which may take 7-10 business days to process.
Raffles via Facebook
The 20/20 Panel has its own dedicated Facebook page for panel members, and if you join, you can participate in raffles to earn more!
---
November 25, 2021 by Joe from United States
I signed up.....and nothing ever happened. For months. There's just nothing in return for all the time I took filling out my information for them. And there never has been. I've tried 20/20 numerous times over the last few years and the same result. Waste of time.
May 6, 2021 by MICHAEL from United States
Don't do it, you'll participate in said "study" and when your waiting for your incentive, they don't respond to multiple emails to said "recruiter" and even to the main email address and getting no response. Then they finally respond to your email and tell you that you've only completed 19% and will not be receiving anything. Then you ask for any receipts (proof) and can't get any, so it ends up being your word against there's and guess what'll happen. Absolutely nothing, and you put all of your time to participate in these said "studies" and share personal information and not be compensated for your time, and belittled because of what they think you didn't do. If you want to participate and a legit company with studies, I would highly recommend Fieldwork. Not only do you do the study, you'll get compensated right after and don't have to go out of your way to receive absolutely nothing. They'll probably delete this review, because they don't want anyone to actually see what participants have had to say, and want to only focus on the positive reviews. Beware
Why pay when it can be had for free
April 29, 2021 by Jennifer from United States
In short, I've taken tons of "Pre" qualification surveys to participate in paid 20/20 surveys and qualified for many, but was never called.

At first, I thought to be patient as there's so many others competing and maybe that's why I never got the call. Now, as the "Pre" surveys get longer and longer I consider, why would they call me or anyone, when they already got most or all of what they needed, that is my valuable time and experience for free.

I don't want this to happen to others.

Feeling duped

Jen H.
Never qualify, waste of time
February 10, 2021 by JENNIFER from United States
I answered every survey to qualify at first, but after so many that I either did not qualify for, or was qualified but not called, I quit wasting my time.
January 22, 2021 by Stephanie from United States
When you take a survey from 2020, at the end, it shows the info they have on file for you, i.e, phone number, e-mail address, etc.. All the info they have for me is years old and outdated.

They have a big green button on their homepage to update your account with all current info. I have updated my information ELEVEN times now and it never saves the info. At the end of every survey, all my old information is still there. When I go to update it again, nothing was ever saved. It's still years old outdated info on just about every page.

I have written customer service 4 times and have received NO response. It tells me my message was successful sent on their page but you get no e-mail to let you know they got it, to tell you when to expect a response, and nobody ever answers, ever.

There is nobody there. There is no customer service at all. I think the surveys sent out are computer generated but it doesn't appear there's any actual person available. That's a shame because this used to be a very trusted and very reliable survey site.
» Return to: TOP RATED SURVEY SITES
---
Popular Topics
Top Survey Sites of 2022
---
Highest User Rated Survey Sites
---
Survey Sites That Pay Instantly
---
Get $100 Free PayPal Payments
---
9 Product Testing Job Websites
---
12 Online Surveys That Pay Cash
---
How to Earn Free Uber Gift Cards
---
14 Ways to Get Free Amazon Gift Cards
---
Best Paid Focus Groups
---
How to Get a Free Visa Gift Card
---
Ways to Get Free Xbox Gift Cards
---
Featured Advertisers: