20/20 Panel Reviews and Features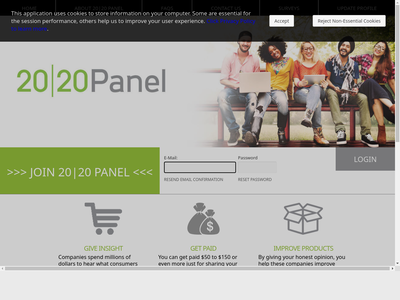 20/20 Panel
161 Rosa L. Parks Boulevard, Nashville, Tennessee 37203 US
Tel: 615-885-2020 Contact: https://join.2020panel.com/page/4
Operated by: 20/20 Research
Quick Overview:
Rewards Offered: Cash paid via PayPal Reward Link Prepaid debit or credit cards
Member Opportunities: Online surveys Online focus groups In-person focus groups Video surveys Telephone surveys Refer-a-friend program
Redeeming Rewards: $5 (500 points) minimum account balance required to request payment.

20/20 Panel is an online survey panel which has been conducting online surveys since 1986. 20/20 Research conducts online surveys as well as real time focus groups in an online chatroom environment. They compensate their panel members with cash rewards in exchange for their survey or focus group participation.
Earn Points for Your Opinion
Taking quick surveys on the 20/20 panel will allow you to accrue points to redeem gift cards. You can even earn gift cards for participating in online discussions, chats, and web meetings. Surveys are usually short, but online discussions can take up to 90 minutes to complete.
Signing up is as easy as filling out an online profile. The more information you can provide, the more likely you will be matched with surveys or discussion-based studies.
Types of Studies
20/20 Panel offers a variety of studies that offer points as well as cash rewards:
Surveys only
Surveys + online chat interviews
Online discussions
Online web cam discussions
In-person studies (you must be in Nashville TN, Charlotte NC or Miami FL to participate in in-person panels)
Redeem Your Rewards
You can begin to redeem your rewards from surveys once you reach 500 points ($5.00). Discussion-based studies have incentives that range from $50-$300 should you qualify or choose to participate. The cash for discussion based studies comes in the form of a virtual or physical gift card. You decide which you would prefer to receive, which may take 7-10 business days to process.
Raffles via Facebook
The 20/20 Panel has its own dedicated Facebook page for panel members, and if you join, you can participate in raffles to earn more!
---
July 28, 2018 by Patricia from United States
I got signed up through a reliable company for an on-line survey conducted b this group. This group tried to re-write the expectations to be much more than what I had agreed to do. Harassing e-mails, threats about why I may not be paid, moderators who seem to be time-share salespeople.. Moderators are not reading or responding to comments appropriately. Demanding you answer their questions which you had answered previously. Not professional. I am wondering if I will be paid.
Never paid for focus group
June 20, 2018 by Brandy from United States
I participated in a 90-minute on-site focus group and was never paid. I was given an "incentive card" that was expired prior to the advertised date, and they refused to issue the payment. There are dozens of similar complaints, so definitely be cautious doing business with this company. If you are a business, stay far away, as they have a poor reputation among panel participants.

20/20 Panel responded to this review on June 25, 2018
Hi Brandy - At the end of your study you were provided a gift card with the funds promised on the card. Additionally, the card stated on the front of it, as well as on the card it came in, that you had 12 months to utilize the card and then it would expire. You accepted the card, and the information and instructions that came along with the card. The card expired at the end of 2017, as we informed you it would. You did not contact us until mid 2018. We informed you that we would not be able to re-issue those funds as the card expired as we proactively informed you it would.
February 25, 2018 by Bonnie from United States
I was approved 1 or 2 times over many years for their surveys. I was even approved recently for a 2 day dairy and then a day before the survey began they told me I was not accepted. No explanation was given. Very unprofessional!
August 17, 2017 by Kelly from United States
I had high hopes for this panel. I am contacted maybe twice a year and have never qualified. I suggest finding another panel to join.
June 24, 2017 by Ray from United States
First off you waste 5-10 minutes before you know if you qualify for a survey that only pays a dollar.. Today, after I qualified for a survey, they previously asked if I could down load videos or pictures and I said yes. They never asked if I had a camera to take pictures for them After answering questions for a day, they wanted pictures of the drinks I consume with me in them. I was told by the customer service rep that I could just take pictures of the drinks on line. I just finished this and the rep of 20/20 told me they wanted pictures off me. I never agreed to have them use a picture of me. This is an invasion of my privacy.She agreed with me but since their client wanted pictures of me, and if I didn't do what they wanted I wouldn't get paid. The rep even agreed with me but told me there was nothing she could do, So I wasted my time because the client didn't state exactly what they wanted, 20/20 wouldn't support me nor pay me for my time, So if you have a lot of time to waste don't use this rip-off company. There are a lot better companies out there that pay you for your time. If you look up the 10 top online survey companies, 20/20 isn't on the list. I now know why.

20/20 Panel responded to this review on July 22, 2017
Hi Ray - I'm the panel manager at 20|20 Research and have met with the team that managed the project you were involved with. When you took the pre-qualifying survey for this study, the following statement and question were provided/asked: "During the Blog discussion, you will asked to upload photos and videos. Are you able to and willing to complete these activities?" was asked. You answered "yes". However, after answering just 9 of the questions on the first day, it was brought to our attention (after you called in and asked for assistance from one of our recruiters, stating you did not have a camera and were unable to copy photos from online and upload) that you were not able to complete the activities asked of the participants by our client conducting the study. Once this was identified, you were removed from the study. Incentives are only provided to panelist who complete all required tasks (they informed us prior that they could complete) and questions in the study.
Additionally, we are qualitative firm that historically has only facilitated high paid research studies, searching for the "why" behind consumer behavior. That process includes taking a "pre-qualifying survey" a panelist is emailed. The majority of the time those surveys are programmed in such a way that we are able to identify when someone is not a good fit as early as possible; so not to take up any more time from a panelist than necessary. Because so many of our qualitative clients are looking for a very niche audience, it can be tough to get into a study. But, when one does get into a study, they are paid, on average, $30/hr for their time. However, we are innovators in the industry and working to change this, so that more and more people can be considered for being a participant. But this will take time.
Furthermore, we have recently acquired a company that now allow us to dip into the quantitative realm of the industry and offer points for taking surveys; with a potential to earn more in a quick chat discussion after, if chosen. Our goal is to get as many panelists involved, engaged and incentivized as possible; creating a Win for 20|20, our valued panelists, and our clients.
We are very sorry you didn't have a positive experience with us, but, we have to adhere to the requests of our clients and include only those that are able to fulfill the tasks asked in the study.
All the best to you Ray,
Amanda